You know how when you go onto the admin panel, go to Display, then under Pictures and Colors you click Colors, and when you change the Text Color on that page it changes the color of the text on the forum, including the color of the text in the posts? Like, when someone posts, the default color of their text. I can change the Text Color, when I do though, it wont change the post text color. It's really frustrating. I've been working on it all night because I changed the color of my forum and now the the text color is unreadable (gray/silver against dark green) I'd really really like to change the text color of that. I had changed it to black, and as you can see in the screenie below, everything but the post font/text color changes, it didn't do that with any of my other forums. I hope you understand what I said, please please help asap.

Screenshot:
https://i32.servimg.com/u/f32/17/02/27/15/melt10.png
My forum:
http://theheartofawarrior.canadian-forum.com/

animaluv

New

Member




Posts

: 7


Reputation :

1


Language

: English



Could you post a screenshot of your admin panel, where you chose the color for your text?
When I viewed your forum, I could see the text just fine. Is the error somewhere else, or have you fixed it?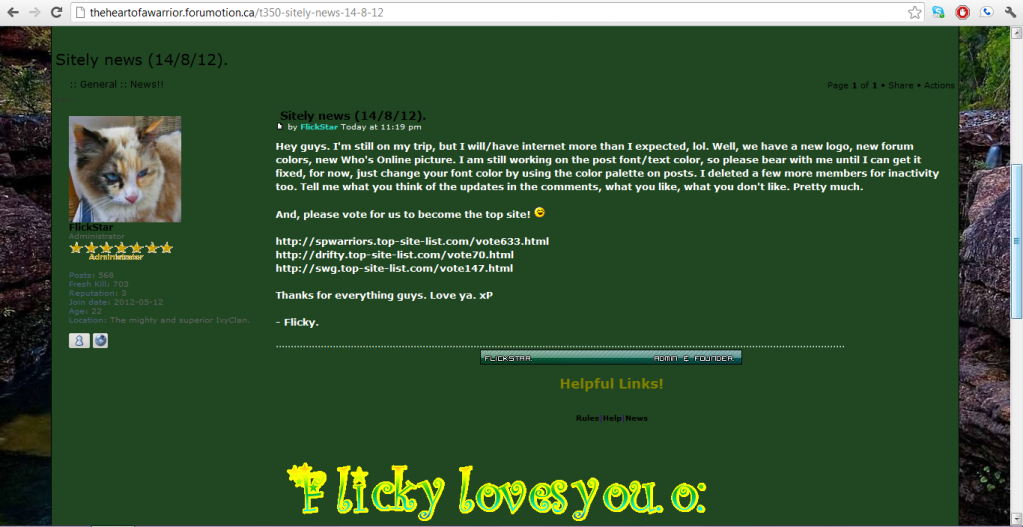 animaluv

New

Member




Posts

: 7


Reputation :

1


Language

: English



Add this to your css & check. Change the color code to whatever you like.
Code:

.content{
color: #ff0000 !important;
}
Omg, thank you so much, it worked. Solved! :DDDD

animaluv

New

Member




Posts

: 7


Reputation :

1


Language

: English



---
Permissions in this forum:
You
cannot
reply to topics in this forum