02.18.2014 10:45:47
Hi - my forum is : sinkku.foorumi.biz
My new forum is in Finnish language, but some of the texts are in English too. Where to change those texts in Finnish ?
Also I would like to change some pre-written Rules and FAQ to better Finnish language. Where to do that ?
In member area there are empty fields in profile section, how to remove them ?
Also in Admin panel (profiles) there are some fields that cannot remove because there are not red cross after them. They are not the same empty fields as in member area. I want to remove those fields too.
I rather like to offer 'multiple choice' fields than 'text area' for members to fill, because it requires more work to do, if have to check all those text fields.
Can you please help me ? See my screenshots below.
Thank you



Last edited by Maija on February 18th 2014, 10:08 am; edited 1 time in total
Hi,

For your forum language, Try this:

Go to your Admin Panel ~> General ~> Forum ~> Configuration ~> Default Language: Finnish ~> then click save.

For the question on removing some profile fields, you can't remove the default profile fields permanent but you can hide on your memebers.
Thank you for super fast reply. 

I will try that with languages, but I haven't found the way to hide those empty fields as seen on my screenshot from member area.
To hide the profile fields, click the  
 button ~> Who can modify the profile field value ? You can check the Moderators if you want the staff only. But if you don't like all uncheck both then save.
Thanks again - but it doesn't help to remove those fields - see the first pic. I have tried many times.

I tried to save again the Finnish language, even it was saved before, but it doesn't affect to some English words.

Here are the words that should be in Finnish instead of English (in case that someone edit them to the script):
View profile = Katso profiilia
Change your password = Muuta salasanasi
Allow members to send me private messages = Salli jäsenten lähettää minulle yksityisviestejä
Requests sent = Pyynnöt lähetetty
These requests are pending, they haven't yet been accepted or refused by the receiver =
Nämä pyynnöt odottavat, niitä ei ole vielä hyväksytty tai hyljätty saajan taholta
No sent request pending = Ei lähetettyjä pyyntöjä odottamassa
Received requests = Saapuneet pyynnöt
These requests are pending, click "+" to accept them or "-" to refuse them =
Nämä pyynnöt odottavat, klikkaa "+" hyväksyäksesi tai "-" hyljätäksesi ne
No pending requests = Ei odottavia pyyntöjä
"name" has no foes yet = "nimi" ei ole hyljännyt vielä ketään
Notifications = Ilmoitukset
Notification Types = Ilmoitusten tyypit
See all the notifications = Katso kaikki ilmoitukset
Friend requests = Ystävyys pyynnöt
The incoming of a private message = Yksityisviestin tulo
The incoming of a profile message = Profiiliviestin tulo
A new post in a watched topic = Uusi posti seuratussa aiheessa
A request to join a group = Pyyntö liittyä ryhmään
Connection of a friend to the forum = Yhteys ystävään foorumissa
By email = sähköpostin kautta
In the toolbar = foorumin tilin kautta
Delete the forum cookies = Tuhoa foorumin evästeet
Forum options = foorumin vaihtoehdot
Browse = Selaa
No file selected = tiedostoa ei ole valittu
Click here to return to your profile = Palaa profiiliisi tästä
Request done = pyyntö lähetetty

If someone can edit these words to the script, thanks !
I think only a Pro Admin could edit the following words since they are the only one who got the access to the database. Let's wait for Buttercup or a staff to see this. Thank you for your patience.

The only why they would be translated is if a Forumotion employee knows French and Finnish.

When your topic has been solved, ensure you mark the topic solved.
Never post your email in public.

Tiedä häntä, millä nuo suomentaa. Oma foorumini on
http://creatis-ia.foorumi.biz
. Kaikkia noita tekstejä ei voi vaihtaa, niiden kanssa on oltava. Pahoittelut.
Thanks to all of you
Some words has been translated to good Finnish language in the script, so I think who did that could complete the work

Nice to see that here can get some support anyway.
I'm still waiting if the big boss help me with this issue ..
@Maija

wrote:
Hello there and Good Evening to you.
For your profile text problem you should take a look at the following settings.
ACP

Users & Groups Tab

 Users >> Profiles

Click on the little cogs

  then you should see a box like this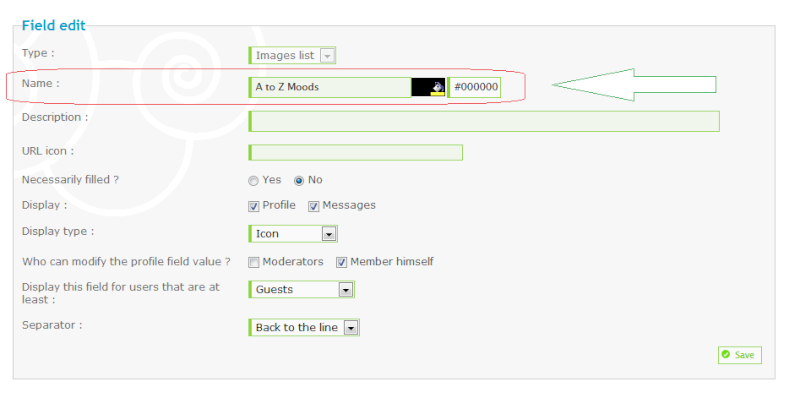 Change the Colour setting by clicking on the



Then

Save
Do this to all the profiles that don't show up and then take a look.
Hope that is of some help.
Ape  

Please speak in English as this is an English support forum. If you need support in another language please look at the widget to the right that says Official Support Forums.

When your topic has been solved, ensure you mark the topic solved.
Never post your email in public.

OK, sorry. The message was intended for Maija, but yes, i speak english here now

---
Permissions in this forum:
You
cannot
reply to topics in this forum