Hi not sure were to post this but I need advice is this person breaking a rule ?
http://goldsrc.forumotion.co.uk/t13-the-funs-over
"
The funs over.

 by 
Admin
Yesterday at 11:11 pm
I have told my troll many times to stop harrasing me but it still continues, my only option left is to reveal this stalker, and post his hatefull messages for every man and his dog to see.
Lets see if you find it funny when your family friends or employers
google your name
.
Funs over, Stop now I will not tell you again."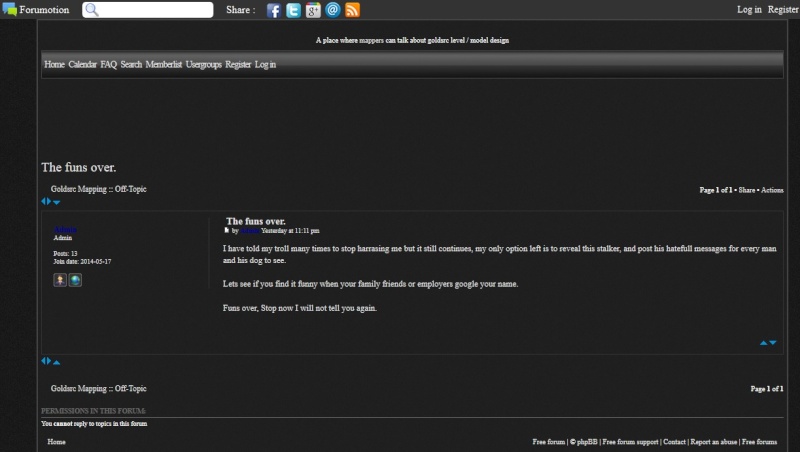 I can only guess this is in retaliation to
http://forums.steampowered.com/forums/showthread.php?t=760694&page=4
between "livewire" and me (mdmilburn) is this ok for him to do ?
Well while it might be not morally right there isn't anything FM can do really.

Forum Rules : : Forumotion Staff : : Appeal A Warning : : FAQ : : Tips & Tricks : : Forgotten Password/Login Issues
You need one post to send a PM
When your topic has been solved, ensure you mark the topic solved
Never post your email in public


Derri

Admin

istrator





Posts

: 8694


Reputation :

623


Language

: English & Basic French


Location

: Scotland, United Kingdom



I do not know/understand the full situation, however I would appreciate it if an argument did not start here. If necessary, please take the discussion to private messages. Surely something can be worked out through negotiation and talking like mature people would.
Unfortunately, 'stalking/trolling' is not something Forumotion can really do anything about. As long as a forum is not breaking our terms of service (
http://www.forumotion.com/terms-of-service
) then all moral / ethical conflicts need to be settled by the members themselves.
Then he will continue his lies and accusation , its just as well It is his only claim to web fame he has

I have no concern if forumotion has none then , his fire inside him will burn out and he will fade back to his hole

Jophy

Forum

Guru






Posts

: 17924


Reputation :

835


Language

: English


Location

: Somewhere




---
Permissions in this forum:
You
cannot
reply to topics in this forum