Hello. I am having trouble with a few issues and I hope you all can help me out. I am sorry if this is in the wrong category, as you can see, I am very new to these Forums and I registered because I needed a bit of help. Anyway, let me explain my situations and problems:

1. First of all, when I created a Forums, I wanted to change my discussions' background color. For example, when you create Topics, I wanted them to have a color in the background. (The Same Color for every post) Mine is set to gray, which I did not want it to be. So I was wondering how to change it, so whenever I create Topics/posts, the background color would be set to that shade. 

2. When I created 'groups', I didn't want a few of them to have any powers. Such as, banning, deleting posts, moving posts, etc. I am afraid if I put a few people in that group, they will have the abilities that I do not want them to be able to access. How do I make sure that they don't have any powers whatsoever? 

3. How do I activate the 'Legend' on my Forums? For instance, I have a few groups and I want them to be included in the Legend for each user's name color. 

4. What are "hidden" users on the Forums? I don't understand why they have this detail included. 

5. What is 'Quick Reply?' And what does it do?

6. How do I change a group's color 'code'? I tried everything from top to bottom, although I still can't figure it out.

These are my only questions for now, and I would truly appreciate it if you could lend me a hand. Thanks! And farewell for now friends!

~iCelestia
Last edited by iCelestia on August 12th 2014, 2:04 am; edited 1 time in total

Guest

Guest





First of all Welcome to FM support.
#1 not 100% sure what you mean a screen shot will help here.
#2 When adding a group you have settings called Groups Permissions If you click Is Moderator box then all the members in that box has the right to Moderat if you do not add a tick in that box then No one will have a right to be a mod  so all the settings are blocked and can not be seen by that group.
#3 When making a Group if you mark it as closed group it will show up in the bottom of your forum in the Legend. if it is hid then it will not show up.
#4 the hidden user is in place for members to hide that there online but the staff can still see them and so can there friends. it will just show other members that there is members on hide and that is it.
#5 The Quick reply is the box at the bottom of the posts like on this forum this makes it more east to reply to a thread made by some one else
see screen shot.

 #6 to change this go to ACP>> Users & Groups tab at the top of the page >>
Down the left hand side look for >> 
 Groups >>


Group Administration >> look for the group you want to change and click the >>    Now you will see this page come up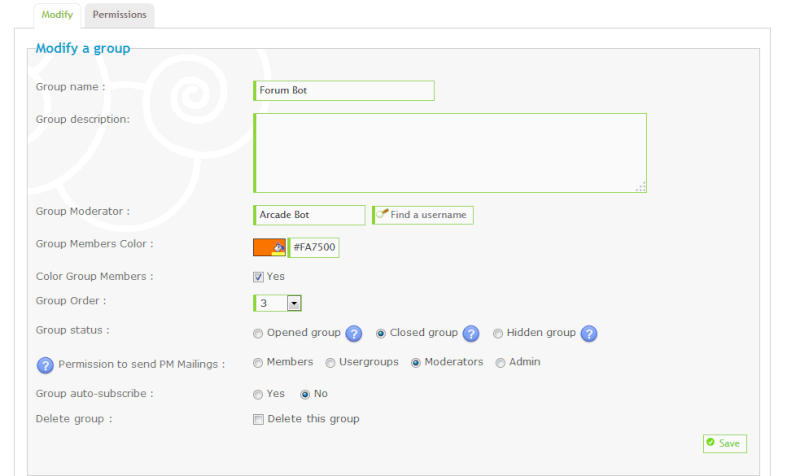 Click the little bucket and a tool will come up like this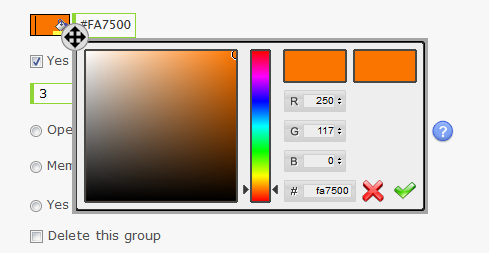 Move the little dot around until you find the color you want then click the Green tick.
Now you need to make sure you have a tick in
Color Group Members : YESGroup status : Closed Group  or open Group
Note if you make it open Group then anyone can ask to be added to that group at any time.
Hope them steps help you some
Ape
Thank you very much! I appreciate your help. And by #1, I meant the background color when making a post. For example, you see a blueish gray background on this Topic, as well as others. That is what I am wondering, so I can know how to change it. That's all for now, but thanks again!

~iCelestia

P.S. This Topic is considered solved.
Last edited by iCelestia on August 12th 2014, 2:00 am; edited 2 times in total

Guest

Guest





iCelestia wrote:Thank you very much! I appreciate your help. And if I need anything else, I'll be sure to just edit one of the posts so I can follow the rules as I read this evening. Farewell for now & thanks again!

~iCelestia
If APE has answered all your question we could mark this topic solved now and you could always create a new topic with any follow up questions?

Forum Rules : : Forumotion Staff : : Appeal A Warning : : FAQ : : Tips & Tricks : : Forgotten Password/Login Issues
You need one post to send a PM
When your topic has been solved, ensure you mark the topic solved
Never post your email in public


Derri

Admin

istrator





Posts

: 8695


Reputation :

623


Language

: English & Basic French


Location

: Scotland, United Kingdom



Topic solved and archived



When your topic has been solved, ensure you mark the topic solved.
Never post your email in public.


---
Permissions in this forum:
You
cannot
reply to topics in this forum