Sorry maybe is stupid question, but I must ask

How to move some post from one topic to another? Not all topic, just one post, or many! I find just to move all topic, not individual post?
Please help, my forum is on phpBB2 version!
You can use the merge tool. You can select individual posts and then click on the thread where you want the posts to be moved.

Forum Rules : : Forumotion Staff : : Appeal A Warning : : FAQ : : Tips & Tricks : : Forgotten Password/Login Issues
You need one post to send a PM
When your topic has been solved, ensure you mark the topic solved
Never post your email in public


Derri

Admin

istrator





Posts

: 8691


Reputation :

622


Language

: English & Basic French


Location

: Scotland, United Kingdom




When your topic has been solved, ensure you mark the topic solved.
Never post your email in public.

well didn't help

 I still dont know how?
I choose "merge" option, but they don't give me that option for single replacing! 
I just want one post replace to another topic, without making a another topic...
Hi @
FerrariMaybe i can make this a little more easy for you to understand

step 1


Find the post you want to move.
at the bottom of that thread there is your modding tools look for the split topic button and Click it.
you will now see this page.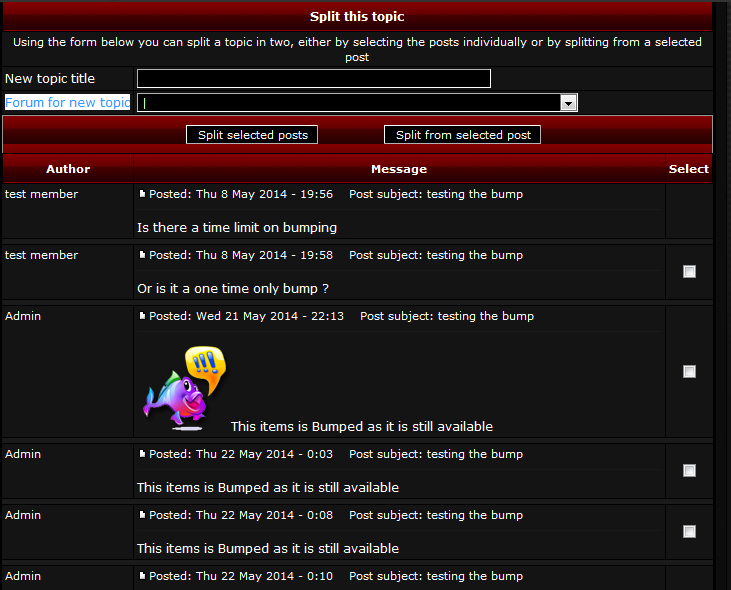 At the top of the page you will see the following 2 bars that you will need to fill in
New topic title: name this something like split topic
Now you need to find the forum where your other post is you want to merge your topic to and add it the 2nd bar called (Forum for new topic: )
Now to the right you want to look for the little tick boxes Next to the posts you want to split.
when ticked you will now need to click on the Split selected Topic's.
Now this has made your post a topic of its own.
Don't worry we have not finished as of yet.
Now we need to do step 2
merging your topic as one.
Now go to your forum where you moved your post to and the one you want to add your post to.
Now open the post you just made and click on merge topic button you will now see a list like this
as you can see i have 2 posts i want to mix as one

The top one is the one i want to add the topic to.
so it click on Select and find the post i want to mix it with on the left you will see a little part you need to pick

Tic the one you want to merge the topic with.
then click Select now your done;)
Hope this is a bit more of a better way to help you some
APE
That will help! You have Thanks

Problem solved

 once again thanks

Your welcome anytime
Topic solved and archived

---
Permissions in this forum:
You
cannot
reply to topics in this forum