I have looked on the forum, honest :-)  but can not find the answer, http://outlander.forumieren.com/  after this morning the emoticons are not working.  is this a problem in general?  across all browsers, Firefox, chrome, opera

also in IE the reply boxes do not show up, only as a empty box, no icons.
This is not a forumotion wide problem no, is this the first you have had this prolem? Are you the only one on forum expereincing this or are other members as well.
thank you for the quick response, it appears I am not the only one, one of the mods contacted me and then a few members.  
could I have done something wrong when I added smileys ;the other day?  it was working then and up to date. but now, nothing
You have added smiley'S recently, is it all the smileys that are not working or only the ones you just added?


Remember to mark your topic

when a solution is found.
nothing is working, in the reply box I click on the icon for smileys to open and nothing, unlike this rely box I can see them on the side, I can see them in the PM box yet unable to click on any.  
This is what we are seeing on the forum in Chrome and Firefox  as you can see, the smiley Icon is there, but nothing is happening for us. 
IN IE
I have just answered a mod in the mod room of our forum, and strangely it was the same as the photo in previous post, then I happen to hit preview and got this, but still not able to click on the smileys.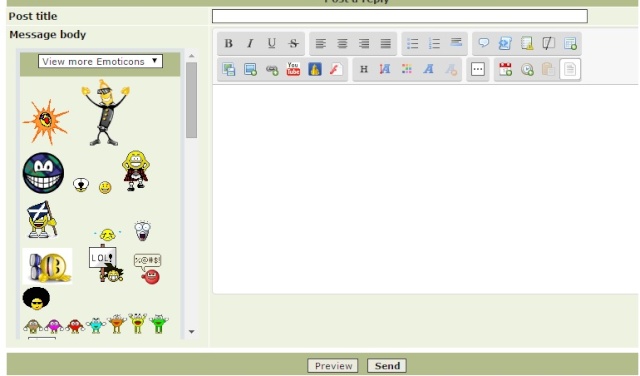 Have tried using the code for it I mean: : ) or : ( etc. does it not show even when you do that, or is it just the icons that do not work?


Remember to mark your topic

when a solution is found.
I can use code

 and they appear, but click on them and nothing.  it is ok for me to do this by code, but the members, I would be constantly editing or emptying the PM box.  Can't understand this at all.
I understand, I just wanted to find out if was a problem with the smiley themselves or just the icons. This problem started after you added the new smileys? I will do some research on this....


Remember to mark your topic

when a solution is found.
Brandon, I feel like a fraud,  
I have just gone back into the smiles and randomly modified one of them and darned if i did not go back into the forum and it works!!! all of them, and IE browser has decided to work too.  
sure it could not be something this simple?  
 Gremlins at work.


at the same time as posting this one of my mods reported that none of the icons were working, youtube, image host etc, by the time I had read her post everything was back to normal?????? 
Absolutely no idea.
Try telling them to clear their cache and or forum cookies, it maybe it will reset it for them.


Remember to mark your topic

when a solution is found.
I think I found the problem, 
I made a countdown widget, I deleted it and now the forum is acting as normal.  does this happen with widgets that are made?
I have no idea, I am glad your problem is solved now. If this is solved you could edit your original post and mark it solved so a Moderator can see it and move it.

I wish you all the best with your forum, I am glad you have resolved your problem. Let us know if you have any other issues.

---
Permissions in this forum:
You
cannot
reply to topics in this forum