Do you agree or disagree ?
Hello
I have a Facebook account called SarkXKalie and I put it on my profile. All I need to do is type SarkXKalie in USER_ID, not entire the link I have, like this image below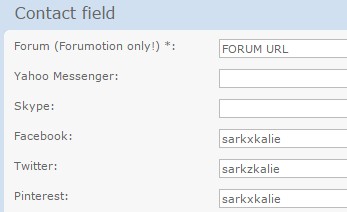 I wanna add Google Plus feature in my contact field as a custom one, but I can't use Google Talk cuz it gone and Google changed it to Hangouts. Even I can't create a new field with any content I want.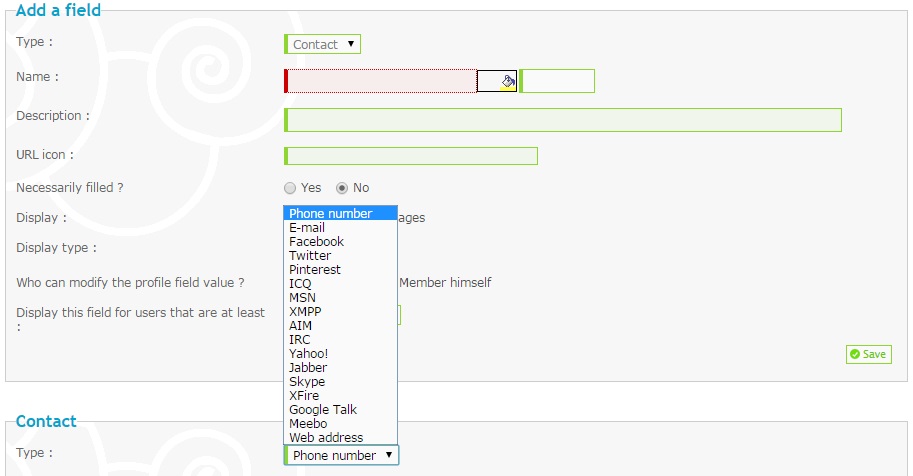 My Google+ page 
https://plus.google.com/105687822243217420790
My suggestion is allow us to add a new custom contact field or If can't, just re-make & re-name Google Talk to Google Plus (G+), similar with Twitter, Pinterest...etc
Code:

Facebook : https://www.facebook.com/USER-ID
Twitter : https://twitter.com/USER-ID
Pinterest : https://www.pinterest.com/USER-ID
G+ : https://plus.google.com/USER-ID

voted yes
im not user of forumotion

but i can see what is should be good to forumotion users


Michael_vx

Foru

member






Posts

: 664


Reputation :

29


Language

: Arabic and some English


Location

: Egypt



Hello Bump again 

Bumping to move this suggestion to the first page.

When your topic has been solved, ensure you mark the topic solved.
Never post your email in public.

---
Permissions in this forum:
You
cannot
reply to topics in this forum