First, copy all contents here (
http://pastebin.com/raw.php?i=BTH3rPSv
) into Editor.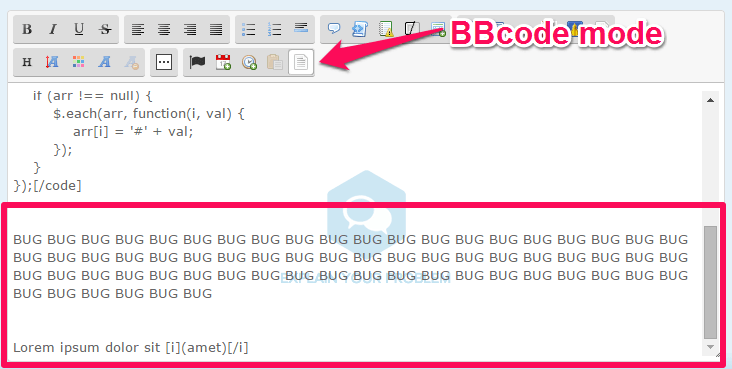 Then, switch Editor mode: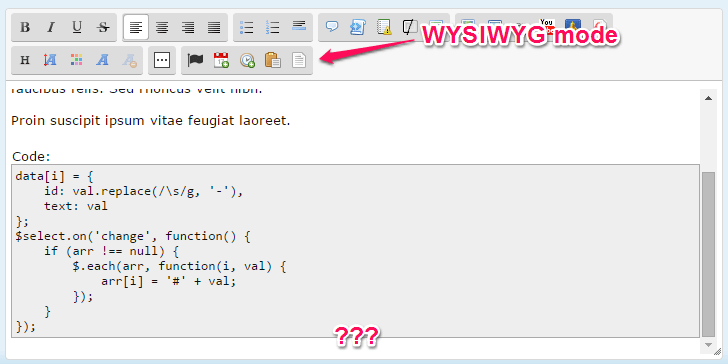 Last contents
(BUG BUG ...)
have disappeared.
I'll make a report about this to our Pro Admin

Forum Rules : : Forumotion Staff : : Appeal A Warning : : FAQ : : Tips & Tricks : : Forgotten Password/Login Issues
You need one post to send a PM
When your topic has been solved, ensure you mark the topic solved
Never post your email in public


Derri

Admin

istrator





Posts

: 8695


Reputation :

623


Language

: English & Basic French


Location

: Scotland, United Kingdom



I think this is a troll-post
I've had this happen before.. From what I can tell, it must be caused by the array index; [ i ], then you're using italics afterwards, so it's probably being recognized as bbcode for some odd reason. All I know is that the editor here loves hacking posts to bits.
I think someone else is...
If you have nothing helpful to add to support topics,

do not

reply.
Thank you.

Hello Mr. Tuteur. Just a tiny question about this issue. Is this the same kind of issue people are having using signature codes in combination with their signatures? Because when some code is being added no matter what website version, it all seems to be going out of control somewhere in those posts. Sam told me to be careful with them. And if so, would you think it would be advisable for a pro-admin to look into further detail on this? Thank you.

Guest

Guest





Hello 
I've reported the problem to our technicians. I'll let you know as soon as I have a reply

Thanks

---
Permissions in this forum:
You
cannot
reply to topics in this forum