Technical Details
Forum version :
#PunBB
Position :
Founder
Concerned browser(s) :
Mozilla Firefox
Screenshot of problem :
http://i86.servimg.com/u/f86/15/86/65/76/adsfm10.jpg
Who the problem concerns :
All members
Forum link :
http://www.4rkinggame.com/
Description of problem
I not objection ads form FM to maintain sever funding. However, the ad appears excessive and indiscriminate will reduce the quality of the forum, reduce traffic, ....
Moreover, FM the forum is not much different such advertising.
P/s: I'm not too good at English, please try to understand my meaning through images: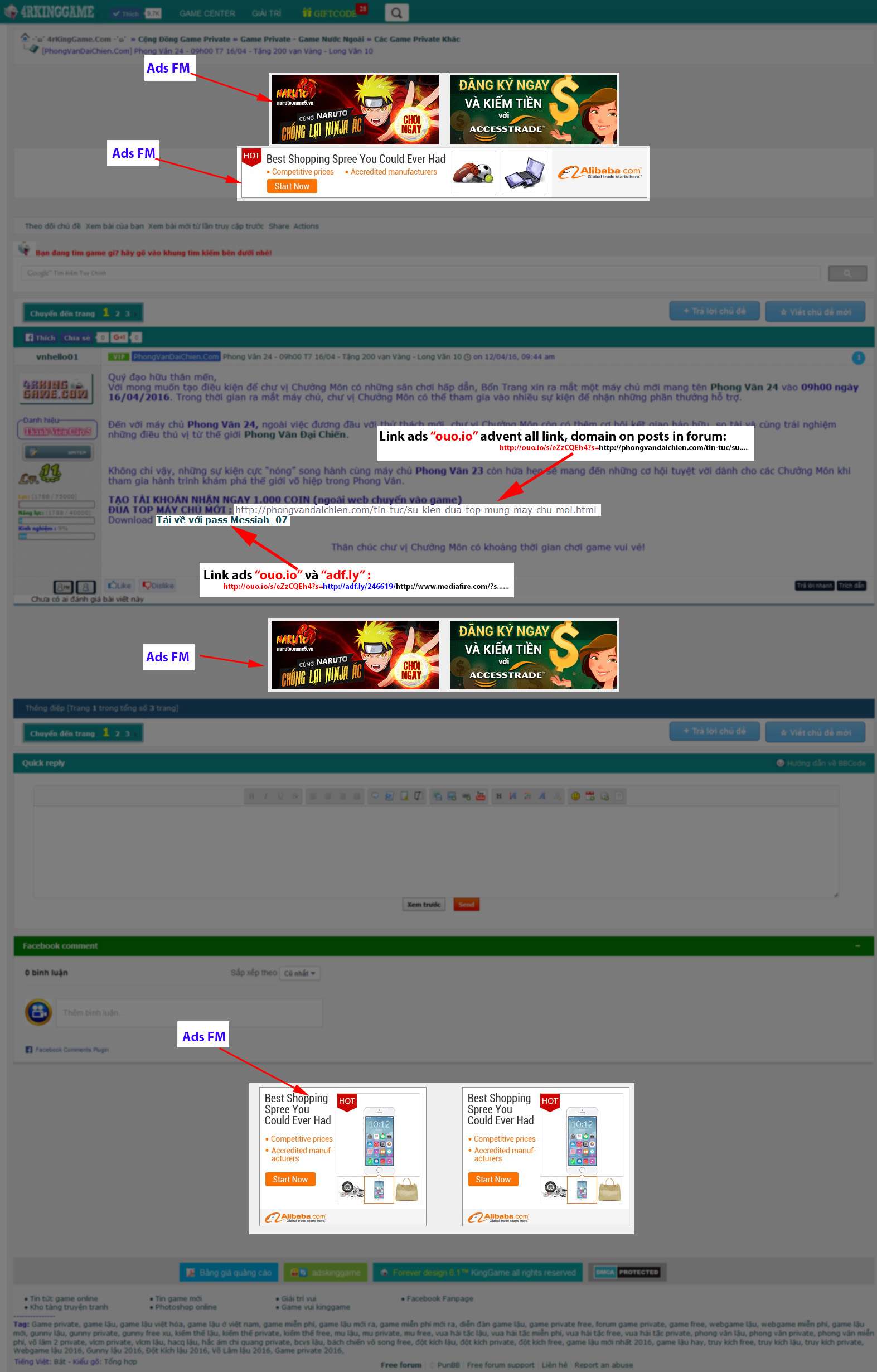 kenshin

Fo

rumember






Posts

: 49


Reputation :

1


Language

: Vietnamese



Hello,

FM uses 3 forms of advertising on your forums, but 2 of these forms can be disabled or restricted to certain types of users (guests, etc).

FM places ads on the top of your forum and ONLY the top. FM uses text ads that are ONLY displayed to guests and can be disabled in the admin panel. Fm just recently started using ads displayed in topics at the bottom of the topic (known as sponsored content) for guests and/or members depending how it is set in the admin panel and can also be disabled for free in the admin panel.

All of these forms of advertising are nessecary to maintain, upgrade and support the service. FM is actually fairly generous in that they let you disable 2 of 3 methods free of charge. They do not have to do that, but they do because they want to show they understand ads are frustating and that they dont want to use them anymore then nessecary to maintain the service.

The ads on the bottom of your forum and displayed as links in the post ARE NOT from FM as FM only displays ads on the top of the forum and text ads are only displayed to guests and not displayed as direct links either. That said, I would like to ask if you have any codes on your forum and if any of them are 3rd party? Sometimes adding certain codes to your forum can add more ads that arent fms to your forum as the code maker built them into the script. This can be fixed by removing the said script from the forum.

Hope this helps provide better clarity on how fm goes about advertising on your forum.

-Brandon
Many thanks information brandon_g!

I did not find the disabled options users (guests, etc) the advertisements in admin panel.

I'd love to support FM through advertising with images, however insert the link adf.ly link ouo.io or directly in the article to cause significant impacts on the quality of the forum, please teach me how to remove ouo.io out direct links in forum posts.

How to delete link ouo.io?

Thanks & best regard

kenshin

Fo

rumember






Posts

: 49


Reputation :

1


Language

: Vietnamese



Hello,

To disable text ads go to ACP (admin panel)-->General-->Configuration-->Text ads activation for guests (underlined)-->Tick to no and save.

To disable sponsored ads go to ACP-->General-->Configuration-->Sponsored content:--> Select 'No' from the drop down menu and click save.

I reckon the links in the post(s) were actually posted by a user or something and can be removed by editing the posts and removing them.

-Brandon
I have been infected with malicious code in the process leading to the correct code ad appeared from hackers.

For ads from FM I always activated 100% who are willing to support the growing FM

Thank you for your help Brandon!

kenshin

Fo

rumember






Posts

: 49


Reputation :

1


Language

: Vietnamese




kenshin

Fo

rumember






Posts

: 49


Reputation :

1


Language

: Vietnamese



Topic solved and archived
---
Permissions in this forum:
You
cannot
reply to topics in this forum