multiverse

Foru

me

mber






Posts

: 129


Reputation :

1



Hello,
May you please be more specific as to what the trouble your having is? What do you mean you have trouble connecting? Do you get any messages when trying to connect? May you provide a screenshot of the issue? Have you tried connecting from any other browsers or devices to see if you could connect?
All of this information is helpful for us, it helps us be able to diagnose the problem your having and then help you fix it alot sooner. Always remember that information is vital

.
-Brandon
Last edited by brandon_g on May 29th 2016, 5:51 pm; edited 1 time in total
connecting in general.

it was slow before to do anything. now it won't even connect, as in acts like the website is not there/forum unreachable/etc

multiverse

Foru

me

mber






Posts

: 129


Reputation :

1



May you provide us with a screenshot of what your browser tells you?
Edit: I am able to connect to your forum with no problem: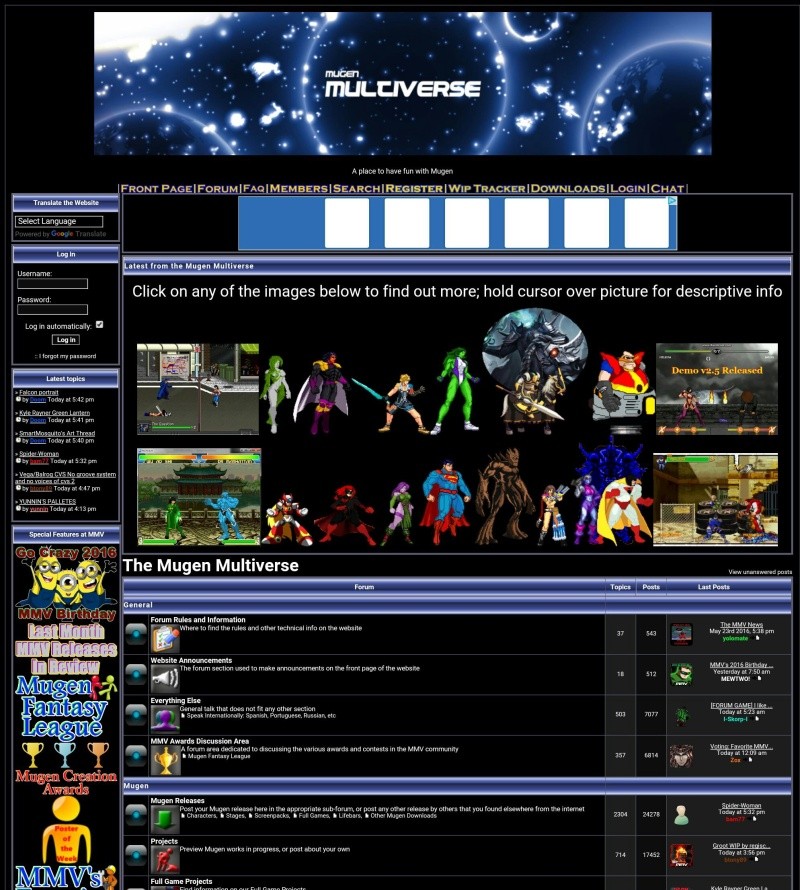 .
It looks like something on your end is the problem. Try clearing your browser cache and cookies to see if this helps. If it doesn't try accessing your forum from a different browser to see if it will work from a different browser. If that doesn't work, try re starting your device and trying again.
-Brandon
Last edited by brandon_g on May 29th 2016, 5:49 pm; edited 1 time in total
Hello,
I am able to browse normally on your forum. Have you tried to clear your cache :
http://help.forumotion.com/t145185-how-to-clear-the-cache-cookies-in-your-browsers
?
all i know is:
- all other websites are fine
- closed firefox and reopened with zero cookies and empty cache and its same
- get the same trouble with winphone
- this website is trouble too, just not quite as bad

multiverse

Foru

me

mber






Posts

: 129


Reputation :

1



Ok, well the problem definitelly seems to be on your end and not ours , because we can access your forum fine and we haven't had any other reports of this issue happening to others.

May you please post the screenshot of what the browser says when you try to connect with your forum but fail to do so. With a screenshot, I may be able to get a much better idea of what is happening and be able to offer you better suggestions that might help you resolve it.

As of right now, without a screenshot, we can only guess what the problem might be and offer you only general troubleshooting tips, since we can load your forum fine and can not see what you see when you try to load your forum. That is why I am asking you for a screenshot, so we can see what you can see when you try to connect to your forum and maybe get a better idea on what exactly the problem is and then in turn offer better solutions that might resolve the issue, rather then taking guesses.

-Brandon
Exactly I had trouble loading any forums hosted by Forumotion earlier today, but now everything is fine.  I would get the message that Firefox could not found the server.

When your topic has been solved, ensure you mark the topic solved.
Never post your email in public.

just FYI...I also just experienced long wait time for both our site..politicsandstuff.forumotion.com as well as this help site which I came to see if others were experiencing same problem. Very slow between threads too still.

History/Cache/Cookies were cleared....now it has cleared for now.

Just a heads up.

Kathryn K

Fo

rumember






Posts

: 29


Reputation :

1


Language

: English



same here not allowing the page to fully load, codes malfunctioning and images appearing and disappearing. Ive checked the sites that my images are hosted on. It is not them. Please figure this out

 It says "waiting for f47.dnspro.org"
@Legionheart
,
Hello on which forum does this problem appear?


No help without your forum url
No support via private message


VentHub,
http://venthub.forumotion.com/
Sorry for the concern I reported it to chrome support. They said it was a known issue redirections and such. Anyway all the issues have been fixed and everything is back to normal.
Thanks,
@Leviosa
Okay thank you, I think we can archive this topic then.


No help without your forum url
No support via private message


---
Permissions in this forum:
You
cannot
reply to topics in this forum