Hi,
I an trying to add a moderator. I have added them to the group "moderator" but they are not able to see images and links in the staff area. All others in the group can see them.
I have checked the settings and nothing has changed. We have been active as a forum for 6 years!
I also checked the settings for access in categories and all was correct showing access and view and read messages and links.
I then made a group for this person, and ticked the boxes. Still cant read the links or images.
However, other members can!
Any ideas?
Last edited by tillytiger99 on June 10th 2016, 2:05 am; edited 1 time in total
Has this moderator used different browsers? What device is he/she using?

When your topic has been solved, ensure you mark the topic solved.
Never post your email in public.

Hi,
She has tried different browsers and is on a PC. Last night she tried several PCs and her ipad. It still shows red words saying only mods can see this.
It is a staff section, so hidden from members, but it has been there for years without any problems adding someone.
Thank you for responding
Do this:  remove her from the group in the administration panel and add her again in the administration panel.

When your topic has been solved, ensure you mark the topic solved.
Never post your email in public.

Hello,

Can Moderators and staff moderate in the hidden staff section or only see it and post in it?

I can't tell or not because that part is missing from your screenshots.

-Brandon
Ive already removed from the panel, groups and started over. Its still the same.
No Brandon, they just view and post. All the others can see the posts though.
Ok, even though every else can view it fine and permissions should not be the issue, it is a possible cause, so I want to cover all angles. I would like you check something for me.
Check all the sections the user is having issues with, go to the forum permissions. Once there, look at the top over by where the quick permissions are.
Just to be clear, I mean this area: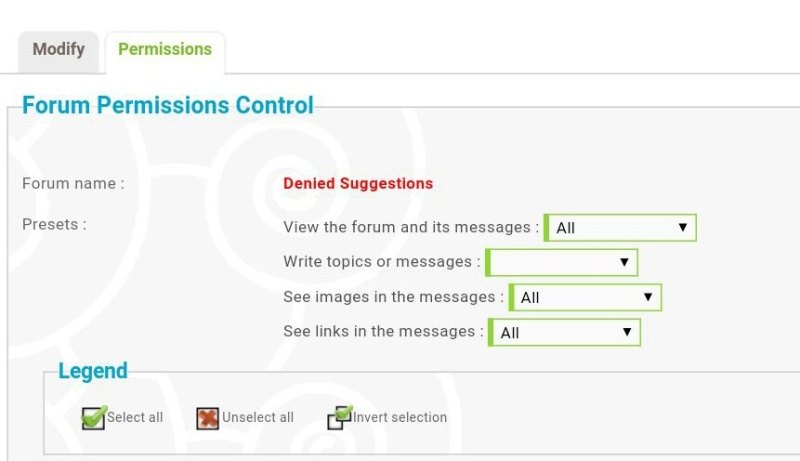 You will see something that says 'See images in the messages:' and a drop down. Can you tell me what the drop down box is set to? Is it set to all? If not, try setting it to all and see if that fixes the issue or not.
If it is set to 'All' already, try changing it to something else, saving and then changing it back to all and saving.
Sometimes our server doesnt save changes or your settings serverside properly, so that even though it shows in the admin panel something is set that way, it isnt actually set that serverside for whatever reason. Doing this can make our server wake up and smell the coffee and save your changes properly.
Once you have done all of the above, let us know whether it works or not. If it does, great, if it doesnt, then atleast we can eliminate it as a possible cause.

-Brandon
Last edited by brandon_g on June 10th 2016, 5:29 am; edited 1 time in total
Hi, Thank you for your quick response.
The settings in the top two boxes are always blank, as its staff only, and not for members. The bottom two say Moderators
I will change the settings now and see what happens
Yeah, if the bottom 2 say Moderators, that could very well be the problem actually.
I know the section is for staff only, but if you set that setting for the images and stuff to 'All', since members can not see, read or post in that section anyway, it won't really matter. You can't see the images in the section, if you can not see the section itself

.
I am pretty sure now that this is probably the cause of your problem and also what will fix it.
Let us know the results once you have found out if it works or not.

-Brandon
Hi Brandon, thank you so much.
That has solved the problem.
| | |
| --- | --- |
| | Problem solved & topic archived. |

When your topic has been solved, ensure you mark the topic solved.
Never post your email in public.

---
Permissions in this forum:
You
cannot
reply to topics in this forum