Page 6 of 6 •

1, 2, 3, 4, 5, 6
First topic message reminder :
Hello everyone,
Since November 2015 I've been working on developing a new "forum version" for Forumotion forums that's modern and responsive. Today I've recently published the production release of this software and would like to share it with all of you who are looking for a more modern design that's also mobile-friendly.

Forumactif Edge features :


Modern mobile-friendly design.

Smart automated control panel that assists you with installation and other tasks.

Dynamic theme selector so your members can browse in the color they prefer.

Side panels for widgets and quick navigation so your forum has maximum space and accessibility.

Automatic color coding of posts based on usergroup affiliation.

Built in counter for reputation votes.

Forumactif Edge will constantly evolve because it's open source and managed by the community. That means we'll take feedback, suggestions, and reports from the community -- that's right,
your
voice can shape the future of this project ! If you'd like to install Forumactif Edge on your Forumotion forum, please see the wiki link below which includes detailed instructions on how to install the theme along with additional information on Forumactif Edge that's constantly changing.
Installation Tutorial :
https://github.com/SethClydesdale/forumactif-edge/wiki/Installing
Not ready to install yet ? No problem ! Take a look around, check out the FAQ and previews below, or visit our website link below to learn more about what Forumactif Edge has to offer !
Website :
https://sethclydesdale.github.io/forumactif-edge/
FAQ
Do you have any questions or concerns about Forumactif Edge ? If so, feel free to check out
our FAQ
page or leave a reply below with your question ! We're always ready to answer your questions !

Previews
Mobile Preview :
Forumactif Edge is responsive, so that means it's mobile-friendly ! Don't believe it ? Check out Google's
Mobile-Friendly test
!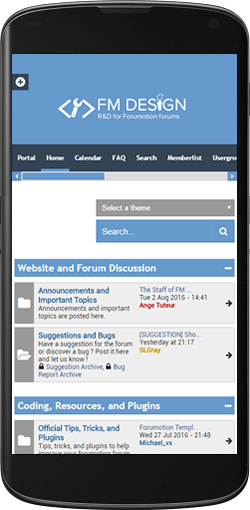 Feature Preview :
Forumactif Edge comes with a theme changer that allows your members to browse in the color of their choice, and to give your forum maximum space it docks widgets to a side panel !
Full Page Screenshots
Click any of the links below to see a full page screen shot of Forumactif Edge in action.
If you have any questions or feedback, feel free to leave them below. I hope all of you enjoy this theme as much as I have making it.

Last edited by Ange Tuteur on March 18th 2017, 12:16 am; edited 4 times in total
---
I am confused! What is this for?!
I would 've been translating it into Dutch, but now I won't. Sorry...
Last edited by SWS on May 11th 2017, 9:04 am; edited 1 time in total
Thank you Ange Tuteur for the updates..got them..I love how there is a pop up when there are updates so I don't have to go looking for them lol.
No problem guys. If you have any concerns about the changes to the Copy Code button,
this topic
is a good read. Also, if you want the Copy Code button that's on Forumactif Edge see this quick tutorial :
http://fmdesign.forumotion.com/t1337-copy-code#30216
It's as the title suggests ; It's a Modern and Responsive forum theme for the Forumotion forum service. Not to be rude, but if you read the first post you would've known this.
@SWS

wrote:I would 've been translating it into Dutch, but now I won't. It's because .... and you know it.

' A light that burns twice as bright burn half as long ' ... You never learned ....

So there you are now...

-snip-

Being true friends means /meant a lot to me (back then), yk...
I'd like to keep things civil between us, so I'll only say this : Think back on things
objectively
and you'll realize why I had to ban you, just put yourself in my shoes and think about these things without being
biased
towards anyone. I harbor no ill-will towards you, it's just that I couldn't allow things to continue as they were without taking proper action. I would prefer to end this here, so please send me a PM if you have anymore responses regarding this matter.
@Ange Tuteur

wrote:It's as the title suggests ; It's a Modern and Responsive forum theme for the Forumotion forum service. Not to be rude, but if you read the first post you would've known this.
I did and i was still confused LOL.
I see lol, perhaps I'll consider revamping the first post then. It has almost been a year since I released it, so it could use a face lift.
Anyway, if you want to see the theme in action, you can check it out @
http://themedesign.forumotion.com/
It should give you a better idea of what this theme does.
Forumactif Edge is great
@Ange
Tuteur
Mobile version (basically devices with small resolution) has layout problems with new Forumotion features (events, publications). Text areas and boxes are too small etc.

Tonight

Foru

memb

er






Posts

: 259


Reputation :

69


Language

: Estonian, English, Russian


Location

: Estonia



@Tonight
you're right, thanks for bringing this to my attention ! I made a quick hotfix which adds some responsiveness to the events. Let me know if the issue has improved or not.

I'm still loving my new layout..and haven't had any hiccups.. lol..thank you Ange Tuteur
Page 6 of 6 •

1, 2, 3, 4, 5, 6
---
Permissions in this forum:
You
cannot
reply to topics in this forum