Every time my friend Carol from China tries to register it appears as invalid email but I can email her from my private email why she can not register?
www.wbcforum.com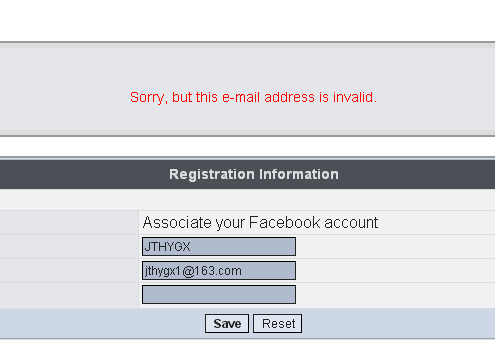 Fernanda Nunes

New

Member




Posts

: 23


Reputation :

2


Language

: portuguese



Ask your friend to use a fake email like gmail, etc.  You can then activate the account.  When your friend logs in, you can change the email for that account.

When your topic has been solved, ensure you mark the topic solved.
Never post your email in public.

Thank you dear, why this happen with chinese email? Why cant get access in forumotion?

Fernanda Nunes

New

Member




Posts

: 23


Reputation :

2


Language

: portuguese



Hello,

Is the provider @163.com or did you just put that to blank out the email address? If that is the actual provider, or ending, then the reason the email address ending in @163.com didnt work is probably because forumotion's system may automatically think it is a spam email address, because it is just numbers. Thus making it not go through.

-Brandon


Remember to mark your topic

when a solution is found.
I know why this is going on,

Our system has a spam system set in to the servers and A Email address that has numbers in as a host will not work as it's not seen as a real Email address.

Sadly unless your member uses a more conmen Email address this will not work as our system will still hold it back and say its not a real Email address.

As for making an account with a fake Email this will work but you risk the member getting banned on our system when it's change over as it will be seen as a spam Email again after some time of being on the system.

My advice:
My advice is to ask your member to make a Hotmail, Live, or Gmail account and use that.
No way. She registered and when I tried to change for the correct email appear email invalid

Another chinese email not allowed:
Sunrideng@qq.com
. All email 163.com and qq.com is not getting to register in our foruns, sorry


Fernanda Nunes

New

Member




Posts

: 23


Reputation :

2


Language

: portuguese




---
Permissions in this forum:
You
cannot
reply to topics in this forum