Page 8 of 8 •

1, 2, 3, 4, 5, 6, 7, 8
First topic message reminder :
HI, I come baring yet another suggestion.
My newest suggestion is to get an official proper warning system in place. Because to me, having a few images in the personalized profile, isn't really ideal. If other forum hosts can have this, I figured we could too.
Okay, this is what it would look like in the profile: (the + and - are only for administrators and moderators though),
And by clicking the plus or the minus, staff can warn the member properly, the page will look something like this: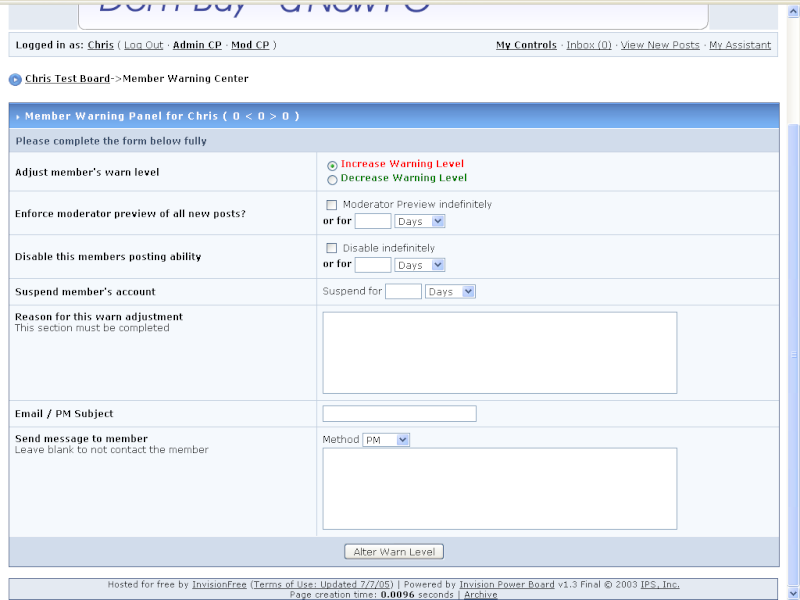 In this warning center, or whatever you want to call it, you can ban/suspend the member, increase/decrease their warn level, let them know via PM, all in once.
What are your thoughts on this?

~Chris

Foru

member






Posts

: 722


Reputation :

40


Language

: English, some italian.


Location

: Australia



---
This gets my "yes" because it's easiest for me in general to properly understand and use. Plus I hace seen this style on more boards that I have joined in the past(none of these boards).

Guest

Guest






Guest

Guest





Voted yes!
Brilliant idea sir!
Amazing Idea! I have voted a Yes for you.
I don't know... I mean I kinda like things how they are now. How people can create their own sort of warning system... With images they choose. And honestly a lot of the time I just don't use a warn system. I think I will hold off on voting for now...
Bumping to move this topic to the first page.

When your topic has been solved, ensure you mark the topic solved.
Never post your email in public.

Sure, we need this for our forums!!


Guest

Guest





The example in first post is awesome! Voted definetly for yes!
Love this idea! Voted yes
Page 8 of 8 •

1, 2, 3, 4, 5, 6, 7, 8
---
Permissions in this forum:
You
cannot
reply to topics in this forum