Page 2 of 2 •

1, 2
First topic message reminder :
Its time to see what the future of forumotion can look like.
What is a Concept Art:
* concept art is fully based on expression and inspiration. It is a future idea, a way of thinking and style that could be used in some time. A concept is not defined and doesn't need to be practical... it is a full, all out graphics brainstorm.
So what are we supposed to do exactly:
* This is a special free for all content. since you cannot limit a concept you can do whatever you want, whether it be a signature, a card , or design ... maybe you fancy a mini wallpaper or just a scribble of an idea. in this contest you get a canvas size and you can make it anyway you want.
OK cool, so I can do anything I want ... so where do I start?:
* First , think of forumotion today, now imagine forumotion in the future... a future where vector circles are old and not fashionable. This is where your ideas come to life... what is the next vision of FM? maybe a new set of colors? maybe vector squares not circles... or maybe something completely new.
Does this by any chance have reference to our "change the banner suggestions"?:
* why yes, yes it does. I enjoy concept art ... and have brought a few ideas to life... now I want to see your ideas... you new forumotion styles.
Wow so this means Forumotion is changing its look?:
* NO , its just for fun.
Specifications:
max : 500 x 500
min: 100 x 100

style: whatever you want

type: whether it be a sig, card, banner, mini wallpaper ... or design ideas... i don't mind

comments: a concept ... a new perspective ... a new image ... a new visage.

Additional Information



due date: 25 of June 2009
how many: max 2 concepts
where to post: here


images that are not in the min max canvas size are thrown away.
The staff will choose a winner.
winner will be mentioned in the hall of fame.
why enter ... well you never know who is looking for new talent.
Help and resources

Still confused ? wiki time:
concept_art
a little more about this: deviantart time:
http://kazimdoku.deviantart.com/art/audi-concept-111963404
http://megamars.deviantart.com/art/COCA-COLA-Design-theme-TV-83460602
http://maverick18x.deviantart.com/art/MacPad-Concept-View-2-72002925
http://jalokim5.deviantart.com/art/TechWeb-Support-Concept-115401725
http://browse.deviantart.com/digitalart/?order=9#catpath=digitalart/mixedmed/conceptual&order=9
http://protozoario.deviantart.com/art/Concept-Gorilla-37423786
http://th03.deviantart.net/fs17/150/f/2007/205/9/7/concept_cover_by_loveshugah.jpg
http://th03.deviantart.net/fs7/150/i/2005/271/d/c/CONCEPT_by_nachoyague.jpg
---
@ kiid and anyone else that is sceptic...

if you feel you'll get ripped ...
Pm me the result i'll post them right after closing the contest.

nice perlagotchi...that is a concept
Oh well here's something i did while staring at one lol
It was on my Timberlands

Also i remember i saw something like this long time ago
and i tried picturing it and just came up with this.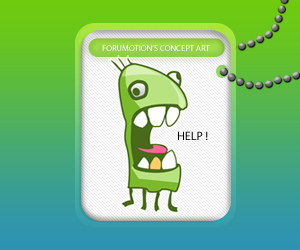 Here is my try:
Full preview

DestinyB

New

Member




Posts

: 11


Reputation :

2


Language

: English



Do we have to create a concept of forumotion.com or support forum?

incredible_fear

Active

Poster






Posts

: 1582


Reputation :

132


Language

: English



Its for Forumotion so its related to anything Forumotion.
3 days left ...

remember a concept is anything you want ...
it just needs to symbolize forumotion in someway ...


so go ahead... banners, sigs, avatars anything and everything...
Type :
orumotion avatar
Size :
150x200 Px
Creat it By
Perlagotchi
First concept, ForuMotion's new look (colors, font):
Second, new ForuMonster (and also FM's whole logo in the corner):

Jok3r

Foru

member






Posts

: 98


Reputation :

0


Language

: Finnish/English


Location

: Finland



Hot stuff ...


Guys 1 day left ...
When I log on tomorrow ... its d-day...


remember ... a concept is anything you like...
post while its hot ... this is a good chance to get noticed...
We Support The World
Type : Avatar
Size : 150x200
Creat By
Perlagotchi
That's your fourth work. Only 2 Jalokim said


@Jalo when ever you close this topic i will PM you my second work
well... thank you all for participating ...
especially those that participated ... and a special thanks to those that tried.
the contest ... is now over!
turned out a little harder than you guys thought? well i guess thinking up a concept is not that easy. nonetheless we have some material to compare.
The staff will now take a look at your stuff... laugh at a few... point fingers at others... and so on and so forth ... aahahahh

we'll give you a result over the weekend.
Winners will bed displayed in the hall of fame.
But don't pack up your bags just yet.
Keep your graphics tools handy ... there will be some action happening soon... stay tooned for more info
this thread is locked
Page 2 of 2 •

1, 2
---
Permissions in this forum:
You
cannot
reply to topics in this forum