Hi everybody, I made this presentation for my forum
LOGO

Administrators
: Lincgoody
Moderators
: Krystel68,Carla,Mimi-in-England
Forum's main theme
: This forum is for aupairs and nannies as well in England, in Scoland as Ireland, from all over the world, who want to share their experiences,their advices and to meet.
AU PAIRS IN ENGLAND CATEGORIES
Help and rules of the forum

Welcome

Charter to read before to write a message

Suggestions and notices

News
Classified adverts

Recruitment OFFERS

Recruitment WANTED
Between Us

Who are you?

Friends of au pairs

Nannies section

Calendar

Blogs and websites

Your photos

Free expression

Privates messages

In your your language
Administration

Websites for au pairs and organisms

Advices to travel

Your host family
An au pair life

Everyday life

Problems with your host family

Before/During/After

Meetings

Events,gig throughout England

Places you must to go
Your leisures

TV

Cinema and DVDs

Reading

Music

Your recipes
Level in english

Tricks and stuffs
FORUM STATICS VIEW
FORUM PORTAL VIEW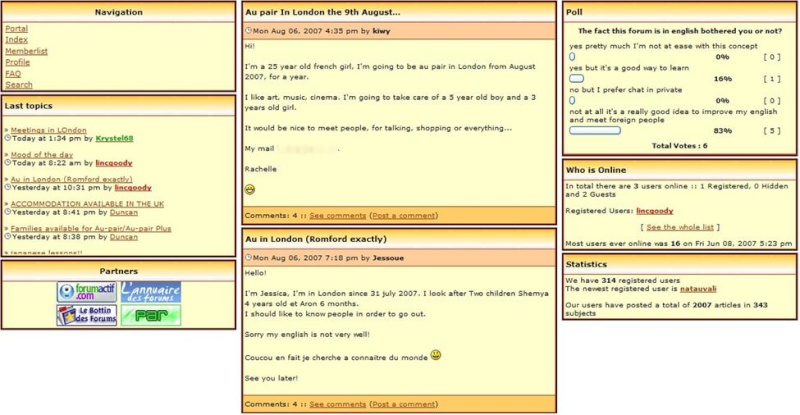 FORUM HOME VIEW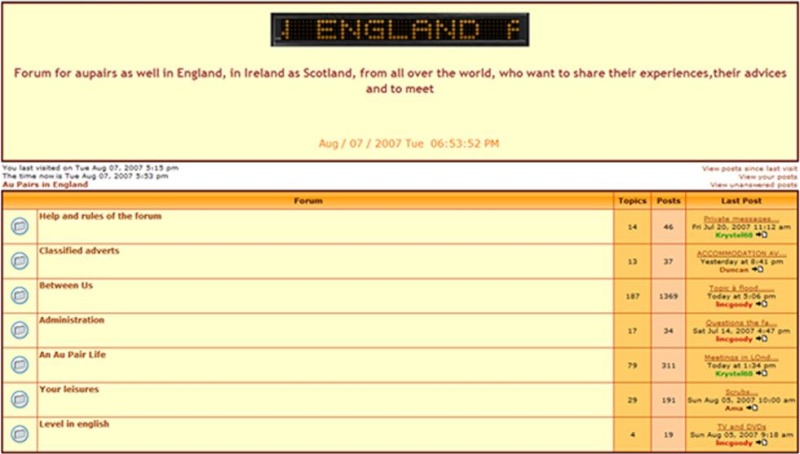 I forgot to tell the categorie: I think it will go in Family & Society section, but if you think it will be better in an other section it's up to you.

Thanks you for your help.

Lindsay

When your topic has been solved, ensure you mark the topic solved.
Never post your email in public.


---
Permissions in this forum:
You
cannot
reply to topics in this forum