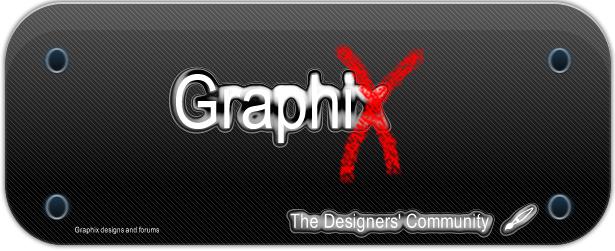 Chosen Category: Graphics
Title:
Graphix
Link:
http://graphix.free-forums.biz
Language: English
Purpose: We are a forum for anyone interested in graphics to come and learn, help eachother out and show off a little, but most of all to make new friends! We have friendly staff who are always there for support and willing to lend a hand!
Below is a list of our current categories and forums.

Welcome
-Announcements
-Introductions
_________________________

Development
-Coding
-Web Design
_________________________

General Graphics
-Graphics Chat
-Graphics Requests
-Graphics Proposals
-Graphics Tutorials
_________________________

Miscellaneous
-Graphix
-General Discussions
-Graphix Credits Store
-Competitions
-Games
-Staff Room <Staff Only>
_________________________

Basket
-Basket
_________________________
We are currently hiring staff!
Current staff:
Tom
Donal
Avian
Staff needed:
Lots!
Ranging from administrators and gobal mods
to graphics designers and official helpers!
More staff openings to come!
Here is a small overview of our forum layout: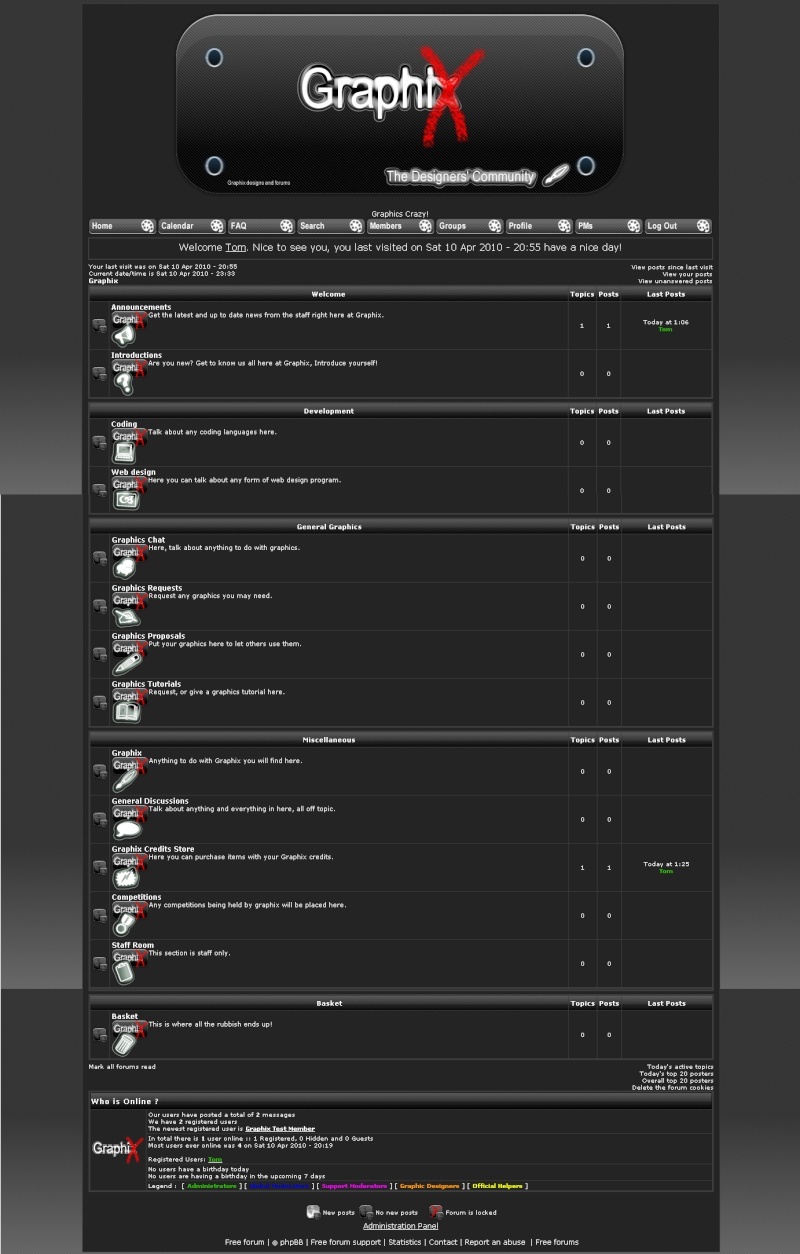 Thanks!
Hope to see you soon
~ Tom and the
Graphix
staff
Last edited by Tom2794 on April 28th 2010, 11:20 pm; edited 5 times in total
Staff openings still available!
Only one new member overnight.

Come join us!


~ Tom. x
I will be starting to make tutorials for adobe fireworks, but only members can see the tutorials section so sign up!
We need someone to help out with tutorials for different programs, so if you feel you would be up to it, register and contact me!
Stuff :
Administrators
1- Tom
2- ----
3- ----
Global Moderators
1- ----------
2- ----------
3- ----------
4 - ----------
Support Moderators
1- ---------
2- ---------
3- ---------
4- ---------
Graphics Designers
1- ---------
2- ---------
3- ---------
4- ---------
Official Helpers
1- ---------
2- ---------
3- ---------
4- ---------
Staff openings still available!
Last edited by CraZyWolf on April 28th 2010, 2:53 pm; edited 1 time in total

CraZyWolf

Foru

member






Posts

: 562


Reputation :

6


Language

: HTML || CSS (learning) || Graphic Design ... can u guys stop sending me pms about gfx request cuz im not staff here.


Location

: Los Angeles -LA-



Update.

Tutorials section now fully functioning, Accepting your tutorials too...

Staff vacancies still up....

Wanna have some fun? Join us today!
Still low on numbers!

More people, More fun!

Come and join today and help us get up and running!

The quicker you join the higher the chance of getting staff!

Thanks!
Donal joined the Global Moderator team!

Still staff openings available...Upon registration PM me with what you would like to be, your experience of that staff slot and how ou could help the forum now and in the future.

Staff from every group still needed

Come on down and keep learning graphics.. Our numbers are rising so come in and join the fun!
More tutorials have been added!

But to see them you must register!

So come on down and have some fun!
New Advert Created!

Hope you like it!



News

Spoongirl - Banned

Crazywolf - Departed from the Global Moderator Team

Staff positions still available



EXTRA NEWS


Here at graphix we are very happy to announce that we have recently recruited a new member of staff

Congratulations to Avian, who has become our newest member of the Global Moderator Team.
Make sure you are active and do your job to the best of your ability!

We all wish you the best of luck!
GRAPHIX IS NOW CLOSED!

Please delete this topic
---
Permissions in this forum:
You
cannot
reply to topics in this forum