1.DEFINITION:

Facebook Connect is a revolutionary system to connect with your Facebook account and invite your friends and contacts of the network in the forum.

The founder may invite their friends, but members may do so too: winner:

Of course, the admin must have a Facebook account. Or you have to create one.

For the proper functioning of the module:




You must have a Facebook account, you will need to create one if you do not

The founder of the forum must create the application in Facebook and install it on his forum

The module must be enabled on the forum




Please: This application is the courtesy of Facebook. In case of any issue, you will need to wait for Facebook to fix it.


2.Create Facebook ID and activate the module:

Admin panel > modules> Facebook connect

There are steps to follow!

a -The Admin has to create its Facebook application to have an ID code : it's an identification Facebook will join to your forum:






You will then arrive on Facebook :






Then he takes you to a page with an ID code. (Note : you might get a blank page, but the application will still be created)

If you get a blank page, you can then modify your application :


And retrieve the ID Application code :


Don't forget to set up the domain into App domain. For example if your forum is myforum.forumotion.com, you have to write forumotion.com:

b- The Admin has to paste the ID Application code in in the admin panel of your forum: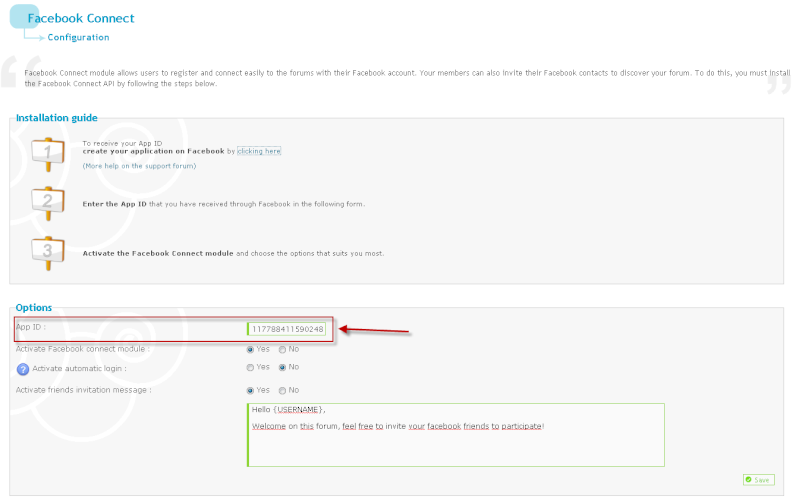 c - then the admin has to activate the module in the Admin panel: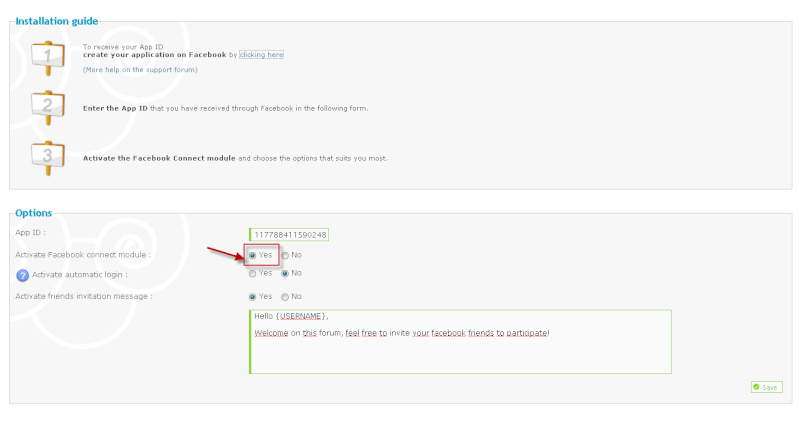 3.Options:

You can enable automatic connection so users can connect with their Facebook accounts:





You can also select and modify the message of invitation from friends.



Login options:
a - I am a new user and I register in the forum



Facebook account must be open at the time or you have to connect:





Then at each login to the forum you will only have to click on the button to connect to the Facebook account :





b- I am a old user, and want to connect to my Facebook account

It's simple, you have to link your Facebook account with your account already created in the forum.

Connect in the forum> Profile> Preferences> Connect my Facebook account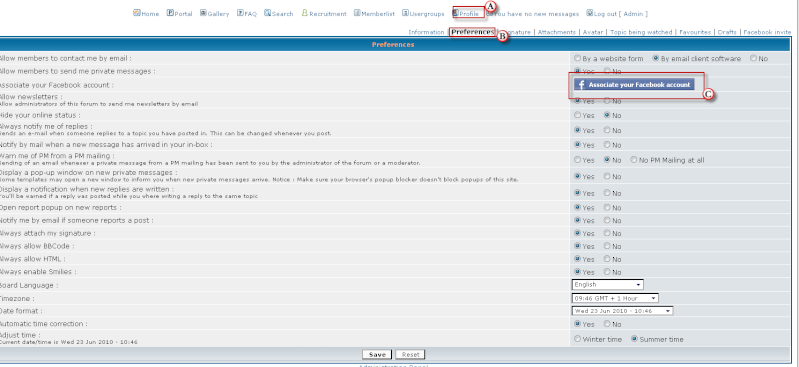 Connect to your Facebook account.

From this point, your forum account and Facebook account are linked.


4. Invite friends:

All forum members (staff or users) can invite Facebook contacts to participate in the forum.

Go to Forum> profile> Facebook invites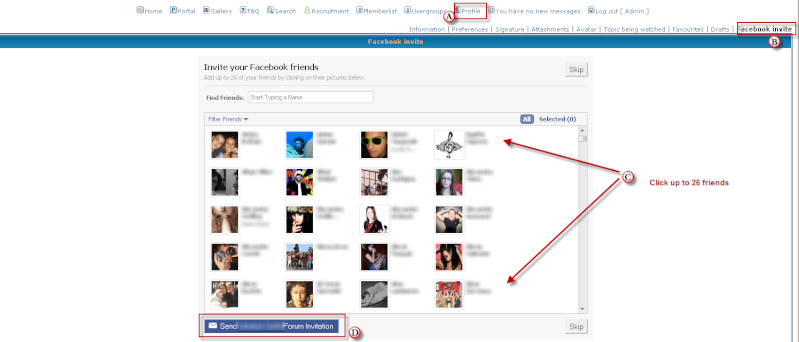 You see a page with a list of your friends.

Select the contacts you want to invite to join the forum (up to 26 at once) :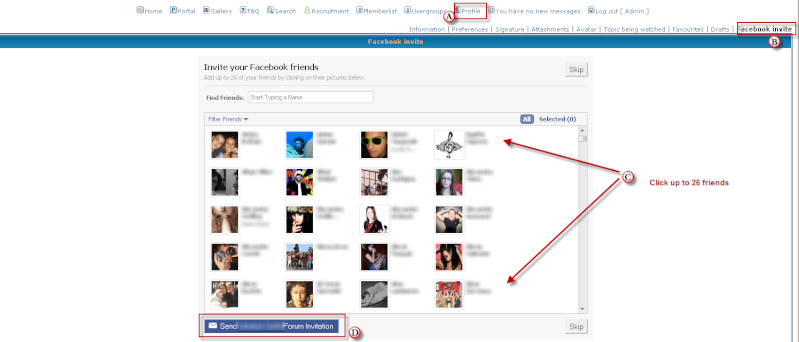 Clicking the invitation received on Facebook takes you to your forum so you can register!


Last edited by Buttercup on April 30th 2015, 5:26 pm; edited 9 times in total
Template
overall_header_new.tpl
FOR PHPBB2
Replace this line :
Code:

<html dir="{S_CONTENT_DIRECTION}" .... >
by :
Code:

<html dir="{S_CONTENT_DIRECTION}" id="min-width" lang="{L_LANG_HTML}" xml:lang="{L_LANG_HTML}" xmlns:fb="http://www.facebook.com/2008/fbml">
Search this line :
Code:

<script src="{JS_DIR}{L_LANG}.js" type="text/javascript"></script>
And add after it :
Code:

<!-- BEGIN switch_fb_login -->
<script src="http://connect.facebook.net/{switch_fb_login.FB_LOCAL}/all.js"></script>
<script src="{switch_fb_login.JS_FB_LOGIN}" type="text/javascript"></script>
<!-- END switch_fb_login -->
template
overall_footer.tpl
Search this line :
Code:

<script type="text/javascript">
//<![CDATA[
fa_endpage();
//]]>
</script>
And insert this code after it :
Code:

<!-- BEGIN switch_facebook_login -->
<div id="fb-root"></div>
<script type="text/javascript">
//<![CDATA[
FB.init({
appId: '{switch_facebook_login.FACEBOOK_APP_ID}',
status: true,
cookie: true,
xfbml: true
});
//]]>
</script>
<!-- END switch_facebook_login -->

<!-- BEGIN switch_facebook_logout -->
<script type="text/javascript">
//<![CDATA[
FB.Event.subscribe('auth.logout', function(response) {
if ($('a#logout'))
{
var lien_redir = $('a#logout').attr('href');

if ($('a#logout').attr('href') && $('a#logout').attr('href') != '')
{
document.location.href = 'http://{switch_facebook_logout.SERVER_NAME}/' + lien_redir;
}
}
});

$(document).ready( function() {
$('a#logout').click( function() {
FB.logout();
} );
} );
//]]>
</script>
<!-- END switch_facebook_logout -->
template
index_body.tpl
Replace this block :
Code:

<!-- BEGIN switch_user_login_form_header -->
<form action="{S_LOGIN_ACTION}" method="post" name="form_login">
<table width="100%" border="0" cellspacing="0" cellpadding="0" class="user_login_form forumline">
<tr>
<td width="100%" valign="top" align="center" class="row1">&nbsp;
<label><span class="genmed">{L_USERNAME}:</span>&nbsp;<input class="post" type="text" size="10" name="username" /></label>&nbsp;
<label><span class="genmed">{L_PASSWORD}:</span>&nbsp;<input class="post" type="password" size="10" name="password" /></label>&nbsp;
{S_HIDDEN_FIELDS}<input class="mainoption" type="submit" name="login" value="{L_LOGIN}" />

<label><span class="gensmall">{L_AUTO_LOGIN}</span>&nbsp;<input class="radio" type="checkbox" name="autologin" {AUTOLOGIN_CHECKED} /></label>&nbsp;

</td>
</tr>
</table>
</form>
<!-- END switch_user_login_form_header -->
by :
Code:

<!-- BEGIN switch_user_login_form_header -->
<form action="{S_LOGIN_ACTION}" method="post" name="form_login">
<!-- BEGIN switch_fb_connect_no -->
<table width="100%" border="0" cellspacing="0" cellpadding="0" class="user_login_form forumline">
<tr>
<td class="row1" align="center">
<table border="0" cellspacing="0" cellpadding="0">
<tr>
<td><span class="genmed">{L_USERNAME}:</span>&nbsp;</td>
<td><input class="post" type="text" size="10" name="username"/>&nbsp;</td>
<td>
<input class="radio" type="checkbox" name="autologin" {AUTOLOGIN_CHECKED} />
<span class="gensmall">{L_AUTO_LOGIN}</span>&nbsp;
</td>
</tr>

<tr>
<td><span class="genmed">{L_PASSWORD}:</span>&nbsp;</td>
<td><input class="post" type="password" size="10" name="password"/>&nbsp;</td>
<td>{S_HIDDEN_FIELDS}<input class="mainoption" type="submit" name="login" value="{L_LOGIN}" /></td>
</tr>
</table>
</td>
</tr>
</table>
<!-- END switch_fb_connect_no -->

<!-- BEGIN switch_fb_connect -->
<table width="100%" border="0" cellspacing="0" cellpadding="0" class="user_login_form forumline">
<tr>
<td valign="top" width="100%" class="row1" align="center">
<table width="100%">
<tr>
<td width="55%" valign="middle" align="right">
<table class="right">
<tr>
<td><span class="genmed">{L_USERNAME}:</span>&nbsp;</td>
<td><input class="post" type="text" size="10" name="username"/>&nbsp;</td>
<td>
<input class="radio" type="checkbox" name="autologin" {AUTOLOGIN_CHECKED} />
<span class="gensmall">{L_AUTO_LOGIN}</span>&nbsp;
</td>
</tr>

<tr>
<td><span class="genmed">{L_PASSWORD}:</span>&nbsp;</td>
<td><input class="post" type="password" size="10" name="password"/>&nbsp;</td>
<td>{S_HIDDEN_FIELDS}<input class="mainoption" type="submit" name="login" value="{L_LOGIN}" /></td>
</tr>
</table>
</td>
<td width="10%" align="center" valign="middle">
<span class="genmed fb_or">{switch_user_login_form_header.switch_fb_connect.L_OR}</span>
</td>
<td width="35%" class="align_gauche"><fb:login-button size="large" onlogin="facebook_login()" v="2" perms="{switch_user_login_form_header.switch_fb_connect.L_FB_PERMISSIONS}">{switch_user_login_form_header.switch_fb_connect.L_FB_LOGIN_BUTTON}</fb:login-button></td>
</tr>
</table>
</td>
</tr>
</table>
<!-- END switch_fb_connect -->
</form>
<!-- END switch_user_login_form_header -->
Replace this block :
Code:

<!-- BEGIN switch_user_login_form_footer -->
<form action="{S_LOGIN_ACTION}" method="post" name="form_login">
<table width="100%" border="0" cellspacing="0" cellpadding="0" class="user_login_form forumline">
<tr>
<td width="100%" valign="top" align="center" class="row1">&nbsp;
<span class="genmed">{L_USERNAME}:</span>&nbsp;
<input class="post" type="text" size="10" name="username"/>&nbsp;
<span class="genmed">{L_PASSWORD}:</span>&nbsp;
<input class="post" type="password" size="10" name="password"/>&nbsp;
{S_HIDDEN_FIELDS}<input class="mainoption" type="submit" name="login" value="{L_LOGIN}" />

<span class="gensmall">{L_AUTO_LOGIN}</span>&nbsp;
<input class="radio" type="checkbox" name="autologin" {AUTOLOGIN_CHECKED} />&nbsp;
</td>
</tr>
</table>
</form>
<!-- END switch_user_login_form_footer -->
by :
Code:

<!-- BEGIN switch_user_login_form_footer -->
<form action="{S_LOGIN_ACTION}" method="post" name="form_login">
<!-- BEGIN switch_fb_connect_no -->
<table width="100%" border="0" cellspacing="0" cellpadding="0" class="user_login_form forumline">
<tr>
<td class="row1" align="center">
<table border="0" cellspacing="0" cellpadding="0">
<tr>
<td><span class="genmed">{L_USERNAME}:</span>&nbsp;</td>
<td><input class="post" type="text" size="10" name="username"/>&nbsp;</td>
<td>
<input class="radio" type="checkbox" name="autologin" {AUTOLOGIN_CHECKED} />
<span class="gensmall">{L_AUTO_LOGIN}</span>&nbsp;
</td>
</tr>

<tr>
<td><span class="genmed">{L_PASSWORD}:</span>&nbsp;</td>
<td><input class="post" type="password" size="10" name="password"/>&nbsp;</td>
<td>{S_HIDDEN_FIELDS}<input class="mainoption" type="submit" name="login" value="{L_LOGIN}" /></td>
</tr>
</table>
</td>
</tr>
</table>
<!-- END switch_fb_connect_no -->

<!-- BEGIN switch_fb_connect -->
<table width="100%" border="0" cellspacing="0" cellpadding="0" class="user_login_form forumline">
<tr>
<td valign="top" width="100%" class="row1" align="center">
<table width="100%">
<tr>
<td width="55%" valign="middle">
<table class="right">
<tr>
<td><span class="genmed">{L_USERNAME}:</span>&nbsp;</td>
<td><input class="post" type="text" size="10" name="username"/>&nbsp;</td>
<td>
<input class="radio" type="checkbox" name="autologin" {AUTOLOGIN_CHECKED} />
<span class="gensmall">{L_AUTO_LOGIN}</span>&nbsp;
</td>
</tr>

<tr>
<td><span class="genmed">{L_PASSWORD}:</span>&nbsp;</td>
<td><input class="post" type="password" size="10" name="password"/>&nbsp;</td>
<td>{S_HIDDEN_FIELDS}<input class="mainoption" type="submit" name="login" value="{L_LOGIN}" /></td>
</tr>
</table>
</td>
<td width="10%" align="center" valign="middle">
<span class="genmed fb_or">{switch_user_login_form_footer.switch_fb_connect.L_OR}</span>
</td>
<td width="35%" class="align_gauche"><fb:login-button size="large" onlogin="facebook_login()" v="2" perms="{switch_user_login_form_footer.switch_fb_connect.L_FB_PERMISSIONS}">{switch_user_login_form_footer.switch_fb_connect.L_FB_LOGIN_BUTTON}</fb:login-button></td>
</tr>
</table>
</td>
</tr>
</table>
<!-- END switch_fb_connect -->
</form>
<!-- END switch_user_login_form_footer -->
Add this block at file end :
Code:

<!-- BEGIN switch_fb_index_login -->
<div id="fb-root"></div>
<script type="text/javascript">
//<![CDATA[
FB.init({
appId: '{switch_fb_index_login.FACEBOOK_APP_ID}',
status: true,
cookie: true,
xfbml: true
});
//]]>
</script>
<!-- END switch_fb_index_login -->
template
profile_add_body.tpl
Insert this line at file beginning :
Code:

<script type="text/javascript" src="{JSPWD}"></script>
Replace this block :
Code:

<tr>
<td class="row1"><span class="gen">{L_NEW_PASSWORD}&nbsp;:&nbsp;*</span>
<span class="gensmall">{L_PASSWORD_IF_CHANGED}</span></td>
<td class="row2"><input class="post" type="password" name="new_password" value="{NEW_PASSWORD}" size="25" maxlength="25" /></td>
</tr>
by :
Code:

<tr>
<td class="row1"><span class="gen">{L_NEW_PASSWORD}&nbsp;:&nbsp;*</span>
<span class="gensmall">{L_PASSWORD_IF_CHANGED}</span></td>
<td class="row2">
<input class="post left" type="password" name="new_password" value="{NEW_PASSWORD}" size="25" maxlength="25" />
<div id="cont_pwd">
<div class="pwd_img" id="pwd_bad" >{BAD_LEVEL_PWD}</div>
<div class="pwd_img" id="pwd_middle" >{GOOD_LEVEL_PWD}</div>
<div class="pwd_img" id="pwd_good" >{STRONG_LEVEL_PWD}</div>
</div>
</td>
</tr>
Search this line :
Code:

<!-- END switch_profile_advanced -->
and add this block after it :
Code:

<!-- BEGIN switch_fb_connect -->
<tr>
<td class="row1 fb"><span class="gen">{switch_preferences_menu.switch_fb_connect.L_FB_LINK_ACCOUNT}&nbsp;:</span></td>
<td class="row2 fb" width="400">
<!-- BEGIN switch_fb_account_linked -->
<span class="gen">{switch_preferences_menu.switch_fb_connect.switch_fb_account_linked.L_FB_ACCOUNT_LINKED}</span>
<!-- END switch_fb_account_linked -->
<!-- BEGIN switch_fb_account_not_linked -->
<fb:login-button size="medium" onlogin="facebook_link()" v="2">{switch_preferences_menu.switch_fb_connect.switch_fb_account_not_linked.L_FB_LOGIN_BUTTON}</fb:login-button>
<!-- END switch_fb_account_not_linked -->
</td>
</tr>
<!-- END switch_fb_connect -->
Add this block at file end :
Code:

<script type="text/javascript">
$('input[name=reset]').click(function(){
$("#pwd_good,#pwd_middle,#pwd_bad").hide();

});

$('input[name=new_password],input[name=username]').keyup(function() {

if ( $('input[name=new_password]').val() != "" )
{
var level = passwordStrength($('input[name=new_password]').val(),$('input[name=username]').val());

switch(level)
{
case 'bad' :
$("#pwd_middle,#pwd_good").hide();
$("#pwd_bad").show();
break;

case 'good' :
$("#pwd_good,#pwd_bad").hide();
$("#pwd_middle").show();
break;

case 'strong' :
$("#pwd_middle,#pwd_bad").hide();
$("#pwd_good").show();
break;
}
}
else
{
$("#pwd_middle,#pwd_good,#pwd_bad").hide();
}
});
</script>
<!-- BEGIN switch_preferences_menu -->
<!-- BEGIN switch_fb_connect -->
<div id="fb-root"></div>
<script type="text/javascript">
//<![CDATA[
FB.init({
appId: '{switch_preferences_menu.switch_fb_connect.FACEBOOK_APP_ID}',
status: true,
cookie: true,
xfbml: true
});
//]]>
</script>
<!-- END switch_fb_connect -->
<!-- END switch_preferences_menu -->
Last edited by Typlo on July 27th 2010, 2:44 pm; edited 2 times in total
Template
overall_header_new.tpl
FOR PUNBB
Replace this line :
Code:

<html dir="{S_CONTENT_DIRECTION}" id="min-width" lang="{L_LANG_HTML}" xml:lang="{L_LANG_HTML}" xmlns="http://www.w3.org/1999/xhtml">
With :
Code:

<html id="min-width" xmlns:fb="http://www.facebook.com/2008/fbml" xml:lang="{L_LANG_HTML}" lang="{L_LANG_HTML}" dir="{S_CONTENT_DIRECTION}">
Search this line :
Code:

<script src="{JS_DIR}{L_LANG}.js" type="text/javascript"></script>
And add this block after it :
Code:

<!-- BEGIN switch_fb_login -->
<script src="http://connect.facebook.net/{switch_fb_login.FB_LOCAL}/all.js"></script>
<script src="{switch_fb_login.JS_FB_LOGIN}" type="text/javascript"></script>
<!-- END switch_fb_login -->
template
overall_footer.tpl
Search this line :
Code:

<script type="text/javascript">
//<![CDATA[
fa_endpage();
//]]>
</script>
And add this block before it:
Code:

<!-- BEGIN switch_facebook_login -->
<div id="fb-root"></div>
<script type="text/javascript">
//<![CDATA[
FB.init({
appId: '{switch_facebook_login.FACEBOOK_APP_ID}',
status: true,
cookie: true,
xfbml: true
});
//]]>
</script>
<!-- END switch_facebook_login -->

<!-- BEGIN switch_facebook_logout -->
<script type="text/javascript">
//<![CDATA[
FB.Event.subscribe('auth.logout', function(response) {
if ($('a#logout'))
{
var lien_redir = $('a#logout').attr('href');

if ($('a#logout').attr('href') && $('a#logout').attr('href') != '')
{
document.location.href = 'http://{switch_facebook_logout.SERVER_NAME}/' + lien_redir;
}
}
});

$(document).ready( function() {
$('a#logout').click( function() {
FB.logout();
} );
} );
//]]>
</script>
<!-- END switch_facebook_logout -->
template
index_body.tpl
Replace this block :
Code:

<!-- BEGIN switch_user_login_form_header -->
<div class="main">
<form action="{S_LOGIN_ACTION}" method="post" name="form_login">
<div class="user_login_form main-box center">
<label><span class="genmed">{L_USERNAME} :</span> <input class="post" type="text" size="10" name="username" /></label> &nbsp;
<label><span class="genmed">{L_PASSWORD} :</span> <input class="post" type="password" size="10" name="password" /></label> &nbsp;
<label><span class="gensmall">{L_AUTO_LOGIN}</span> <input class="radio" type="checkbox" name="autologin" {AUTOLOGIN_CHECKED} /></label> &nbsp;
{S_HIDDEN_FIELDS}<input class="mainoption" type="submit" name="login" value="{L_LOGIN}" />
</div>
</form>
</div>
<!-- END switch_user_login_form_header -->
with :
Code:

<!-- BEGIN switch_user_login_form_header -->
<div class="main">
<form action="{S_LOGIN_ACTION}" method="post" name="form_login">
<div class="user_login_form main-box center">
<label><span class="genmed">{L_USERNAME} :</span> <input class="post" type="text" size="10" name="username" /></label> &nbsp;
<label><span class="genmed">{L_PASSWORD} :</span> <input class="post" type="password" size="10" name="password" /></label> &nbsp;
<label><span class="gensmall">{L_AUTO_LOGIN}</span> <input class="radio" type="checkbox" name="autologin" {AUTOLOGIN_CHECKED} /></label> &nbsp;
{S_HIDDEN_FIELDS}<input class="mainoption" type="submit" name="login" value="{L_LOGIN}" />
<!-- BEGIN switch_fb_connect -->
<span class="fb_or">{switch_user_login_form_header.switch_fb_connect.L_OR}</span>
<fb:login-button size="large" onlogin="facebook_login()" v="2" perms="{switch_user_login_form_header.switch_fb_connect.L_FB_PERMISSIONS}">{switch_user_login_form_header.switch_fb_connect.L_FB_LOGIN_BUTTON}</fb:login-button>
<!-- END switch_fb_connect -->
</div>
</form>
</div>
<!-- END switch_user_login_form_header -->
Replace this block :
Code:

<!-- BEGIN switch_user_login_form_footer -->
<form action="{S_LOGIN_ACTION}" method="post" name="form_login">
<div class="user_login_form main-box center">
<label><span class="genmed">{L_USERNAME} :</span> <input class="post" type="text" size="10" name="username"/></label> &nbsp;
<label><span class="genmed">{L_PASSWORD} :</span> <input class="post" type="password" size="10" name="password"/></label> &nbsp;
<label><span class="gensmall">{L_AUTO_LOGIN}</span> <input class="radio" type="checkbox" name="autologin" {AUTOLOGIN_CHECKED} /></label> &nbsp;
{S_HIDDEN_FIELDS}<input class="mainoption" type="submit" name="login" value="{L_LOGIN}" />
</div>
</form>
<!-- END switch_user_login_form_footer -->
with :
Code:

<!-- BEGIN switch_user_login_form_footer -->
<form action="{S_LOGIN_ACTION}" method="post" name="form_login">
<div class="user_login_form main-box center">
<label><span class="genmed">{L_USERNAME} :</span> <input class="post" type="text" size="10" name="username"/></label> &nbsp;
<label><span class="genmed">{L_PASSWORD} :</span> <input class="post" type="password" size="10" name="password"/></label> &nbsp;
<label><span class="gensmall">{L_AUTO_LOGIN}</span> <input class="radio" type="checkbox" name="autologin" {AUTOLOGIN_CHECKED} /></label> &nbsp;
{S_HIDDEN_FIELDS}<input class="mainoption" type="submit" name="login" value="{L_LOGIN}" />
<!-- BEGIN switch_fb_connect -->
<span class="genmed fb_or">{switch_user_login_form_footer.switch_fb_connect.L_OR}</span>
<fb:login-button size="large" onlogin="facebook_login()" v="2" perms="{switch_user_login_form_footer.switch_fb_connect.L_FB_PERMISSIONS}">{switch_user_login_form_footer.switch_fb_connect.L_FB_LOGIN_BUTTON}</fb:login-button>
<!-- END switch_fb_connect -->
</div>
</form>
<!-- END switch_user_login_form_footer -->
Add this block at file end :
Code:

<!-- BEGIN switch_fb_index_login -->
<div id="fb-root"></div>
<script type="text/javascript">
//<![CDATA[
FB.init({
appId: '{switch_fb_index_login.FACEBOOK_APP_ID}',
status: true,
cookie: true,
xfbml: true
});
//]]>
</script>
<!-- END switch_fb_index_login -->
template
profile_add_body.tpl
Insert this block at file beginning :
Code:

<script type="text/javascript" src="{JSPWD}"></script>
Replace this block :
Code:

<dl>
<dt><label>{L_NEW_PASSWORD}&nbsp;: *</label></dt>
<dd>
<input type="password" name="new_password" value="{NEW_PASSWORD}" class="inputbox" />

<span class="italic">{L_PASSWORD_IF_CHANGED}</span>
</dd>
</dl>
by :
Code:

<dl>
<dt><label>{L_NEW_PASSWORD}&nbsp;: *</label></dt>
<dd>
<input type="password" name="new_password" value="{NEW_PASSWORD}" class="inputbox left" />
<div id="cont_pwd">
<div class="pwd_img" id="pwd_bad" >{BAD_LEVEL_PWD}</div>
<div class="pwd_img" id="pwd_middle" >{GOOD_LEVEL_PWD}</div>
<div class="pwd_img" id="pwd_good" >{STRONG_LEVEL_PWD}</div>
</div>
<div class="clear"></div>
<span class="italic">{L_PASSWORD_IF_CHANGED}</span>
</dd>
</dl>
Search this line :
Code:

<!-- END switch_profile_advanced -->
Add this code after it :
Code:

<!-- BEGIN switch_fb_connect -->
<dl>
<dt><label>{switch_preferences_menu.switch_fb_connect.L_FB_LINK_ACCOUNT} :</label></dt>
<dd>
<!-- BEGIN switch_fb_account_linked -->
<span class="gen">{switch_preferences_menu.switch_fb_connect.switch_fb_account_linked.L_FB_ACCOUNT_LINKED}</span>
<!-- END switch_fb_account_linked -->

<!-- BEGIN switch_fb_account_not_linked -->
<fb:login-button size="medium" onlogin="facebook_link()" v="2"{switch_preferences_menu.switch_fb_connect.switch_fb_account_not_linked.L_FB_LOGIN_BUTTON}</fb:login-button>
<!-- END switch_fb_account_not_linked -->
</dd>
</dl>
<!-- END switch_fb_connect -->
Add this block at file end:
Code:

<script type="text/javascript">
$('input[name=reset]').click(function(){
$("#pwd_good,#pwd_middle,#pwd_bad").hide();

});

$('input[name=new_password],input[name=username]').keyup(function() {

if ( $('input[name=new_password]').val() != "" )
{
var level = passwordStrength($('input[name=new_password]').val(),$('input[name=username]').val());

switch(level)
{
case 'bad' :
$("#pwd_middle,#pwd_good").hide();
$("#pwd_bad").show();
break;

case 'good' :
$("#pwd_good,#pwd_bad").hide();
$("#pwd_middle").show();
break;

case 'strong' :
$("#pwd_middle,#pwd_bad").hide();
$("#pwd_good").show();
break;
}
}
else
{
$("#pwd_middle,#pwd_good,#pwd_bad").hide();
}
});
</script>
<!-- BEGIN switch_preferences_menu -->
<!-- BEGIN switch_fb_connect -->
<div id="fb-root"></div>
<script type="text/javascript">
//<![CDATA[
FB.init({
appId: '{switch_preferences_menu.switch_fb_connect.FACEBOOK_APP_ID}',
status: true,
cookie: true,
xfbml: true
});
//]]>
</script>
<!-- END switch_fb_connect -->
<!-- END switch_preferences_menu -->
---
Permissions in this forum:
You
cannot
reply to topics in this forum