How do such
http://i24.servimg.com/u/f24/15/84/84/32/untitl10.jpg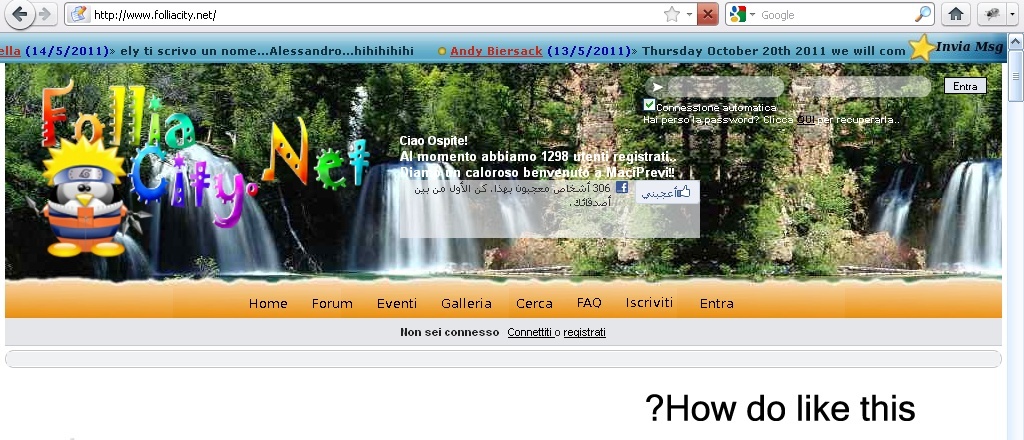 It's really amazing
I would like to do like
http://www.folliacity.net/
Everything in the header

Guest

Guest






Guest

Guest





Keep in mind that the phpbb forum script is template parsed, and that all of the elements that make up the site are contained within the .tpl files (/templates/subSilver/*.tpl)
By editing the template files, you can not only change the logo, but the positioning of every element on the forum. The file you would need to edit for the logo change is overall_header.tpl
Be careful when editing the .tpl files. If you don't take notes on what you change, you will run into a world of problems when it comes time for you to start installing mods. The mods will make your site more appealing to your visitors and the installation instructions are very straightforward, but they rely heavily on the exact wording of the original .tpl files.
CLICK ON THIS LINK TO GET HELP ON HOW TO CREATE A HEADER:
http://www.phpbb.com/kb/article/adding-a-random-header-image/
<------------------all steps included and explains each step

Guest

Guest





I did not know
..
Please modifications you this template :overall_header
Spoiler:

Code:

<!DOCTYPE html PUBLIC "-//W3C//DTD XHTML 1.0 Transitional//EN" "http://www.w3.org/TR/xhtml1/DTD/xhtml1-transitional.dtd">
<html xmlns="http://www.w3.org/1999/xhtml" dir="{S_CONTENT_DIRECTION}" id="min-width" lang="{L_LANG_HTML}" xml:lang="{L_LANG_HTML}" {NAMESPACE_FB_LIKE} {NAMESPACE_FB}>
<head>
<!-- BEGIN meta_emulate_ie7 -->
<meta http-equiv="X-UA-Compatible" content="IE=EmulateIE7" />
<!-- END meta_emulate_ie7 -->
<title>{SITENAME_TITLE}{PAGE_TITLE}</title>
<meta http-equiv="content-type" content="text/html; charset={S_CONTENT_ENCODING};" />
<meta http-equiv="content-script-type" content="text/javascript" />
<meta http-equiv="content-style-type" content="text/css" />
<!-- BEGIN switch_canonical_url -->
<link rel="canonical" href="{switch_canonical_url.CANONICAL_URL}" />
<!-- END switch_canonical_url -->
{META_FAVICO}
{META}
{META_FB_LIKE}
<meta name="title" content="{SITENAME_TITLE}{PAGE_TITLE}" />
{T_HEAD_STYLESHEET}
{CSS}
<link rel="search" type="application/opensearchdescription+xml" href="/improvedsearch.xml" title="{SITENAME}" />
<link rel="search" type="application/opensearchdescription+xml" href="{URL_BOARD_DIRECTORY}/search/improvedsearch.xml" title="{SEARCH_FORUMS}" />
<script src="{JQUERY_PATH}" type="text/javascript"></script>
<script src="{JS_DIR}{L_LANG}.js" type="text/javascript"></script>

<!-- BEGIN switch_fb_login -->
<script src="http://connect.facebook.net/{switch_fb_login.FB_LOCAL}/all.js" type="text/javascript"></script>
<script src="{switch_fb_login.JS_FB_LOGIN}" type="text/javascript"></script>
<!-- END switch_fb_login -->

<!-- BEGIN switch_ticker -->
<link type="text/css" rel="stylesheet" href="{JS_DIR}jquery/ticker/ticker.css" />
<script src="{JS_DIR}jquery/ticker/ticker.js" type="text/javascript"></script>
<!-- END switch_ticker -->

<!-- BEGIN switch_ticker_new -->
<script src="{JS_DIR}jquery/jcarousel/jquery.jcarousel.js" type="text/javascript"></script>
<script type="text/javascript">//<![CDATA[
/* Definir le sens de direction en fonction du panneau admin */
var tickerDirParam = "{switch_ticker.DIRECTION}";
var slid_vert = false;
var auto_dir = 'next';
var h_perso = parseInt({switch_ticker.HEIGHT});

switch( tickerDirParam )
{
case 'top' :
slid_vert = true;
break;

case 'left':
break;

case 'bottom':
slid_vert = true;
auto_dir = 'prev';
break;

case 'right':
auto_dir = 'prev';
break;

default:
slid_vert = true;
}

$(document).ready(function() {
var w_cont = $('#fa_ticker_container').width();

if (w_cont > 0)
{
$('#fa_ticker_container').width(w_cont);

/* Affichage de la liste */
$('#fa_ticker_content').css('display','block');

/* Calcul des dimensions du conteneur et des �l�ments */
var width_max = $('ul#fa_ticker_content').width();
var width_item = Math.floor(width_max / {switch_ticker.SIZE});
var height_max = h_perso;

/* Calcul de la hauteur maximale du contenur en fonction des �l�ments et de la hauteur personnalis�e dans l'admin */
$('ul#fa_ticker_content li').each( function () {
if ($(this).height() > height_max)
{
height_max = $(this).height();
}
} );

/* Redimensionnement des �l�ments et des images trop larges */
$('ul#fa_ticker_content li').width(width_item).height(height_max).find('img').each(function () {
if ($(this).width() > width_item)
{
var ratio = $(this).width() / width_item;
var new_height = Math.round($(this).height() / ratio);
$(this).height(new_height).width(width_item);
}
});

/* Redimensionnement et centrage du conteneur en mode vertical */
if (slid_vert)
{
$('ul#fa_ticker_content').width(width_item).height(height_max).css('marginLeft','auto').css('marginRight','auto');
}

/* Initialisation du caroussel */
$('#fa_ticker_content').jcarousel({
vertical: slid_vert,
wrap: 'circular',
auto: {switch_ticker.STOP_TIME},
auto_direction: auto_dir,
scroll: 1,
size: {switch_ticker.SIZE},
height_max: height_max,
animation: {switch_ticker.SPEED}
});
}
else
{
$('ul#fa_ticker_content li:not(:first)').css('display','none');
$('ul#fa_ticker_content li:first').css('list-style','none').css('text-align','center');
}
});
//]]>
</script>
<!-- END switch_ticker_new -->

<script type="text/javascript">//<![CDATA[
$(document).ready(function(){
<!-- BEGIN switch_enable_pm_popup -->
pm = window.open('{U_PRIVATEMSGS_POPUP}', '_faprivmsg', 'HEIGHT=225,resizable=yes,WIDTH=400');
pm.focus();
<!-- END switch_enable_pm_popup -->
<!-- BEGIN switch_report_popup -->
report = window.open('{switch_report_popup.U_REPORT_POPUP}', '_phpbbreport', 'HEIGHT={switch_report_popup.S_HEIGHT},resizable=yes,scrollbars=no,WIDTH={switch_report_popup.S_WIDTH}');
report.focus();
<!-- END switch_report_popup -->
<!-- BEGIN switch_ticker -->
ticker_start({switch_ticker.HEIGHT}, {switch_ticker.SPACING}, {switch_ticker.SPEED}, '{switch_ticker.DIRECTION}', {switch_ticker.STOP_TIME});
<!-- END switch_ticker -->
});

<!-- BEGIN switch_login_popup -->
var logInPopUpLeft, logInPopUpTop, logInPopUpWidth = {LOGIN_POPUP_WIDTH}, logInPopUpHeight = {LOGIN_POPUP_HEIGHT}, logInBackgroundResize = true, logInBackgroundClass = false;
<!-- END switch_login_popup -->

<!-- BEGIN switch_login_popup -->
$(document).ready( function() {
$(window).resize(function() {
var windowWidth = document.documentElement.clientWidth;
var popupWidth = $("#login_popup").width();
var mypopup = $("#login_popup");

$("#login_popup").css({
"left": windowWidth/2 - popupWidth/2
});
});
});
<!-- END switch_login_popup -->
//]]>
</script>
{GREETING_POPUP}
<!-- BEGIN switch_ticker_new -->
<style>
.jcarousel-skin-tango .jcarousel-item {
text-align:center;
width: 10px;
}

.jcarousel-skin-tango .jcarousel-item-horizontal {
margin-right: {switch_ticker.SPACING}px;
}

.jcarousel-skin-tango .jcarousel-item-vertical {
margin-bottom: {switch_ticker.SPACING}px;
}
</style>
<!-- END switch_ticker_new -->

<!-- BEGIN google_analytics_code -->
<script type="text/javascript">
//<![CDATA[
var _gaq = _gaq || [];
_gaq.push(['_setAccount', '{G_ANALYTICS_ID}']);
_gaq.push(['_trackPageview']);

(function() {
var ga = document.createElement('script'); ga.type = 'text/javascript'; ga.async = true;
ga.src = ('https:' == document.location.protocol ? 'https://ssl' : 'http://www') + '.google-analytics.com/ga.js';
var s = document.getElementsByTagName('script')[0]; s.parentNode.insertBefore(ga, s);
})();
//]]>
</script>
<!-- END google_analytics_code -->
</head>
<body background="{T_BODY_BACKGROUND}" bgcolor="{T_BODY_BGCOLOR}" text="{T_BODY_TEXT}" link="{T_BODY_LINK}" vlink="{T_BODY_VLINK}">
<!-- BEGIN hitskin_preview -->
<div id="hitskin_preview" style="display: block;">
<h1><img src="http://illiweb.com/fa/hitskin/hitskin_logo.png" alt="" /> Hit<em>skin</em>.com</h1>
<div class="content">
<p>
{hitskin_preview.L_THEME_SITE_PREVIEW}
<br />
<span>{hitskin_preview.U_INSTALL_THEME}<a href="http://{hitskin_preview.U_RETURN_THEME}">{hitskin_preview.L_RETURN_THEME}</a></span>
</p>
</div>
</div>
<!-- END hitskin_preview -->

<!-- BEGIN switch_login_popup -->
<div id="login_popup">
<table class="forumline" width="{LOGIN_POPUP_WIDTH}" height="{LOGIN_POPUP_HEIGHT}" border="0" cellspacing="1" cellpadding="0">
<tr height="25">
<td class="catLeft">
<span class="genmed module-title">{SITENAME}</span>
</td>
</tr>
<tr height="{LOGIN_POPUP_MSG_HEIGHT}">
<td class="row1" align="left" valign="top">
<div id="login_popup_buttons">
<form action="{S_LOGIN_ACTION}" method="get">
<input type="submit" class="mainoption" value="{L_LOGIN}" />
<input type="button" class="mainoption" value="{L_REGISTER}" onclick="parent.location='{U_REGISTER}';" />
<input id="login_popup_close" type="button" class="button" value="{L_DONT_DISPLAY_AGAIN}" />
</form>
</div>
<span class="genmed">{LOGIN_POPUP_MSG}</span>
</td>
</tr>
</table>
</div>
<!-- END switch_login_popup -->

<a name="top"></a>
{JAVASCRIPT}
<table class="bodylinewidth" width="{T_BODY_TABLE_WIDTH}" cellspacing="0" cellpadding="10" border="0" align="center">
<tr>
<td class="bodyline">
<table width="100%" cellspacing="0" cellpadding="0" border="0">
<tr>
<!-- BEGIN switch_logo_left -->
<td><a href="{U_INDEX}"><img src="{LOGO}" id="i_logo" border="0" alt="{L_INDEX}" vspace="1" /></a></td>
<!-- END switch_logo_left -->
<td align="center" width="100%" valign="middle">
<!-- BEGIN switch_logo_center -->
<a href="{U_INDEX}"><img src="{LOGO}" id="i_logo" border="0" alt="{L_INDEX}" vspace="1" /></a>
<br />
<!-- END switch_logo_center -->
<div class="maintitle">{MAIN_SITENAME}</div>
<br />
<span class="gen">{SITE_DESCRIPTION}<br />  </span>
</td>
<!-- BEGIN switch_logo_right -->
<td><a href="{U_INDEX}"><img src="{LOGO}" id="i_logo" border="0" alt="{L_INDEX}" vspace="1" /></a></td>
<!-- END switch_logo_right -->
</tr>
</table>

<table cellspacing="0" cellpadding="0" border="0" align="{MENU_POSITION}">
<tr>
<td align="{MENU_POSITION}"{MENU_NOWRAP}>{GENERATED_NAV_BAR}</td>
</tr>
</table>

<div style="clear: both;"></div>

<!-- BEGIN switch_ticker_new -->
<div id="fa_ticker_block" style="margin-top:4px;margin-bottom:4px;">
<table width="100%" border="0" cellspacing="0" cellpadding="0" class="forumline">
<tr>
<td {CLASS_TABLE_TYPE} align="left" class="row1">
<div id="fa_ticker_container">
<ul id="fa_ticker_content" class="jcarousel-skin-tango" style="display:none;">
<!-- BEGIN ticker_row -->
<li>{switch_ticker.ticker_row.ELEMENT}</li>
<!-- END ticker_row -->
</ul>
</div>
</td>
</tr>
</table>
</div>
<!-- END switch_ticker_new -->

<!-- BEGIN switch_ticker -->
<div id="fa_ticker_block" style="margin-top:4px;margin-bottom:4px;">
<table width="100%" border="0" cellspacing="0" cellpadding="0" class="forumline">
<tr>
<td {CLASS_TABLE_TYPE} align="left" class="row1">
<div id="fa_ticker_container">
<div id="fa_ticker" style="height:{switch_ticker.HEIGHT}px;">
<div class="fa_ticker_content">
<!-- BEGIN ticker_row -->
<div>{switch_ticker.ticker_row.ELEMENT}</div>
<!-- END ticker_row -->
</div>
</div>
</div>
</td>
</tr>
</table>
</div>
<!-- END switch_ticker -->

<div id="page-body">
<div id="{ID_CONTENT_CONTAINER}"{CLASS_CONTENT_CONTAINER}>
<table cellpadding="0" cellspacing="0" width="100%" class="three-col">
<tbody>
<tr>
<td valign="top" width="{C1SIZE}">
<div id="{ID_LEFT}">
<!-- BEGIN giefmod_index1 -->
{giefmod_index1.MODVAR}
<!-- BEGIN saut -->
<div style="height:{SPACE_ROW}px"></div>
<!-- END saut -->
<!-- END giefmod_index1 -->
</div>
</td>
<td valign="top" width="100%">
<!-- BEGIN html_validation -->
</td>
</tr>
</tbody>
</table>
</div>
</div>
</td>
</tr>
</table>
</body>
</html>
<!-- END html_validation -->

Guest

Guest





im sry but i dont understand

Guest

Guest





I mean I do not understand what you told me
ِ
I want you to modify the template
To become ready to put it
Please Please Please

Guest

Guest





i never edit a template before BUT i can try

~going offline to modify the template~

Guest

Guest





I tried several times and failed
ِ
I want to help you
Please

Guest

Guest






Guest

Guest





Posting consecutively is not tolerated unless separated by 24 hours since the last post. You are receiving a warning for this.

---
Permissions in this forum:
You
cannot
reply to topics in this forum