Current date/time is July 31st 2021, 11:58 pm
Search found 63 matches for 2
Dear Forumotion,
I have just finished several steps on the topic "
Personalize sub-forums display
". However, I have more requests as below:
The image with 5 steps:- Pic. #1
,
Categories and forums
setup.
- Pic. #2
, The
completed
of construction "
Personalize sub-forums display
".
- Pic. #3
, The icons that I want them show up the topic got news or not.
Link images:
- New responses:
Code:

https://fbcdn-sphotos-g-a.akamaihd.net/hphotos-ak-xpf1/v/t1.0-9/960132_423705514452924_5132713039085827794_n.jpg?oh=81b0889db832d5834e6fdc547385517e&oe=553F9275&__gda__=1425620889_c853fc987499cc51915fe8a0603e8a45
- Nothing news:
Code:

https://scontent-a-sin.xx.fbcdn.net/hphotos-xaf1/v/t1.0-9/10325504_423705524452923_4492252961070206696_n.jpg?oh=91a052273091e31111b3e1083958c27a&oe=54FC6E2C
- Pic. #4
, I tried however It is not what I want.
- Pic. #5
, I need the Sub-forums
must be align
(Rows and columns) as per
Pic.#5
but the icons can be show that these posts are new or old.
This is link to my forum (Version 
phpBB3)
:
Code:

http://coaogati.forumvi.com
Test account if needed:
Code:

Account: testingacc
Password: A123456Z
Merry Christmas and Happy New Year!
Thank you!
by coaogati

on December 23rd 2014, 10:32 am
Search in: Other Problems Archives
Replies: 20
Views: 1580
Go to ACP at the bottom of your forum




Click on the

[/size]

General Tab at the top of your ACP page



under the
Forum setting click on Configuration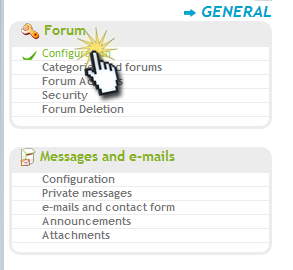 Clicking on the already save default Icons will place a code in the box See "figure #1"

To add your own icon upload your icon from any image host and add your URL code to see "figure #2"


Then Click save

Now your Done


This tutorial was written by the Forumotion Team.
Updated by APE.
by Caihlem

on March 26th 2007, 10:27 am
Search in: Frequently Asked Questions
Topic: Favicons
Replies: 0
Views: 11336
Page 3 of 3 •

1, 2, 3