I want guide code Avatar DressUp? this forum => Demo
http://www.thptanlao.com/t6257p42-topic#156988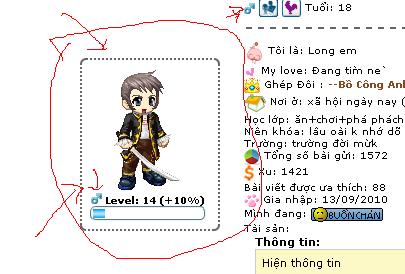 characters can be distinguished by gender .Thank you



mrben

New

Member




Posts

: 18


Reputation :

1


Language

: english



Administration Panel>>Users & Usergroups>>Users>>Users Profiles

Modify the gender field so that it appears in messages.

When your topic has been solved, ensure you mark the topic solved.
Never post your email in public.


oh no this is code script
It is not as simple as you think

mrben

New

Member




Posts

: 18


Reputation :

1


Language

: english



Yes, slg this will require quite a bit of work. You'll need the master of Coding to help you here.

!_NICK_!

Active

Poster






Posts

: 1505


Reputation :

69


Language

: English, HTML, and CSS


Location

: In the middle of no return.



It's because viewtopic_body template or CSS Stylesheet. Can we see your viewtopic_body to detect the problem.


Guest

Guest





i dont even understand what he wants or is trying to do?
I'm not even sure what language that forum link is,
Is he saying he wants to add something will dress up your avatars right on the forum as a feature option?
... LOL oh lord if that is what he is asking then i heard it all now.
Please explain in more detail.


kirk

Foru

master






Posts

: 11037


Reputation :

653


Language

: English,Vulcan,Klingon, Romulan,& Gorn



I think he wants automatic avatar change... hmmm he wants the avatar to automatically change when it level ups....
Different images for different genders... I think ..
Here's a lvl 2 female on his site:

FL.ux

Foru

member






Posts

: 842


Reputation :

18


Language

: I hope I could be a FM staff :'(


Location

: I shall fly to the subterranean sky.



code by c3zone vietnam
contact to him in c3zone.net


hv4mevn

New

Member




Posts

: 24


Reputation :

-1


Language

: viêtnam



Yeah its a new one to me?
Actually it's kind of brilliant, good way to get people to post, the more you post the more you can add to your avatar,
But that being said, i could not even understand how it would work.
Like do you get options on what to add as you go along? if not everyone would end up with the same avatars,
It figures the whole forum is all in Vietnamese, i wont even join to see how it works without knowing the language

have to say i am kind of curios to know if it is working like that.
You could always disallow avatars and have different images as ranks,
but there would be no way to have gender set, and once again everyone would all up with the same avatars.. so yeah i have no clue what they are using, seems pretty cool though if it dose work like that.
Whatever the case, we would fist have to have the coding and know how to set it up. I think something like this would be the next best thing for many members wanting to add to their forums,
I'll have to run this one by other staff and see if he has any ideas on what may be being used? I mean it defiantly has to be some java or jquery, but i have never seen anything like this for avatar dress up on forums like this. Interesting


kirk

Foru

master






Posts

: 11037


Reputation :

653


Language

: English,Vulcan,Klingon, Romulan,& Gorn



---
Permissions in this forum:
You
cannot
reply to topics in this forum