Hello!
There seems to be a problem with thw forum appearance.
I recently changed colours and backgrounds, but there are 2 things that are driving me crazy!
I can't change the
-Category Header background color
-Category background color

They were blue and grey and now I am trying to do them pink and violet.
I go to the forum appearance->colours -> Table header
I choose the new colour, submit it. But i keep seeing the OLD colours both in the preview and in the forum.

My Theme version is PhpBB2 (subsilver)

Also I wanted to mention 2 things.
1. when I load the forum (when a page is loading) for a moment I can see the new colours (pink and violet), but only for a moment. As soon as the page is loaded, it is blue and grey again....

2. It is not my first time changing the colours. I have done it already twice and there was no problem at all then.

Hope someone could help me and figure it out what is wrong.

nutella

New

Member




Posts

: 17


Reputation :

0


Language

: Greek



Link to your forum & screenshots of what part you want to change will help.
Here is the print screen with my notes.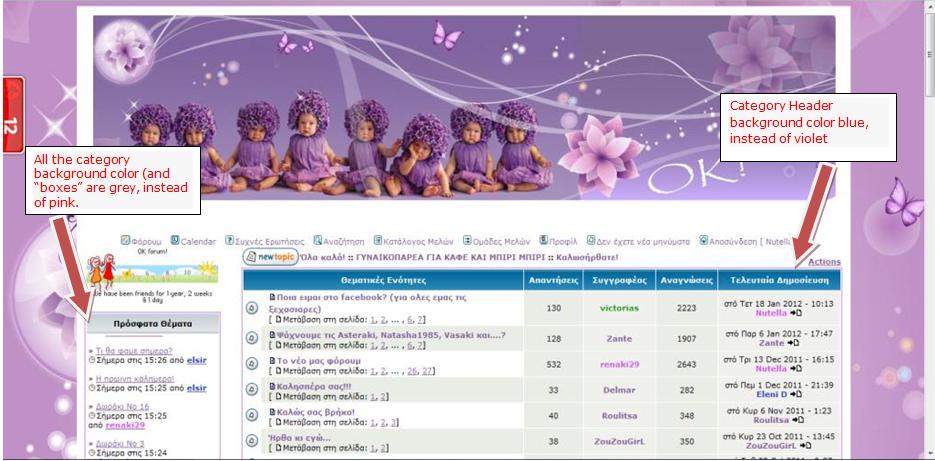 The forum link is
http://www.olakala-forum.com/

nutella

New

Member




Posts

: 17


Reputation :

0


Language

: Greek



It worked, it worked
Thank you soooo much!

nutella

New

Member




Posts

: 17


Reputation :

0


Language

: Greek



---
Permissions in this forum:
You
cannot
reply to topics in this forum