how to set it on my forum members like post like this with you
how to set the members on my forums like press the button on a post here with you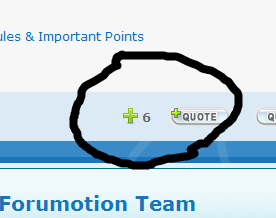 https://help.forumotion.com/t368-forumotion-team
I would need instructions how to add 'like' as well.

Thanks!

palsta

New

Member




Posts

: 12


Reputation :

0


Language

: Finnish



i need something like this for my phpbb2 forum even though there is already Positive/Negative comment rating that gives or takes away your reputation points, but i would use this Like script as Thank You button, since there is a major bug with it in phpbb2 or the style i am using, because i did all possible things and followed all available guides and tips and still my thanks button is invisible.please help me out to make this Like post script work on phpbb2

lolwtfmuonline

New

Member




Posts

: 1


Reputation :

1


Language

: english



there is no script for phpbb2 that i know of yet, Like LG said above the other script is no longer available.. However he did say he was going to write another one up so may be he will include one that can be used for all versions?

kirk

Foru

master






Posts

: 11037


Reputation :

653


Language

: English,Vulcan,Klingon, Romulan,& Gorn



I wrote one for phpbb3 and invision users. There was never one for phpbb2 with the old version, and there won't be for my new one.

Unless anyone modifies my script to work on phpbb2.
---
Permissions in this forum:
You
cannot
reply to topics in this forum