Now Days im seeing many forums banning
www.onlineguardian.net
banning forums without warning forum admins..its too much
at least give the warning forum admins
New

Member




Posts

: 3


Reputation :

1


Language

: english



If a forum is severely breaking the Terms of Service, the forum will get no warning. Was your forum banned?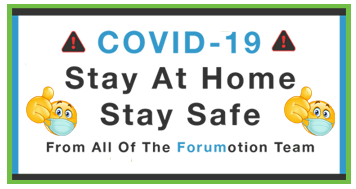 When your topic has been solved, ensure you mark the topic solved.
Never post your email in public.
Admin

istrator





Posts

: 47734


Reputation :

3352


Language

: English


Location

: United States



As slg said, forums that don't respect our terms of service will be banned promptly. Forums that have small violations will be notified and will be given time to remove the offending content.

There are different extents of violations and forums with the most severe violations will be banned straight away with no warning.
Foru

master






Posts

: 10386


Reputation :

1695


Language

: English and French


Location

: United Kingdom, England



Forumotion will only give forum founders a warning if they are minor violations and feel a founder deserves a chance to remove them. Other then that, if there are serious violations taken place with the forums Admin and staff fully aware and allowing them. Then forumotion will send it right through to onlineguardian to be shut down no warning at all.
Foru

master






Posts

: 11037


Reputation :

653


Language

: English,Vulcan,Klingon, Romulan,& Gorn



Hi,
This action is granted by the forum owner upon creation of the forum, via the Terms Of Service.
Illicit contents
Forums that does welcome or promote warez, piracy, hacking, cracking, spamming, attacks against networks or servers, pornography, racial hatred, crimes against humanity, inappropriate activities on the servers, or any other actions which violate any applicable laws, aren't allowed. Any forum which contains texts, links, pictures, animations, videos or any other content recognized as Illegal will be deleted without notice or warning. Forumotion.com reserves the right to delete any accounts or forums considered not conform to the rules quoted here or specified in Forumotion.com or in the international website rules according to the international internet law. Any Illegal content or act and will be reported to the concerned services and prosecuted.
Is it time to read up on the latest version of the ToS?
https://www.forumotion.com/en/create-forum/terms-of-service.htm
Help

er







Posts

: 11853


Reputation :

564


Language

: English



Since the questions were answerd more then once i will now mark and acrchive
Foru

master






Posts

: 11037


Reputation :

653


Language

: English,Vulcan,Klingon, Romulan,& Gorn



---
Permissions in this forum:
You
cannot
reply to topics in this forum