Hi i have just got a nice set of animated ranks i the form of a pds file but i need to know how to add it to my forum i have tried uploading it to an external site then using the links it didn't work used the search bar and it returned nothing the same with Google
i would really appreciate the help
thank you
Try saving them, and then use the upload thing on the forum. Make sure you save them as the file was posted on the internet, if they were a GIF, save them with a .gif at the end of the title.
To get them on your forum, go to users and groups > rank administration and put the working link there.
Hi!
For first, convert these to .gif, not leave them in .psd format. Then find a hosting which support gif animation, and upload them.


Guest

Guest





when u convert the .PSD to a .GIF go to your Admin CP>Display>pics Managment>advanced>upload a picture>Copy the image url>go to users & groups> rank administration:
Then create the new rannk u want: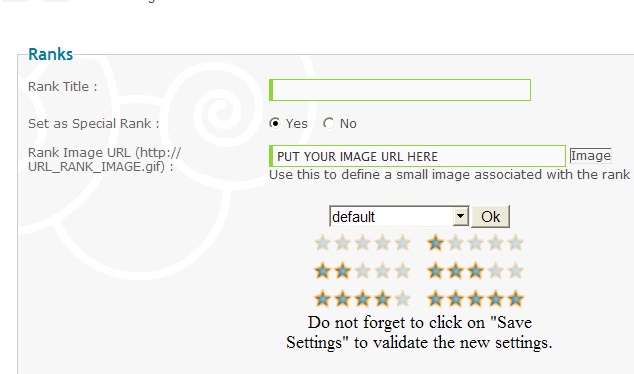 Give the rank a title, which will display above the rank, then click save. if u want to apply this rank to someone, go to Users & groups> Search USers> search the user u want to give the rank to> click on their name to edit their profile> scroll down to the bottom, and find RANK TITLE: >click on the dropdown menu and select the rank u made, then hit save and ur done

Thank you all this topic is now solved

When your topic has been solved, ensure you mark the topic solved.
Never post your email in public.

---
Permissions in this forum:
You
cannot
reply to topics in this forum