Hello,
not sure if this has already been discussed if it has please direct me to the thread. Ok so i have noticed on another Forum that the member list style is a box here is the printscreen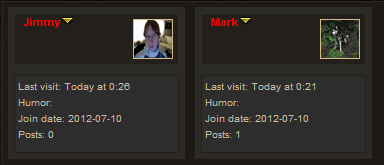 this is on a Forumotion forum i was woundering how i can add this type of style to my forum member list.
Here is the url:
http://huskykingdomforum.forumotion.co.uk/
Last edited by Jaguar176 on July 11th 2012, 11:47 am; edited 2 times in total
You're probably going to need to post the URL to the site so people can have a better look.
ok i edited my previous post for you and added the link

Wow that's pretty cool. I have no idea how they did that. Hopefully for you someone can point you in the right direction.

Good luck.
Thanks,
Hopefully someone knows how to do it

Thanks Rideem,
i'm going to try it somepoint today

-Solved & Lock-
---
Permissions in this forum:
You
cannot
reply to topics in this forum