-------------------------------------------------------------------------------------------------------------
This forum includes:
Graphics Discussion & Support
Showcasing
Competitions
Critique(s)
and much much more...
Come join today and show what you got!

P.S. I'd really appreciate it if you gave me insight on your first impressions of the forums!
Staff Applications : [OPEN]
Roles to apply for: Global Moderator / Resource Team
Love the forum! Glad to be a member.

Hello,
We are now accepting staff applications!
We will only choose members that are active on the forum and are willing to support the forum.
Requirements:
25+ post
Current positions open: 3 Global Moderator, 3 Resource Team
Good luck!
=>
http://visionaryart.forumotion.co.uk/t2-staff-application-format
Note: If you have any queries or propositions feel free to PM me here or on V.A forums.
GFX competitions are now open!
We have SOTW (Signature Of The Week) VOTW (Vertical Of The Week) and LAOTF (Large Art Of The Fortnight)
If you think you have what it takes to win, come and join!
Register here:
http://visionaryart.forumotion.co.uk/register
Award system has been added:
Staff Team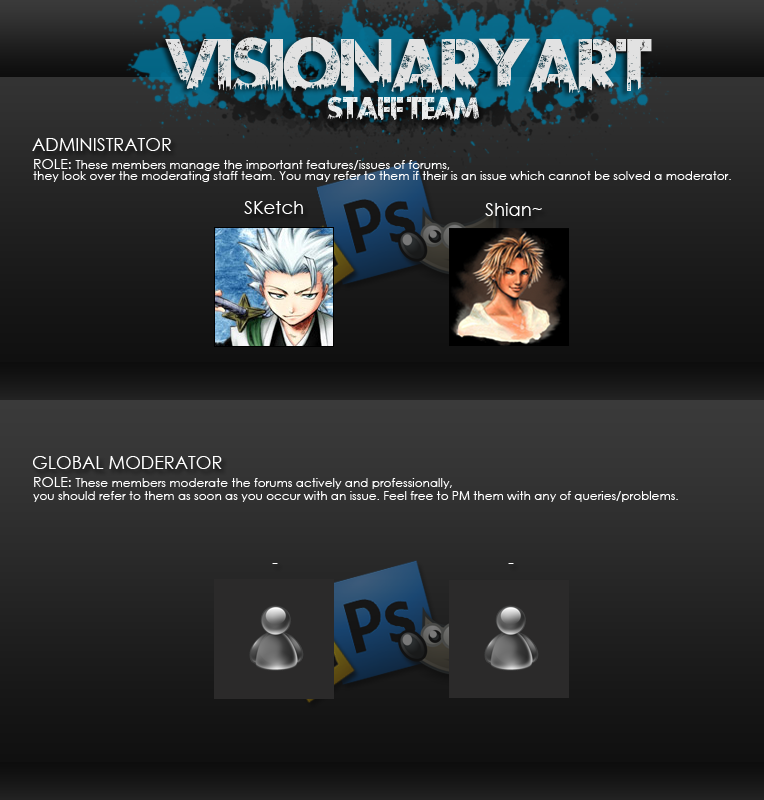 Looking for 2 Global Moderators!
Apply now!
http://visionaryart.forumotion.co.uk/t2-staff-application-format
I realised that a lighter theme will embrace the forum a bit more. So I have developed a new theme and layout. It's still under construction. Hope you guys like it.

Staff Applications are still OPEN!
Looking for 1 Global Moderator and 2 Resource Team members.
Apply now! -
http://visionaryart.forumotion.co.uk/t2-staff-application-format
Merry Christmas to all!
Sorry, for the lack of updates. I have been super busy. xD
Latest Updates:

Search bar has been added.

New icons and rank images.

Like button added
Updates to come:

New Christmas Theme [In Progress]
I have now started to add in some free renders and resource packs for our members. You can only access these resources by registering on our forum.
I am also looking for some members to join the VisionaryArt
Resource Team
. These members will provide the community with quality GFX resources.
In addition, I am also looking for some coders/technicians who can help me with some forum updates.
Hope to see some new members on the forum and I wish you all a very Merry Christmas.

Congratulation to our very first Global Moderator
Lazy
.
Lazy has been active and responsible during the 2 week trial period and she has shown great dedication.
Still looking for
1 Global Moderator
and
2 Resource Team
members!
If you are interested click here -
http://visionaryart.forumotion.co.uk/f23-staff-applications-open
My computer is being slow today, so I can't get to your site, but going through this thread has me interested. Does it have much to teach beginners? Admittedly I don't know much about online graphics.

Sene_Jazlyn_B

New

Member




Posts

: 2


Reputation :

1


Language

: English


Location

: Peoria or Champaign, IL



Since a different forum loads, this topic will be sent to the garbage.

When your topic has been solved, ensure you mark the topic solved.
Never post your email in public.

---
Permissions in this forum:
You
cannot
reply to topics in this forum