This is my code: <!--SCM Music Player by Adrian C Shum -
http://scmplayer.net--&gt;<br>&lt;script
type="text/javascript" src="http://scmplayer.net/script.js" &gt;&lt;/script&gt;<br>&lt;script type="text/javascript"&gt;<br>SCMMusicPlayer.init("{'skin':'skins/black/skin.css','playback':{'autostart':'true','shuffle':'false','volume':'50'},'playlist':[{'title':'Metal/Rock1','url':'https://www.youtube.com/watch?v=GfrIipujxfQ'},{'title':'Techno1','url':'https://www.youtube.com/watch?annotation_id=annotation_233100&amp;feature=iv&amp;src_vid=xVlvXBmHjUU&amp;v=y6u7lkVPM_Y'},{'title':'Narodna1','url':'https://www.youtube.com/watch?v=RNmTqkY-Zig'},{'title':'Metal/Rock2','url':'https://www.youtube.com/watch?v=nLd6h5td8G4'},{'title':'Techno2','url':'https://www.youtube.com/watch?v=y2Vtx4-raD8'},{'title':'Narodna2','url':'https://www.youtube.com/watch?v=kL-VkTsnOFU'},{'title':'Metal/Rock3','url':'https://www.youtube.com/watch?v=E0sT7xfC3QY'},{'title':'Techno3','url':'https://www.youtube.com/watch?v=uBczinZAsZQ&amp;feature=channel&amp;list=UL'},{'title':'Narodna3','url':'https://www.youtube.com/watch?v=OQ0yNKkJDhI'}],'placement':'top','showplaylist':'true'}");<br>&lt;/script&gt;<br>&lt;!--End of SCM Music Player script--&gt;<br><br>
And I did all that I should do (followed the tut) and after pasting in the html and finishing the process I refresh my forum page and I see (In the player space) just raw html.
+ nothing happens.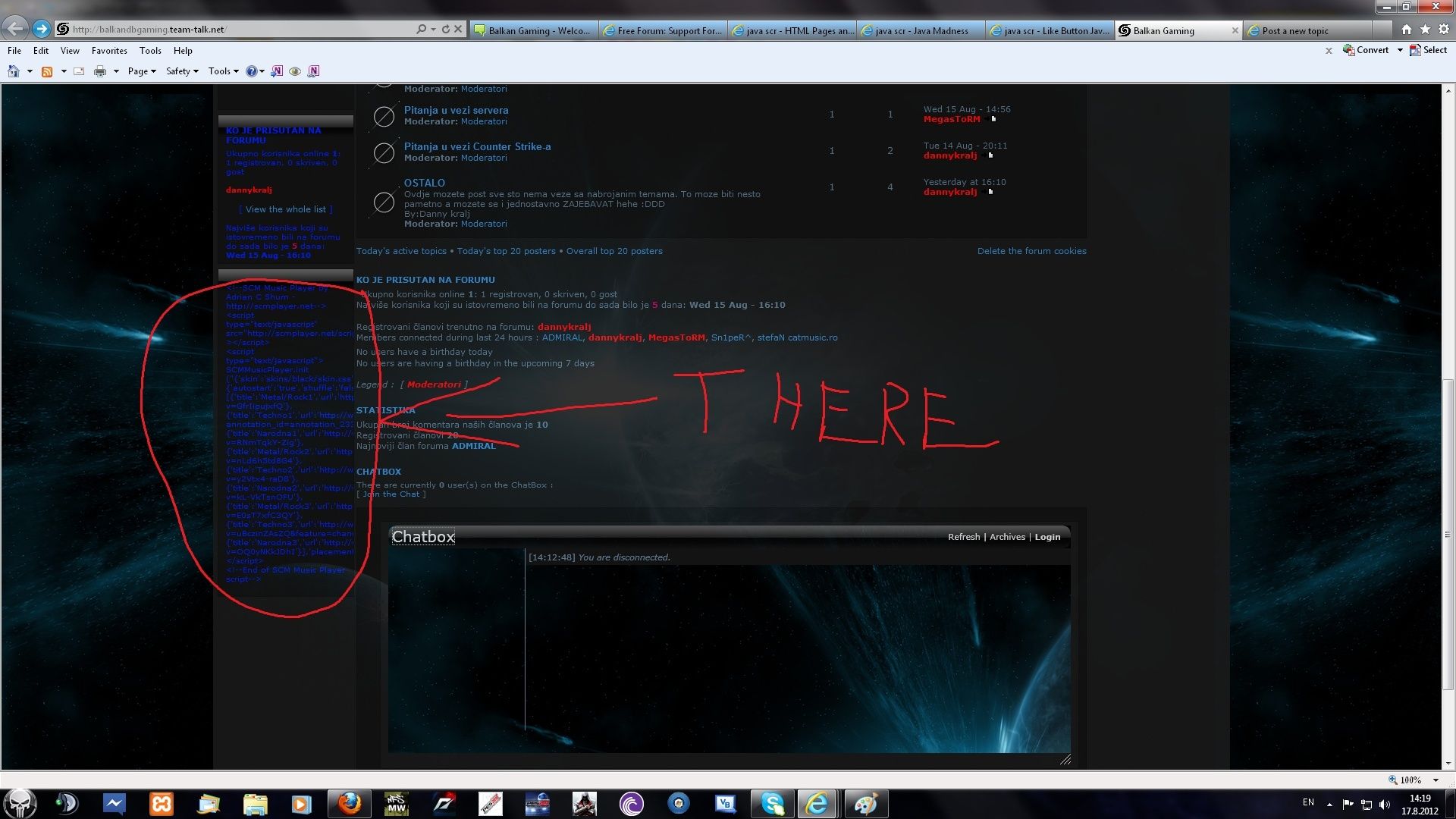 Maybe the code is wrong.. I dont know. Im new here so..

PLS HELP! Tnx in advanced.
Cant belive that the so called "support" hasn't done anything about my problem -.- So much about support! -.-

dannykralj

New

Member




Posts

: 1


Reputation :

1


Language

: Serbian


Location

: Banjaluka



---
Permissions in this forum:
You
cannot
reply to topics in this forum