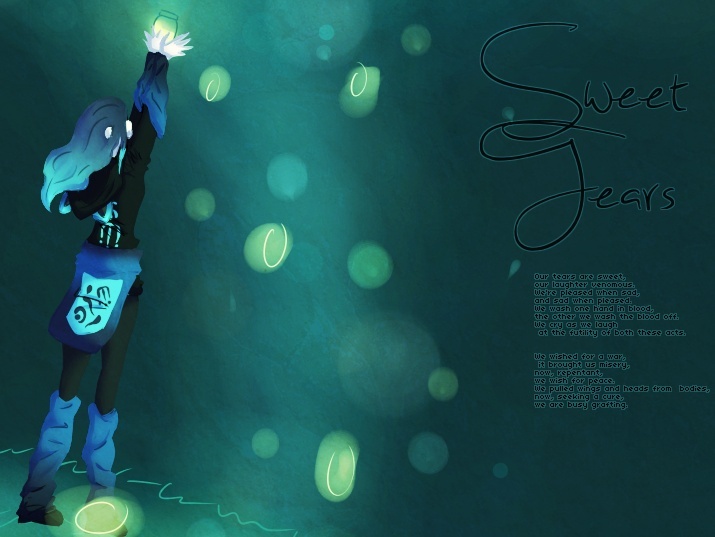 Welcome to Sweet Tears! The world of elemental people where dreams really can come true!~
~A long time ago, Sweet Tears was just a plain field with two trees. Decades later some explorers arrived to this place and decided to live here. Just a couple of years later, the plain field became a village and sooner or later it became a city full of life. It wasn't very crowded because it was so far away from the rest of the world. But then.. IT happened.
A mysterious purple meteorite crashed on this area and a lot of people died. There was a lot of chaos. But when people started to research it, there were remarkable effects around the meteorite. The researchers got.. Elements?! Thunder, rock, earth, water, fire and air. The citizens came to see the mysterious meteorite and they immediately got a random chosen element. They weren't very good at practising it in the first place, but after a while they could use the element for daily life. And the meteorite? The meteorite was gone. The citizens used all of the magical effects. Furthermore, the pregnant citizens got children with also an element, while the children didn't even touch that meteorite! People started to think there was a mutation in their genes, but just a few people believed that story. But after a lot of years, people realized they were right; their DNA changed and even their offspring got those elements. Since then the citizens separated themselves from the world and based their lifes on the given element.
Spoiler:

Choice of the category:

Games & RPG

Choice of a title:

Sweet Tears

Forum address: http://sweettears.actieforum.comMain language:

English

Forum description:

A Forum RP about people with elements (everything forementioned).

Watersplash

New

Member




Posts

: 1


Reputation :

1


Language

: Dutch



Our users have posted a total of 87 messages
We have 8 registered users
The newest registered user is Nanime

RainyStonezz

New

Member




Posts

: 1


Reputation :

1


Language

: Dutch/English




Jophy

Forum

Guru






Posts

: 17924


Reputation :

835


Language

: English


Location

: Somewhere



---
Permissions in this forum:
You
cannot
reply to topics in this forum