Hello...
Can someone tell me why I cant see this stuff anymore with Opera,and is there smth I can do to fix it? :
Thank you.
Did you add any toolbar etc to your forum?
No... Its not just on one forum...When I enter in many diferent forums,
i cant see that with Opera.

Btw I see only this:
Example from other forum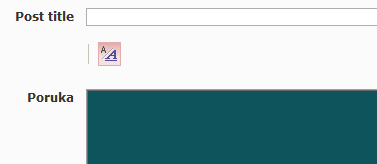 Did you try clearing your cache for your browser?

What about on this forum, do you see those buttons?
Yeah,I clear everythin...still the same.
No,I dont see here also.
Its not so big problem,i use Chrome most of times,but I love Opera
sometime,and I m just curios,its strange.

Update the browser, if not updated?
Lol, yeah, I did it yesterday.Nothing.
Hahaha,its ok,if it is only with me,well...

---
Permissions in this forum:
You
cannot
reply to topics in this forum