So i remember when i first made my forum, and it had the original forumotion ads on it, whenever i would view someones profile info, right below there profile pic there would be a square ad there.
I disabled those forumotion ads via credits a few monthes ago, but i was thinking i would like to place my own ads in the same slot.
If it matters, the site is
www.InformationKeptQuiet.com/forum
and just click on someones name and it takes you to there profile, and youll see on the right theres a box that shows there name and profile pic below that...and then below that theres a big open blank area. Id like to place a Google Adsense square ad code there.
I can get the code for the ad, but could someone give me a step by step on where to paste this code?
Thanks in advance
Last edited by becomeelite on October 23rd 2012, 10:55 pm; edited 1 time in total
I think own ad posting is unposible.But you can post ads in wigets...
How come forumotion places ads there then? Im assuming the ads forumotion uses are Google Adsense also.


And the ad isnt in the profile itself, its like the background of the website when you view someones profile.

I can take some screen shots and post i guess of what exactly i mean...give me a minute
He sad than you cant add ad.
Okay you can see the pic below of where i want to have google ads placed...you can see i already have one banner ad above that is displayed on everypage...so why cant i have a ad in that box that is displayed in every profile? Ive seen forumotion do it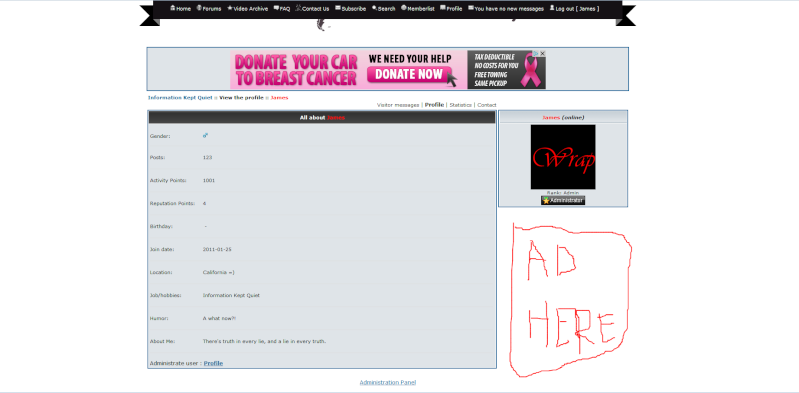 Last edited by becomeelite on October 23rd 2012, 10:53 pm; edited 1 time in total
ahhhhh okay...darn, thats unfortunate.

Thanks for the help Rideem
---
Permissions in this forum:
You
cannot
reply to topics in this forum