Hi guys, I am on Invision and I exported my old theme so I could make a new one with a Christmas theme (id=130702). I have kept the Christmas theme and heavily customised it to what I want by taking all the Christmas related stuff off and am happy with it, however, I would like to add the old theme I exported into a "Theme Selector" so my members can have the choice between the existing theme and the old exported one.
I hope you can understand what I mean, is there away to do this? When I "exported" the old theme I have no idea where it went or where it is backed up, it just said we had to export the old theme before importing a new one.
Appearance:
www.tenerifesforumoffun.com
Last edited by The Lone Ranger on January 5th 2013, 12:49 am; edited 1 time in total
Yes, that's the tutorial I'm following Rideem, but how would I get the id of my customised exported skin. I don't want the "naked" skin id as I would have to restyle everything from scratch again? The id of my "virgin" exported skin is id=153483, but I'm pretty sure if I use that id none of my styling will be on it.

Edit: I want the exported skin back with the CSS styling I put on it, if you know what I mean.
Sorry Rideem, I'll try to explain better. Before Christmas we were using a hitskin theme (this one)
I customised the CSS stylesheet to suit our forum.
Now, getting near Christmas our members wanted a Christmas themed skin, so I "exported" our old theme and replaced it with the skin we are using now (this one)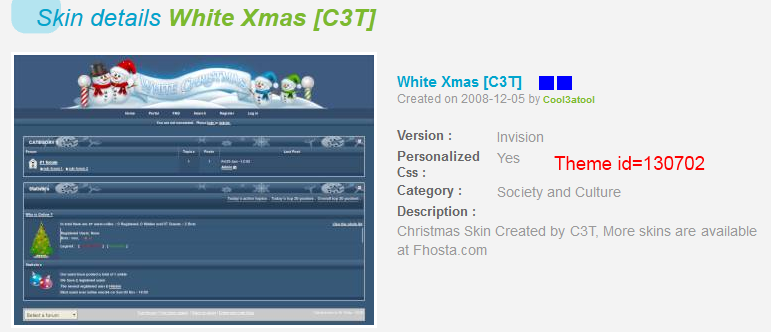 .
I have customised this skin and we rae quite happy with it and this would be the "Default" theme in the selector. What I need to know is where can I get the ID of the first skin (pre christmas one) that I exported as it has it's own unique CSS styling on it which I customised.
Maybe it isn't possible, but this skin would be my second "theme" in the selector.
Haha! That's the problem. I don't know where it went! It just said that I had to "export" the existing theme before I "Imported" the new one. I have no idea where it is backed up.
The browse button only lets me search on my PC and it isn't on my PC. I don't know where it gets exported to. Plus, I don't want to replace my existing theme, I just want to use the one I exported as the second theme in the "Selector" button.
It's no big deal Rideem, we'll just use the existing theme. Thanks for all your time and effort. I'll mark this as "Solved".

---
Permissions in this forum:
You
cannot
reply to topics in this forum