Theme Name:
Diamond Theme
Forum Version:
phpBB3
Primary Colors:
Pale Blue, White, Grey
Template Usage:
No
Javascript Usage:
No
Installation Difficulty:
Very Easy
Theme Description:
Mixture of pale colors for light-based theme lovers.
Demo/Theme Link:
http://en.hitskin.com/?afolder=theme&id=195728
Additional Comments:
This is the very first time I have made a light based forum and it has proven to be very difficult and frustrating to me. If anyone has any suggestions for improvement, I would greatly appreciate it. Thanks!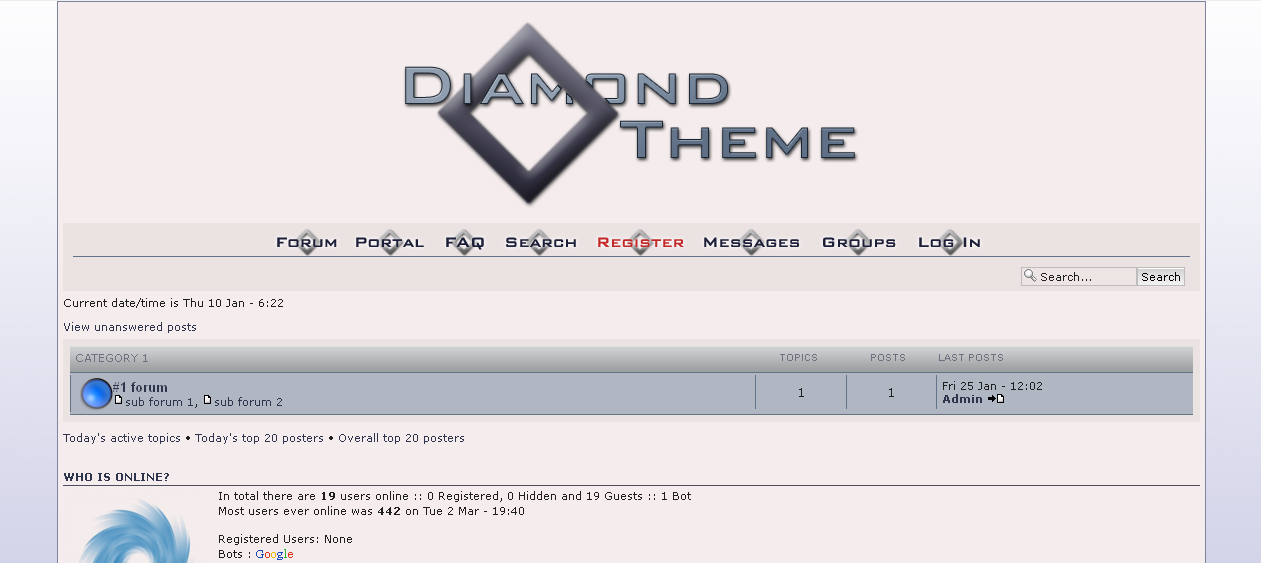 Guest

Guest





I like theme ,but you can use more CSS , js to make a more good theme .
You changed more images

8/10.
Thank you, RicYiu. =) I am aware that I could do a lot more for theme work--I have a lot of CSS for my own forum, for example. However, I like to improve on one thing at a time--so images go first, for me. lol

I am glad to know that I can get up to at least an eight with images!! I truly appreciate your feedback.

Guest

Guest





For your first attempt to create a skin, it is not too bad. If the theme was diamonds, you could have use diamonds for the New Post, Old Post, and Lock Post icons. 9/10

When your topic has been solved, ensure you mark the topic solved.
Never post your email in public.

Thanks, slg. I actually used diamonds for the topic icons, rather than forum icons, because I felt like using diamonds for both would have been too much.

Guest

Guest





It has a nice atmosphere around it and is really nice if to be used in a graphics forum or a role playing forum. Nice work

9/10
Congrats! I do like the theme. It is simple and original. The only I don't like is this color: #b1b7c2
Anyway, your skin is very interesting.

---
Permissions in this forum:
You
cannot
reply to topics in this forum