There is a white line that shows in phpbb3 in the smiley box when you compose a new topic or reply....how do I get rid of it? It looks like a border line.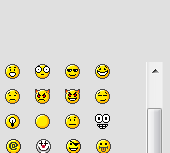 Guest

Guest





I do not see a white line in the screenshot you posted.

When your topic has been solved, ensure you mark the topic solved.
Never post your email in public.

Its to the left of the scroll bar...its barely noticeable. Could it just be part of the tool bar as a shadow?

Guest

Guest





I think all scrollbars have it by default. On my browser scroll bar as well, I see that white line.
I see it as well on my browser. I guess you only notice when you dont have something solid bordering it on top and bottom. Please mark as solved since this is normal.

Guest

Guest





---
Permissions in this forum:
You
cannot
reply to topics in this forum