Respected admins,

I just received the "Copyrights infringement" warning in my control panel, saying "Element(s) detected on this forum: Copyrights infringement". I would like to know that how would i know about which elements the report has been made??
I have deleted the few topic i think would be against the rule. However is there any way I would know exactly for what we are reported?

We will surely remove the post(s) that may have violated the rules.

Any help greatly appreciated

With Regards,
Baba
You will need to read the Terms of Service and check everything on your forum like avatars, banners, posts, links, etc.

When your topic has been solved, ensure you mark the topic solved.
Never post your email in public.

your site has also been banned by google aswell it says you have Downloads that are not safe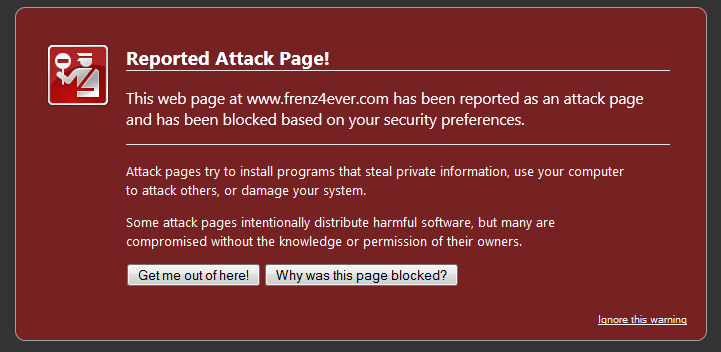 | | |
| --- | --- |
| Advisory provided by | |

Safe Browsing Diagnostic page for frenz4ever.comWhat is the current listing status for frenz4ever.com?

Site is listed as suspicious - visiting this web site may harm your computer.

Part of this site was listed for suspicious activity 3 time(s) over the past 90 days.

What happened when Google visited this site?

Of the 5 pages we tested on the site over the past 90 days, 4 page(s)

resulted in malicious software being downloaded and installed without

user consent. The last time Google visited this site was on 2013-02-14,

and the last time suspicious content was found on this site was on

2013-02-14.Malicious software is hosted on 1 domain(s), including

gabriellerosephotography.com/

.

This site was hosted on 1 network(s) including

AS16626 (GNAXNET)

.

Has this site acted as an intermediary resulting in further distribution of malware?

Over the past 90 days, frenz4ever.com appeared to function as an intermediary for the infection of 1 site(s) including

frenz4ever.forumotion.net/

.


Has this site hosted malware?

No, this site has not hosted malicious software over the past 90 days.


How did this happen?

In some cases, third parties can add malicious code to legitimate sites, which would cause us to show the warning message.


Next steps:



If you are the owner of this web site, you can request a review of your site using Google Webmaster Tools. More information about the review process is available in Google's Webmaster Help Center.

ok thanks for the replies, no idea how the website got into google unsafe, we are working on that.
about the copyright issues on forumotion will that be only about recent posts/toipc ?? i hav sumthing like 41000 + posts how will i know if any of the old topic has been reported or not ??

PS : I also just now observerd that many of my "announcemnets" and the content in "Homepage message" were deleted. is this in relation with the "Copyrights infringement"or has my account been compromised ??
please sslet me know if anyone has this knowledge.

i have chamged my password now but still i whould like to know about it

Regards,
Baba.
Last edited by Jade~Prince on February 19th 2013, 9:31 am; edited 1 time in total (Reason for editing : additional information)
All posts will need to be considered, not just recent ones. If you have removed everything in violation of our terms of service, then your forum will be fine.
i would say look at as much as you can it could be anything from just a photo or pic to some thing you have that is set to download.
We can not really help you on that without going in to your forum and reading all your threads and posts. It's down to you and your staff members to know what is right or not and remove the info as it comes on your site.
We all miss things now and then even myself.
I wish you luck

Ape
Hello,

Yes, from what I know, some of your download links that were in the announcements were removed immediately because of an official complaint.
You need to clean up the whole forum.
Ok guys thanks so much for the replies. I just have to now wait for timeout I guess.
Just one for question. Our website with which the forum is link is blocked by Google for some malicious redirects. We are trying to clean that up. What I did like to know is , does forumotion ban/delete forums if they are linked with problematic website or are they just concerned with the materials that are posted on forumotion forums ?
Thanx for all the help.

They also look at the links, too.
Terms of Service:
Illicit contents
Forums that does welcome or promote warez, piracy, hacking, cracking, spamming, attacks against networks or servers, pornography, racial hatred, crimes against humanity, inappropriate activities on the servers, or any other actions which violate any applicable laws, aren't allowed. Any forum which contains texts, LINKS, pictures, animations, videos or any other content recognized as Illegal will be deleted without notice or warning. Forumotion.com reserves the right to delete any accounts or forums considered not conform to the rules quoted here or specified in Forumotion.com or in the international website rules according to the international internet law. Any Illegal content or act and will be reported to the concerned services and prosecuted.

When your topic has been solved, ensure you mark the topic solved.
Never post your email in public.

Yes FM will still delete your forum if you have links to other sites that are to bad sites also you need to look at all this sort of thing to make your own site safe aswell not to break out TOS
Thanx for all the help. This problem is sloved
---
Permissions in this forum:
You
cannot
reply to topics in this forum