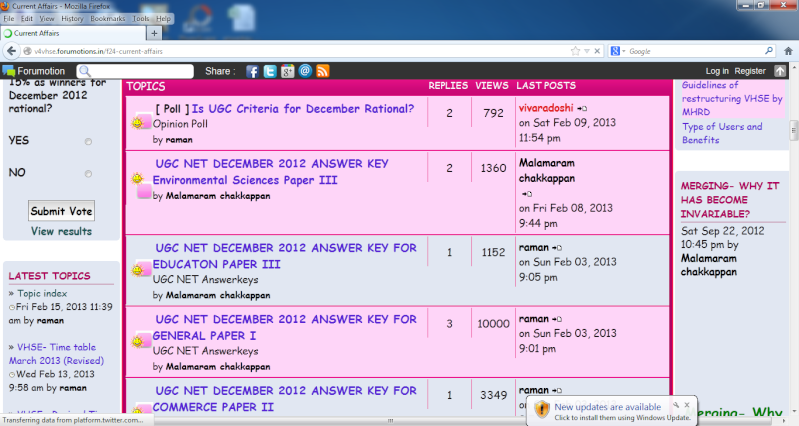 Sir
The above image is screen shot of
www.v4vhse.forumotion.in
Following is page url
http://v4vhse.forumotions.in/f24-current-affairs
Is 10000 the maximum displayable number of view in topic list page. The view for that topic was average 100 views per day. From yesterday (19/2/2013) the no.of view is not changing and is fixed on 10000. I as a guest user viewed it more times but no change in number of views and also expect more than 100 views in total by others. What should I do to display the number of view correctly
Last edited by samkzd on February 20th 2013, 6:45 am; edited 1 time in total

samkzd

New

Member




Posts

: 6


Reputation :

1


Language

: English



Sorry Sir,

Now it seems solved

samkzd

New

Member




Posts

: 6


Reputation :

1


Language

: English



Please don't double/triple post. Your post need to be separated by 24 hours before bumping, replying or adding more information. Please use the edit button instead!
Sometimes there is a glitch where the numbers will not update quickly.

When your topic has been solved, ensure you mark the topic solved.
Never post your email in public.

---
Permissions in this forum:
You
cannot
reply to topics in this forum