Hello!
I have recently activated the gallery in my forum!
But, I have some questions :-
1. How do you upload pictures in the gallery?
2. How do you rate and comment on pics?
Can anyone please explain these questions to me?
Forum version :PunBB
Thanks!
Yes. But I didn't understand. Sorry......
When you click on Gallery button on the navigation bar.
Do you see this?
Your Personal Album
Click on that.
Then click on Create Personal Gallery
It will say a new personal gallery is created, then you will see a Upload picture image. You can follow the procedure then.
How can I add pictures into an existing category?
Can you post a screenshot of what you see?
A screenshot about what, may I know?
@koolkat96

wrote:How can I add pictures into an existing category?
You have to set all your gallery permissions according to what you want to allow.
Meaning if members can upload to any public galleries you might have created etc...
It should all be thire pretty much self explanatory ?
I am on my iPod right now so is a little hard to remember all the settings and options
But take a look in all your gallery settings and let us know how you make out
If I am able to check before you get this reply then I will be sure to edit it in.
And if not once again take a look at all your setting, including the settings/options you have for when creating personal or regular gallery in general
And reply back here and let us know

Thanx
info added

Yeah go to admin panal/modules/gallery
It will be in your configuration , management , personal albums
You will have to set all of that as you wish. And won't hurt to go through all settings
Then you should create a test members account to log in that and be sure all is set correct for the options you wish to allow.

kirk

Foru

master






Posts

: 11037


Reputation :

653


Language

: English,Vulcan,Klingon, Romulan,& Gorn



i have set user parameters. file upload sizes, user levels, changed skins, read html to find the link to the button.jpg.
if i try to view the button jpg, i get a blank screen.
here is the code showing code for the button:
<div class="buttons"><a href="/gallery/Personal-album-of-Admin/gal_pupload.htm?cat_id=3&amp;user_id=1"><img src="http://hitskin.com/themes/15/78/20/i_upload_pic.gif" alt="Upload Pic" title="Upload Pic" /></a></div><div class="pathname-box"><p><a href="/forum">OrCoFaRe</a> :: <a href="/gallery/index.htm">Gallery</a> :: Personal album of <span style="color:#000099"><strong>Admin</strong></span></p></div></div><div class="clear"></div><div class="pagination"><script type="text/javascript">//<![CDATA[
insert_plus_album_new('3','');//]]></script></div><div class="clear"></div><h1 class="page-title">Pictures of <span style="color:#000099"><strong>Admin</strong></span>'s personal album</h1><div class="panel">
where is the button supposed to be on the screen?
the only clue was a reference to a test post that said it took 7 days for the user to be able to post links.
i have pics in my servimg account and activated it correctly i think.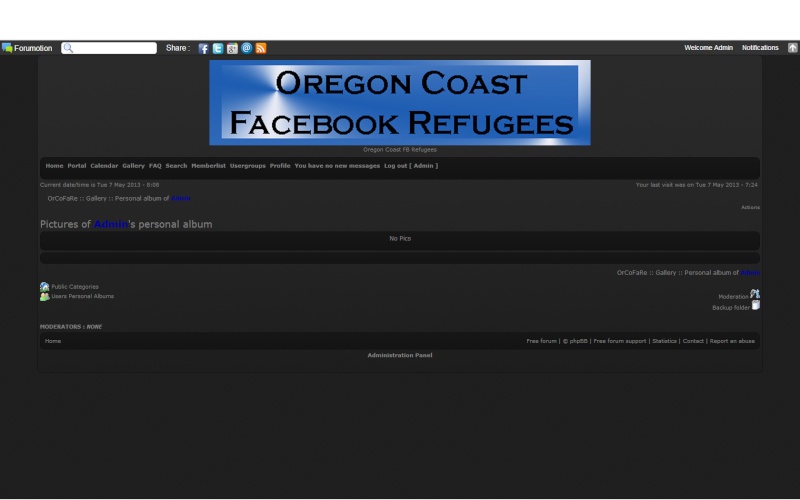 does this help you? the posts i have read all told me as the admin how to use the gallery. there is no faqs about how the user should access or use the gallery.
i ran bbs's in the 80's and have been in forums before in the 90's . i cannot get this to work. i will set u an admin acct if you want to try to figure it out.
thanks
dave jenkins
www.ymtwoodworks.com
https://www.facebook.com/YMTWoodworksLLC

TheDEEJ

New

Member




Posts

: 2


Reputation :

1


Language

: english



@TheDEEJ

wrote:i have set user parameters. file upload sizes, user levels, changed skins, read html to find the link to the button.jpg.

if i try to view the button jpg, i get a blank screen.

here is the code showing code for the button:

<div class="buttons"><a href="/gallery/Personal-album-of-Admin/gal_pupload.htm?cat_id=3&user_id=1"><img src="http://hitskin.com/themes/15/78/20/i_upload_pic.gif" alt="Upload Pic" title="Upload Pic" /></a></div><div class="pathname-box"><p><a href="/forum">OrCoFaRe</a> :: <a href="/gallery/index.htm">Gallery</a> :: Personal album of <span style="color:#000099"><strong>Admin</strong></span></p></div></div><div class="clear"></div><div class="pagination"><script type="text/javascript">//<![CDATA[

insert_plus_album_new('3','');//]]></script></div><div class="clear"></div><h1 class="page-title">Pictures of <span style="color:#000099"><strong>Admin</strong></span>'s personal album</h1><div class="panel">

where is the button supposed to be on the screen?

the only clue was a reference to a test post that said it took 7 days for the user to be able to post links.

i have pics in my servimg account and activated it correctly i think.

does this help you? the posts i have read all told me as the admin how to use the gallery. there is no faqs about how the user should access or use the gallery.

i ran bbs's in the 80's and have been in forums before in the 90's . i cannot get this to work. i will set u an admin acct if you want to try to figure it out.

thanks

dave jenkins

www.ymtwoodworks.comhttps://www.facebook.com/YMTWoodworksLLC
ha,
there was no picture in the folder for the upload button !!!!
i added my pic link and presto.....
i tried many skins and viewed the pic and each one was only 1 pixel x 1 pixel. you cannot get the hand to pop up on the rollover at that size.
hope this helps others.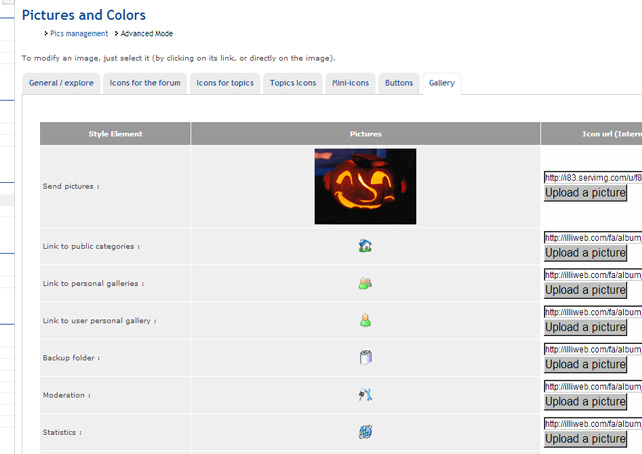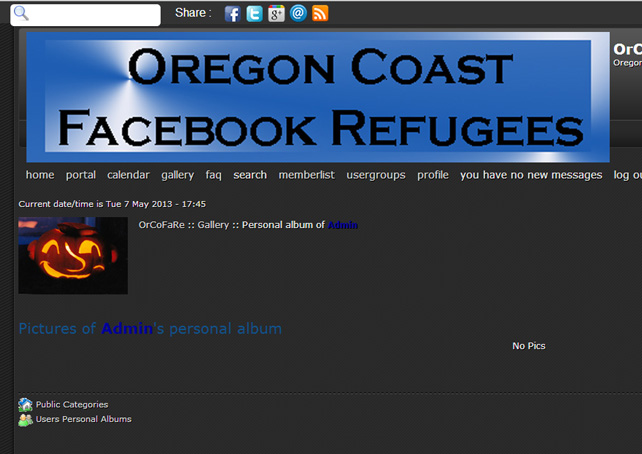 TheDEEJ

New

Member




Posts

: 2


Reputation :

1


Language

: english



TheDEEJ:
Please don't double/triple post. Your post need to be separated by 24 hours before bumping, replying or adding more information. Please use the edit button instead!

First Reminder


When your topic has been solved, ensure you mark the topic solved.
Never post your email in public.
---
Permissions in this forum:
You
cannot
reply to topics in this forum