How can I get these buttons like here
Last edited by lovely King on August 1st 2013, 6:02 pm; edited 1 time in total
There is a site that i know of called Share this! It works Realy Well, Do a google search for it and create the buttons bar that you want and it will give you two codes (might give you more depending on what one you choose)
Also please post your forum type and Forum Url Because there will be different ways to install it depending on the type! I will  give you instructions on how to install it if you paste the codes they give you here in a reply!
I created my own ine but there is a problem
when i click on facebook share button for example this picture appears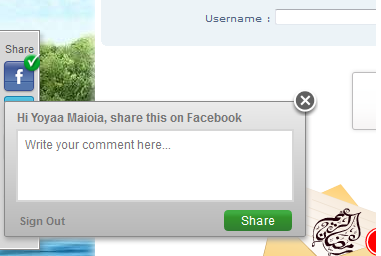 instead of this

My forum url:
http://topyouth.gamerzfun.com
version: phpbb3
code i used:
Code:

<script type="text/javascript">var switchTo5x=true;</script>


<script type="text/javascript" src="http://w.sharethis.com/button/buttons.js"></script>


<script type="text/javascript" src="http://s.sharethis.com/loader.js"></script>


<script type="text/javascript">stLight.options({publisher: "47d0f030-9133-44c6-abe2-a090fdb6bdab", doNotHash: false, doNotCopy: false, hashAddressBar: false});</script>


<script>


var options={ "publisher": "47d0f030-9133-44c6-abe2-a090fdb6bdab", "position": "left", "ad": { "visible": false, "openDelay": 5, "closeDelay": 0}, "chicklets": { "items": ["facebook", "twitter", "googleplus", "email", "sharethis"]}};


var st_hover_widget = new sharethis.widgets.hoverbuttons(options);


</script>


Delete the code you first put in and add this one
Code:

<!-- AddThis Smart Layers BEGIN -->
<!-- Go to http://www.addthis.com/get/smart-layers to customize -->
<script type="text/javascript" src="//s7.addthis.com/js/300/addthis_widget.js#pubid=xa-51fa76667af94f26"></script>
<script type="text/javascript">
addthis.layers({
'theme' : 'gray',
'share' : {
'position' : 'left',
'numPreferredServices' : 5
}
});
</script>
<!-- AddThis Smart Layers END -->
It adds a print button the it but it should work the way you want it to!
Fyi I used a different site called add this
look at this error
Thats on facebooks end that because that website is Hated by facebook!!

you can press let us know to contact them and explain to them whats wrong and stuff they might never reply or the could you never know

When your topic has been solved, ensure you mark the topic solved.
Never post your email in public.

---
Permissions in this forum:
You
cannot
reply to topics in this forum