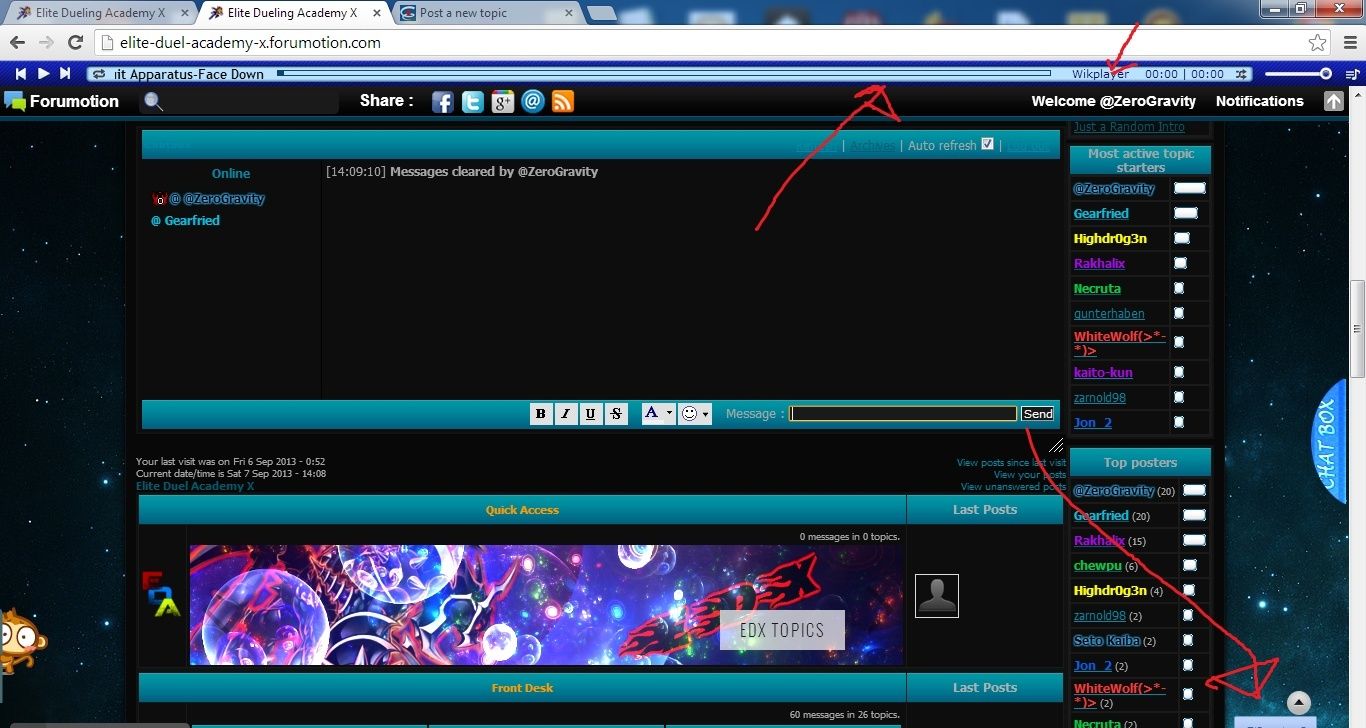 So I've been having this problem for a while and. I've tried everything i know to solve this problem but
i cant seem to so I'm reaching out hoping someone can help.
the problem is Wikplayer,SCM player or just about every player that i add to my page causes avacweb chat to act up
the chatbox button movies down and is unresponsive and it even glitches and refuses to pop up i hope someone could 
help me thank you. oh and i'm using PHPBB2
Last edited by ZeroGravity on September 7th 2013, 11:32 pm; edited 1 time in total (Reason for editing : version number)
New

Member




Posts

: 4


Reputation :

1


Language

: English



You could try using html 5 new audio codes, although you'll have to upload an mp3 and ogg to a host that allows remote linking and add the url to your files in this code.
Code:

<audio controls>
 <source src="horse.ogg" type="audio/ogg">
 <source src="horse.mp3" type="audio/mpeg">
</audio>
Or you could try podcast, you have to create an account then create your player, then you add sound files to the player via there search engine, its all point and click and you don't have to upload any files, you can link to videos from youtube and it plays the audio from them..
http://www.podsnack.com/
Hyper

active






Posts

: 2537


Reputation :

166


Language

: English


Location

: United States



The issue with seamless music players is most of them restrict basic attributes like "_blank" i.e. disallowing the user to open a new page/tab. Hence "seamless" meaning it will disallow you from interrupting the current processes, or "modifying the current page url".

This could be why certain things on your forum will not work properly. The SCM player can also conflict with scripts on your forum as well such as 'quick quote' the only solution I can offer is find an optional music player which isn't seamless, or remove it.
Foru

master






Posts

: 13244


Reputation :

2990


Language

: English & 日本語


Location

: Pennsylvania



Thank you 
SethC1995
 i realized that was the problem i was hoping for a work around of some sort if there isn't one i suppose i'll love for another i would be grateful if you could post any alternative music players similar to SCM that would work along side avacweb chat. and Thank you 
runawayhorses
 lol but i dont think i can begin to understand how to use html 5 audio codes on less you can provide some sort of tutorial that would be awesome. thanks again.
New

Member




Posts

: 4


Reputation :

1


Language

: English



Well I use html 5 audio codes because you can make the player invisible so only the audio is heard and can be set to start playback automatically and loop with a small line of code "<audio autoplay loop>", I also like the fact that I own and control the audio files that are playing so I don't have to rely on someone else and worry about the files being deleted, and I also like the fact html 5 audio doesn't need the latest flashplayer or a flashplayer plugin to be installed, so there is no programs that need to be running the can disturb other coding and applications.. All modern and updated browsers can hear the sound without needing anything extra installed, no plugins, nothing. The code interferes with nothing.
However, this site here podsnack is easy and you don't have to upload any sound files, you create an account and follow the instructions. I foresee no problems with podsnack and your chatbox.
http://www.podsnack.com/
Hyper

active






Posts

: 2537


Reputation :

166


Language

: English


Location

: United States



Similar topics
---
Permissions in this forum:
You
cannot
reply to topics in this forum