Our forum is set up to assign three stars to a member when they reach 50 posts.  
What I want to do is to set up the following schedule of stars:
10 posts = 1 star
25 posts = 2 stars
50 posts = 3 stars
Can this be done through the Rank Administration Panel?
Here is a screenshot of the panel: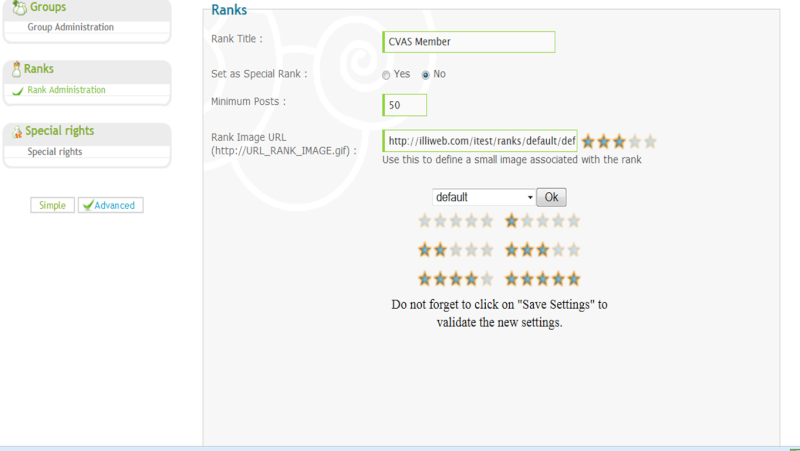 Thanks!

 
Hello.
You can to set 0 stars for min 0 posts. that mean members from 0 to NEXT rank will have 0 stars.
1 star for min 10 posts. That mean when member get 10 post get that rank, and it is from 10 posts to next rank. Next set min 25 posts for 2 stars, then all members with 25 posts will have 2 stars all time before they get next.
So you just need to set min posts and stars, other forum do alone, automatic

Thanks!

So do I have to make a separate rank for each level of stars?
Can I call all of them "Member" or do they have to have unique names?
You can all call member.

And you just need write number of min posts for some rank.
That works!
You are a big help, Zyon. Thanks!
Glad to help you


When your topic has been solved, ensure you mark the topic solved.
Never post your email in public.

---
Permissions in this forum:
You
cannot
reply to topics in this forum