Hello!
I am sorry, but I need some help making the Log in button on the side. Here are some examples. 
Then also show your profile on the side?
*I am not good with this code or Script stuff either. I have no idea where to enter it. Help would be appreciated! Thanks*
~Mary
I am sorry but I drag the Log in to the side?
Administration Panel > Modules > Forum widgets management
Ensure these options for 'Forum widgets general options' are set and save.
Then scroll down to the 'Forum widgets management' and drag the 'log in' widget from the 'existing widgets' to one of the columns and save.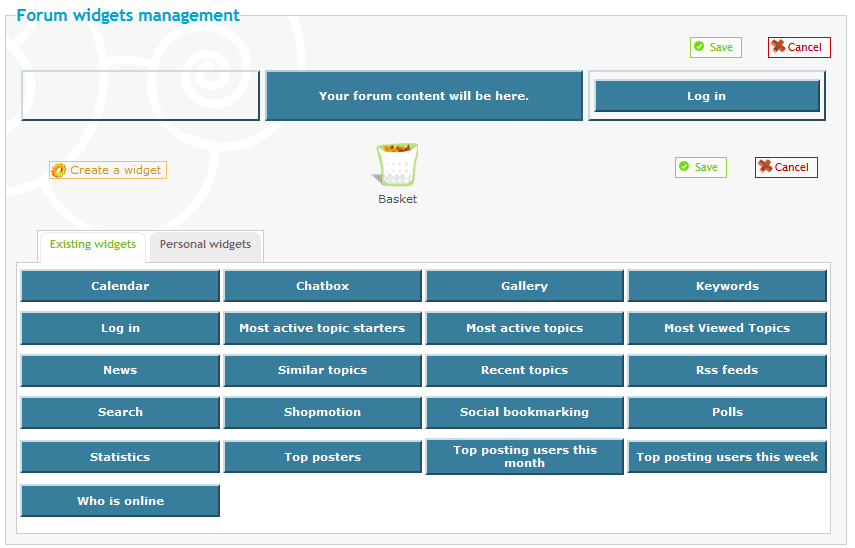 Thanks Seth! I appreciate your help! I am new to fourmotion. I really appreciate you helping. Wishing you the best. ~Mary
Last edited by Mary. on December 27th 2013, 4:02 am; edited 1 time in total
The modules section can be accessed from the main tabs :
Thanks Seth! I appreciate you helping me! I am kind of new to fourmotion. I am sorry, but thanks so much! 

Wishing you the best,

Mary

*This may be locked. Solved
You're welcome  

Topic solved and archived
---
Permissions in this forum:
You
cannot
reply to topics in this forum