Hello, 
i want to create a poll, on this forum
http://democracy.forumgreek.com/
but i have not any idea about it. 
When i choose to modify the poll widget, i see an empty page, without any widget options. Whats my mistake? 
what supposed to do? May i need another version? May i need code? Help me please.
The default forum widget will only work if you have a poll on your forum already.

When your topic has been solved, ensure you mark the topic solved.
Never post your email in public.

How can i have allready a poll on my forum?
Hi

In creating a poll, click on "New Topic" and below there, there should be an option called "Add a poll".
Regards,
Pizza Boi
@teosan

wrote:How can i have allready a poll on my forum?
Hi

As stated in previous post.
Picture version.
Firstly Topic/ post.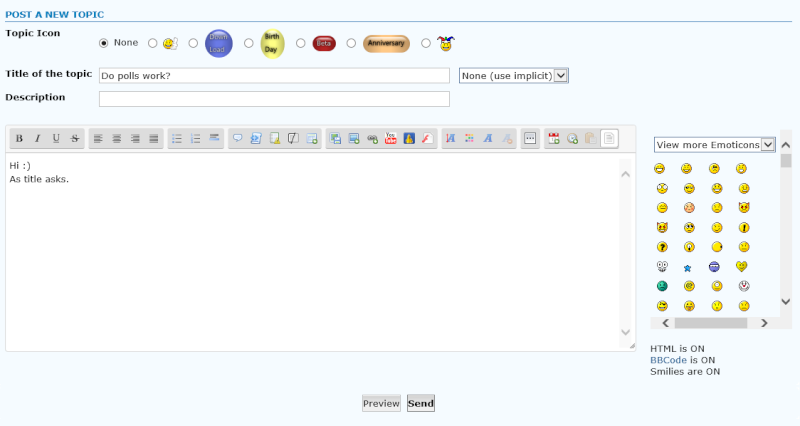 Scroll down & you'll see.
Add options & time if applicable.
Send post.
You should then get something like this.
Oh...thanks! I had not seen that before...i was careless. Its so simple....
Thanks for help.

Jophy

Forum

Guru






Posts

: 17924


Reputation :

835


Language

: English


Location

: Somewhere



---
Permissions in this forum:
You
cannot
reply to topics in this forum