Hey guys,

I've recently added an award system based on the tutorial you guys provided. I've managed to get everything working. But one thing i'm currently not able to get working and i've been breaking my head over it many times.

I wondered how it's possible to make a text discription appearance when your put your cursor over the image (Alternated text). I've made separated profile fields for each award. With following settings:

Type: Text Field
Name: [Award Name]
Discription: [Award Name]
URL Icon: [Image Link]
Neccecarry Filled: No
Display: Messages
Display Type: Icon
Who can modify: None
Display the field: Guests
Seperator: No choice


Can anyone help me how to display the alternated text when i bring my cursor over the image?

Regards,

HoeGy
Hello hoegy,
For a tooltip to appear you must choose an 'image list' as the type.
Example :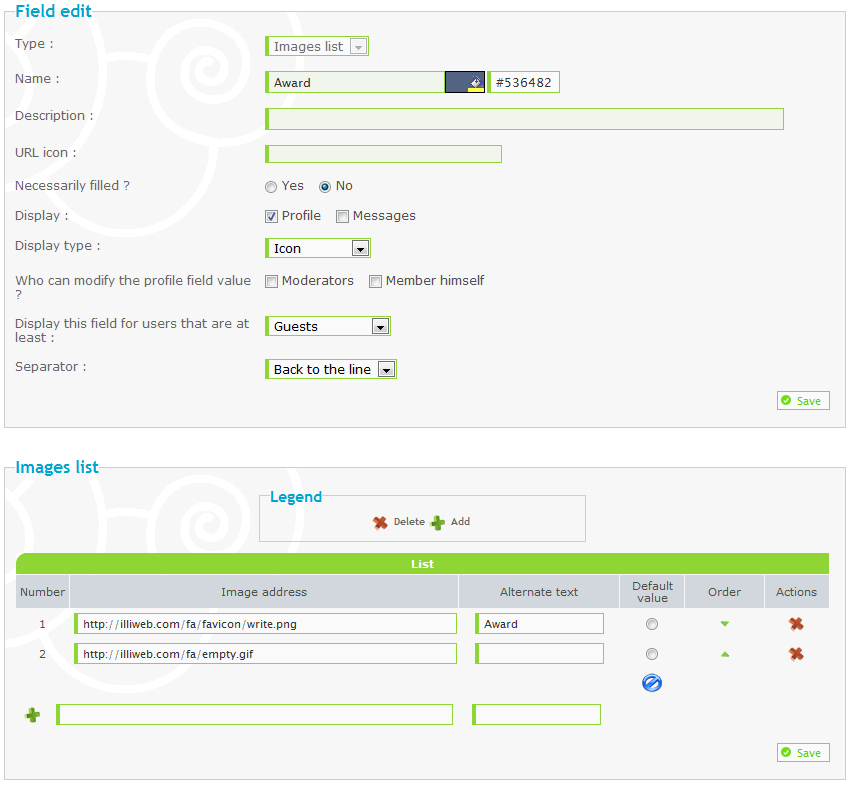 Add two images to the list : One for the award, and one to remove the award. (a blank image)
Images address : the URL of your image
Alternate text : the text displayed on hover or if the image fails to load
You'll have to make multiple fields(images list) for each award like the image above.
ooh, haven't tought of that

works perfectly. Thx a lot!
You're welcome
Topic solved and archived
---
Permissions in this forum:
You
cannot
reply to topics in this forum