Hi

Today, I noticed a few weird things happening to my forum and when I'm on different forums so I would like to consult both problems in this thread.
#1 BBC Problem -
In this problem, whenever I edit my post, the BBC disappears which apparently annoyed me a couple of times when I was making my announcement 
 .
I am not sure what happens, but literally, only 2 BBC modified sentence I made got spared from the configuration... at first I thought it was because I was using tables, but apparently, not. I even tried it in a forum that didn't apply any Javascript -- due to affiliation so that's why I posted -- and I still got the problem when I removed a simple 's' in everything 

 .
Note:
I have tried this both in my personal computer and other devices I own and using different internet connections as well as in different locations.
#2 Images Problem -
Apparently, my website banner got cut-off in viewing or at the very least, corrupted; however, upon refresh, everything is settled.
Of course, this doesn't sound like a problem, right? Anyway, it's technically hard to print screen this since whenever I refresh the page, everything goes fine again (Same application, I used this in other gadgets, nets, etc.).
So my question for this portion, is this because of imgur and servimg.com servers going bonkers or is it a problem within Forumotion?
Regards,
Pizza Boi
Hello Pizza Boi,

Could you provide screenshots and url of your forums? It could be helpful.

Thanks in advance
Hi

Okay, so, for #1, whenever I just use colored BBC (Will put an example below and re-edit this post a few times), it removes it entirely.
URL:
http://ygoda.forumtl.com/
For #2, I have not experienced this problem for today... yet, but I'll screenshot when I do.
Example for #1 (Re-edited post)
Leh go
Also, on another note, when I click on the edit button sometimes, the BBC disappears, and then when I click on send, the color appears.
This is highly confusing x_x.
Edit: Sorry, but I cannot seem to reproduce the problem with this forum. I still experience this type of problem for
http://northacademy.forummotion.com/forum
and
http://vylonduelingacademy.forumotion.com/
.
Could it be our forum versions? I run on punBB and phpBB2 is for those 2.
Screenies~
When I press on the edit button: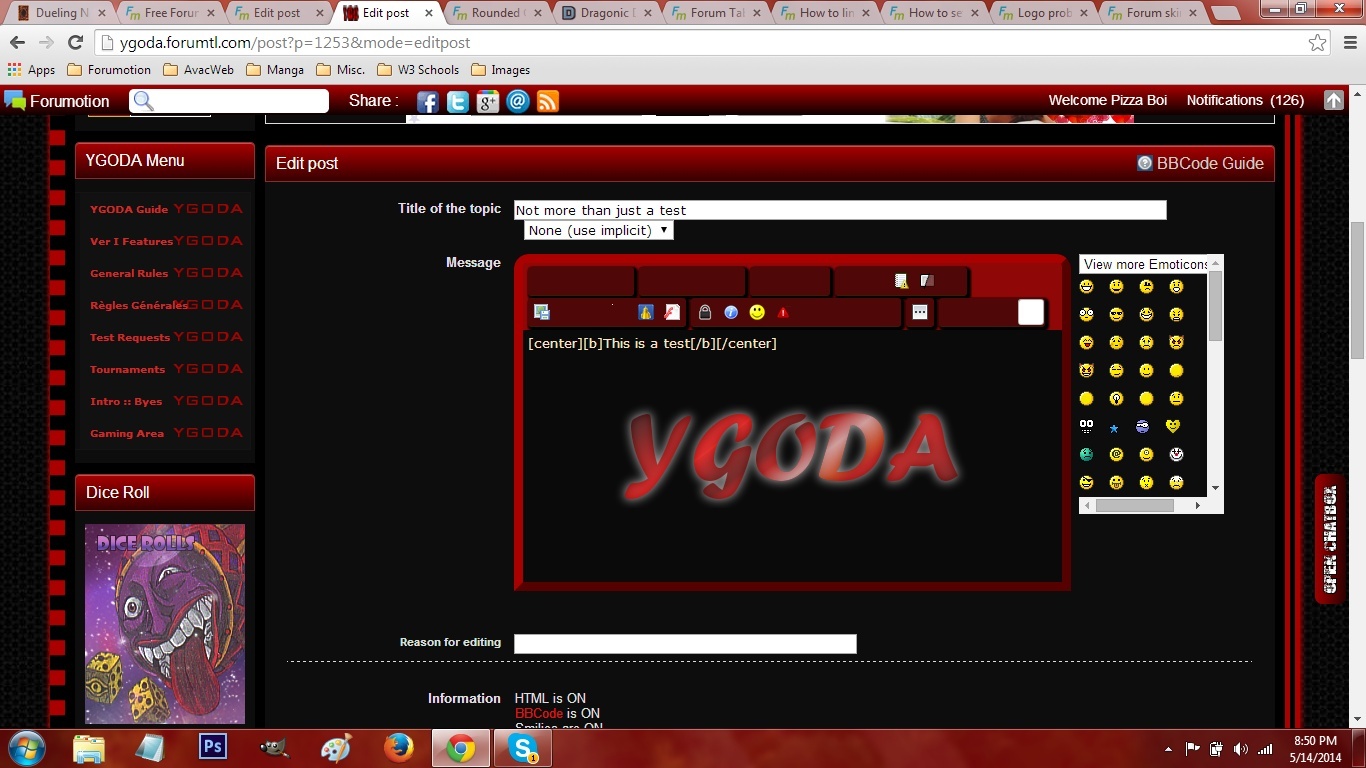 What it looks like: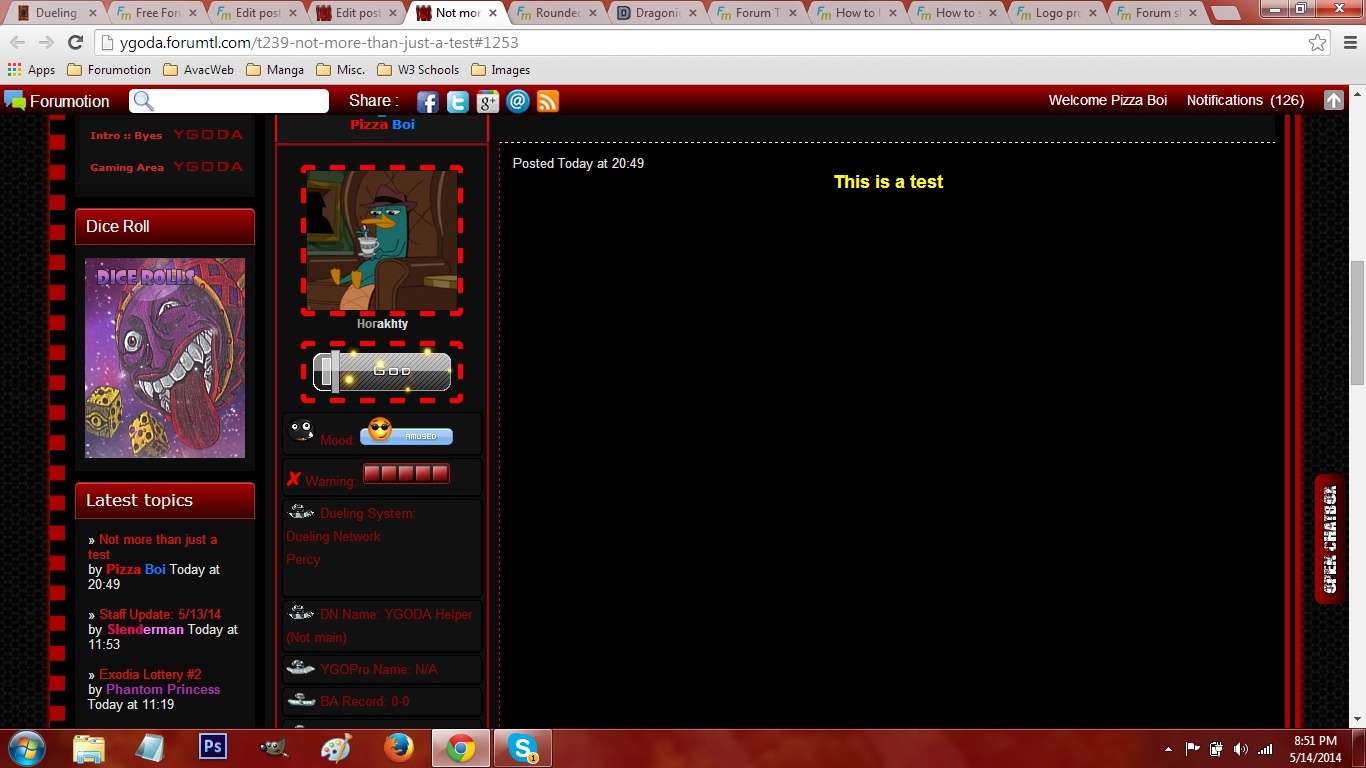 Regards,
Pizza Boi
Hi

Okay, image problem = Solved. Now, just the BBC. This still occurs to me for phpBB2 and punBB forums. Lately, I noticed that phpBB3 are fine but so far have not looked it up for Invision.
Regards,
Pizza Boi
Hi

The BBC Problem was fixed... somehow and not only in my forum but other punBB and phpBB2 forums I go into. Invision forums didn't have this problem.
#Inb4Haxed
You can close this problem now since I really don't know why this happened too '-' ...
Regards,
Pizza Boi
---
Permissions in this forum:
You
cannot
reply to topics in this forum