Page 3 of 3 •

1, 2, 3

First topic message reminder :
I have new members now saying they can't Register e-mailing me I can't get on not working help.  
I also have not been getting the Activation e-mail like I use to get on the new members for over 4 months.   
I also have to manually activate the new members now, also for over 4 months the one before now, now they just can't Register at all.
I did not like checking for new members all the time by going on the Inactive Users on the administration panel.
How many new members I may have lost that can't Register. It is also happening on other forums I am a Moderator on.
Here are my setting on my forum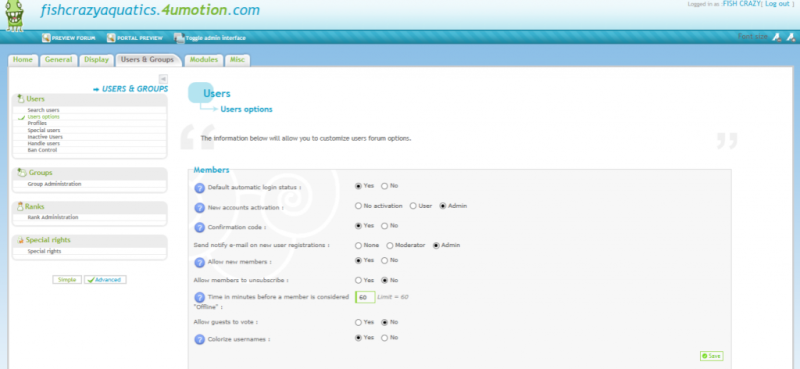 Ghost Pirate

Foru

memb

er






Posts

: 273


Reputation :

82


Language

: English, Greman, Spanish



---
OK thanks!
Now we have to wait and see if it is working properly
Thanks  
Fish crazy is still having the problem Even on Hotmail. i have also posted on the News letter post to to say that we are having problems with sending out news letters this has been a problem the same time as this so maybe the news letter and this problem is the same thing i don't know

Ape
Still Not Getting New Member Activation e-mail  
  Still Have To Go To The Inactive Users To See If I Have New Members  

Ghost Pirate

Foru

memb

er






Posts

: 273


Reputation :

82


Language

: English, Greman, Spanish



We are still not getting any Emails to notify the admin's of the forum that a new member has made an account on the forum. The admin has changed the Email address a number of times to see if he can get this sorted from AOL to Hotmail now to Gmail and Not one of the Emails has come though to him to tell him there is a new member on the forum that is weighting  for there account to be activated by the admin's.
Not sure why this is going on as i get my Email on my site when someone makes a account on my forum
the forum with this problem is
http://fishcrazyaquatics.4umotion.com/
Hello APE

It is not a good new. I have sent the forum to our technicians. Theu will check directly on the forum + server if there is no something wrong.

Thanks for your patience

Regards
if you still need help. email or pm me here, and i can help you solving this through teamviewer.

It is working for me now Thanks to APE and Buttercup

Thank You kevin-kyo for checking up on this post and trying to help


Ghost Pirate

Foru

memb

er






Posts

: 273


Reputation :

82


Language

: English, Greman, Spanish



Glad it works right now

Page 3 of 3 •

1, 2, 3
---
Permissions in this forum:
You
cannot
reply to topics in this forum