Hello everyone,
I've always been looking for a hub-like website that has lots of different topics in one, where everyone can just go for their favourite sections and chat, and at the same time, have different subtopics where they can easily pop in and see what's going on in other worlds. I've seen a few, but it's either that they're still quite restrictive, or that the design of the forum is not as palatable (no offence to any forums here). And so I decided to start one on my own.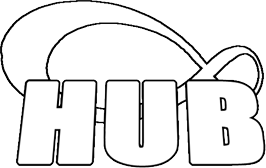 Title: InfinityHub
Category: Leisure
Language: English
Forum's Purpose: A hub-like forum that has various topics, with good visual and user experience (I like to hope)
As of now, I am the only one on the forum. I am doing all the designs and codes all by myself. I would appreciate some help and I'd like to have some help cause it would mean interaction and interaction would mean that we're getting the forum alive.
Categories (thus far):
The Podium
Announcements & Updates
 Help & Suggestions
 HubPoints Shoppe
Discussion Board
 Anime & Manga
 Art & Design
 Computers & Internet
 Games
 Movies & Popcorns
 Science & Knowledge
 Sounds & Music
 Sports & Hobbies
 Miscellaneous Discussions
The Lounge
 Introduction
 Random Crap
Statistics
(I know
 That looks quite poor, for now. And that's why I'm here)
Forum Overview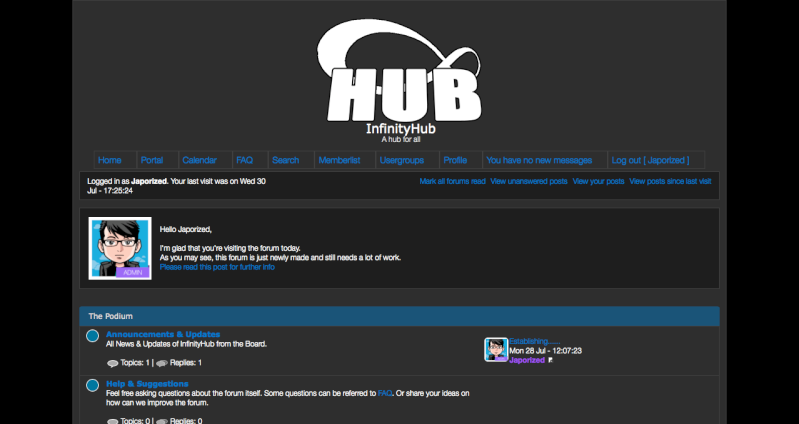 That would be it from me now. Thank you for your attention and I shall be expecting you.
Hope that this forum would turn out well and that we would have a place to call home.
Oh and by the way, we're still redesigning the forum so we may change a bit of our look from time to time. I will try to update the thumbnail here, as well as our progress. Cheers!
Best regards,
Japorized
Admin of InfinityHub
Last edited by Japorized on February 19th 2015, 7:42 am; edited 3 times in total
Jul 31, 2014 Changelog


added login box, user profile box, latest topics list, weekly, monthly, and overall top posters, and tentative music station on the right side of the forum


| | | | | | | |
| --- | --- | --- | --- | --- | --- | --- |
| Login Box & Recent Topics | | | | | | Top Posters (Tabs) & Tentative Music/Radio Player |



added in points system, called HubPoints (usage not implemented yet)

added in reputation system, called Rep (usage not implemented yet)


Introducing HubPoints & Rep



changed navigation bar, new graphics added to replace old font & CSS styled navigation bar

added drop shadow to the new navigation bar

removed Profile from navigation bar as it's available in the profile box on the right widget


New navigation bar



changed icons in Private Message


New icons for Inbox, Sentbox, Outbox, and Savebox



added in FontAwesome (usage is still quite restrictive but functional, will write a post about usage on the forum)


FontAwesome in action



added Featured Topics in forum homepage


Featured Topics
August 1, 2014 Changelog


added Onion emoticons


Oh ho...



opened HubPoints Shoppe category, a place to spend the points generated by our point system

new items added to HubPoints Shoppe - Tribes Setup, Profile


The New HubPoints Shoppe



changed Global Moderators to Super Moderators

added new description to the all moderating groups


New description... wait what?



updated Forum Ranks to v0.1

added a few ranks

changed the colors

further styled poster's info, now collapsable

New Forum Rank style and profile info styling
added FontAwesome cheatsheet - credits to Dave Gandy to have created FontAwesome - introductory thread here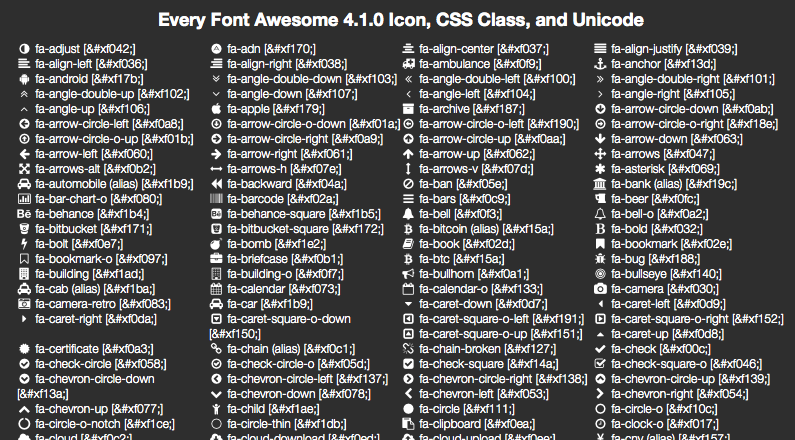 FontAwesome Cheatsheet
new online icon

removed user profile popup

some minor tweaks and improvements

squashed some graphical bugs

August 2, 2014 Changelog


changed the forum engine from PunBB to Invision (this took me the whole day as I had to reimplement some of the features due to the change in codes)

new member list look

slightly different FAQ page

new Calendar effects

fonts look thinner now

added fade in effects to Top Posters

removed navigation bar drop shadow

Not much is did today as changing the engine alone took me the whole day.
Here's the two pictures to show the differences.
Invision
PunBB
I tried making the two designs resemble each other so that there's not too much of a difference.
However, the codes are a lot cleaner now.
Statistics Update
Statistics as of August 1, 2014
It's Day 4 today so here's a little update to our statistics.
We have
4
members now and our newest member is
Dark-Avenger
.
Topics are starting to roll and hopefully things will go on smoothly.
Thank you all for joining and let us hope that more members shall join soon.
Cheers!
August 3, 2014 Changelog


added list of online members on the sidebar


Members online widget

top posters sidebar widget was fixed


Top Posters widget in good progress

redesigned topics page


Much better way of viewing topics

We <3 toggles!

redesigned categories and topics legends in their respective pages


Better looking legends

redesigned ugly navigation crumbs


Sexier navigation crumbs

lots of rounded corners added

allowed the forum to be a bit more obese

Navigation Bar v1.0
More compact, less cluttering, and sleek
Made with CSS without any images
FontAwesome icons (our forum feature)
jQuery sliding effects
Forum Activities Board v1.0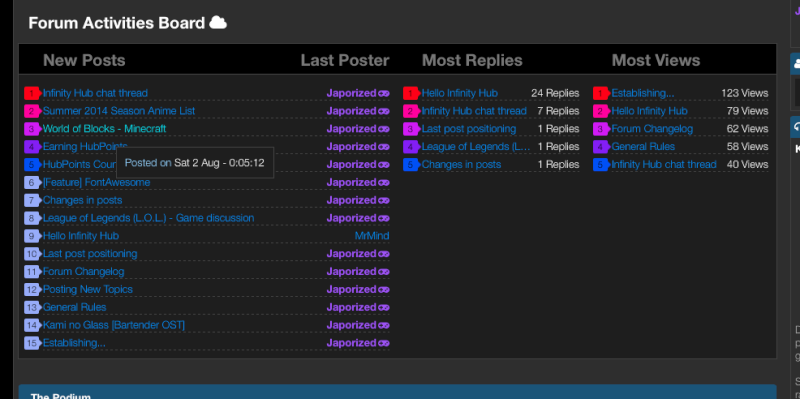 More beautiful way of viewing the most recent and hottest activities on the forum
Utilized from
Social Academy Forum
- Thank you very much
Changed the original design to fit our dark theme
I'm owning the topics a little too much so come and take my place if you can  
August 12, 2014 Changelog


added login popup, no longer do you need to navigate to another page

changed where the smiley box is in the posting page, needs to toggle to access them

some visual changes to the smiley box and quick reply drop downs

deleting messages are easier now

squashed some graphical bugs and improved some other tiny graphics

users can now purchase special features for their profile pages using the forum's currency, HubPoints


The rest of the forum still retains the black background, as well as other users who haven't purchased these items for their profile

price cut in our stores! Check out new exciting prices.

August 31, 2014 Changelog


added statuses for users, which can be easily updated from the control panel, and will be displayed in the user's profile as well as post messages

added Panda Syntax Highlighter

very minor changes to the user control panel

I've been very busy with life but I'll always keep the site updated with new stuff and squishing bugs as I go by.
Up till now, we still have only a very few number of members so please do join in so that we can jumpstart the forum and its activity. Cheers!
A quick addition to the forum.
September 1, 2014 Changelog
Reputation bar display instead of the usual number. This works for all individual in all their posts.
@Japorized
Nice forum you have there. I love the new theme.
Man

ager





Posts

: 9660


Reputation :

888


Language

: English


Location

: USA



Thank you
@brandon_g
 and for joining as well.
I must admit that I am current busy but I assure that updates will roll in once things are more settled down. So stay tuned!
We're Hiring!!
We're now open for members to volunteer and become a moderator on our forum.
Please read our terms on our forum: 
http://infinityhub.ace.st/t34-we-re-hiring#541
Quick Update on Forum Activity
Our forum has quickly grown to become a small community, despite still having a relatively small member count. Here's a quick update on our activity with a brief statistic.
Forum Statistics
| | |
| --- | --- |
| Total Topics | 35 |
| Total Posts | 539 |
| Total Members | 10 |
| Latest Member | L_Ouinn |
Don't hesitate to join us!
Infinity Hub has the following Medium Updates to give:
VicmxD and brandon_g (HEY thats me
) join the Moderators team as the first Moderators of Infinity Hub
We are looking for active members to join this AWESOME growing community! Join us today!
That is about all of them besides that Infinity Hub is awesome (I personally vouche for that fact) and that if you join us you will love it... I garuntee it.
-brandon_g ~ Infinity Hub Moderator


Remember to mark your topic

when a solution is found.
General Rules
|
Tips & Tricks
|
FAQ
|
Forgot Founder Password?
Team Leader
Review Section Rules
|
Request A Review
|
Sticker Points
Man

ager





Posts

: 9660


Reputation :

888


Language

: English


Location

: USA



---
Permissions in this forum:
You
cannot
reply to topics in this forum