+4
Fierce Star
TheCrow
Shek
Shadow
8 posters

| | | |
| --- | --- | --- |
| | Add header H2 to H4 with the editor! | |

Dear members

In order to improve your forum's search engine, Forumotion is happy to announce you are now able to specify a heading tag (h2, h3 and h4) on your messages!

Heading tags allow you to:

- Organize the structure of your text
- Indicate to search engines what is the most important thing on your text

This new option is directly available on the Editor via the following button:  



Here is an example: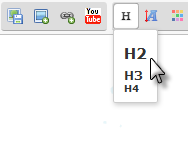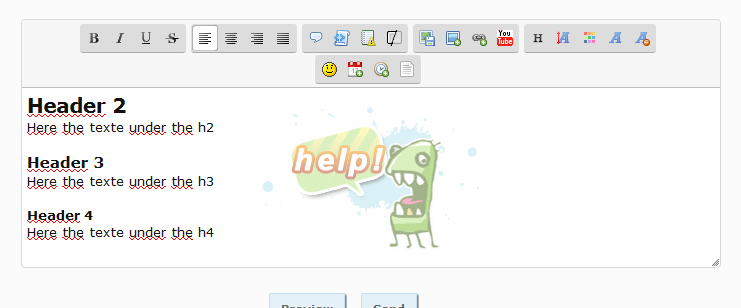 Best Regards

Forumotion Team

| | |
| --- | --- |
| A ForuMotion Important Announcement | |
| | | |
| --- | --- | --- |
| | The title tags h2, h3, h4 | |
This tutorial explains how and why to use the tags h2-h4 in messages.


Information on the functionality


The insertion of title tags is now possible in bbcode via this button on the editor :

The insertion can also be done in HTML when it is activated, by replacing [this] with <this>

The title tags have a different style for each forum version



( See the announcement of this functionality )


Why use the title tags ?


Title tags have several advantages for your forum :



They are used to structure the content of a message to facilitate understanding for your community

They improve the SEO of a Forum because they indicate to search engines what content is most important in a message

How do you use the title tags ?


Using title tags in content meets the requirements of search engines for better SEO of a Forum, provided you follow certain rules.


If the message can not be structured, do not force yourself to insert title tags. It is better to use these tags wisely, sparingly, rather than abusing.


It is important to insert these tags in a logical order. Example :
Code:   Select Content

Code:

[h2]My title important[/h2]
[h3]My title a little less important[/h3]
[h4]My title less important[/h4]

Do not mix tags indiscriminately.
Example : do not reproduce

Code:   Select Content

Code:

[h2]My title[h2]
My text, my text, my text
[h4]Another title[/h4]
My text, my text, my text
[h2]Yet another title[/h2]
My text, my text, my text
[h3]A title again[/h3]
Last edited by Buttercup on August 26th 2014, 9:32 am; edited 1 time in total

Shadow

Man

ager





Posts

: 16217


Reputation :

1830


Language

: French, English



Very good notice Buttercup.
Thanks!


Forumotion Rules
|
Tips & Tricks
|
FAQ
Did you forget your password?
No Support Via PM!
#Stay_Safe
Nice, is this allowed to be used on the support forum?
Could you please explain how this feature assists with google searches? As far as we can tell, all it affects is text size and bold.

Richardr

Foru

memb

er






Posts

: 415


Reputation :

0


Language

: english



Likes the new update and good to see you can change some things
nice update
Thank you ,
---
Permissions in this forum:
You
cannot
reply to topics in this forum