Theme Name:
Blue Style
Forum Version:
PhpBB3
Template Usage:
Yes (1 Templates)
Theme Description:
The Blue Style skin is a perfect theme and unique design for all types of community.
Author Name:
Mati
Preview/Demo:
http://en.hitskin.com/search-a-skin/blue-style/206155
Screenshot: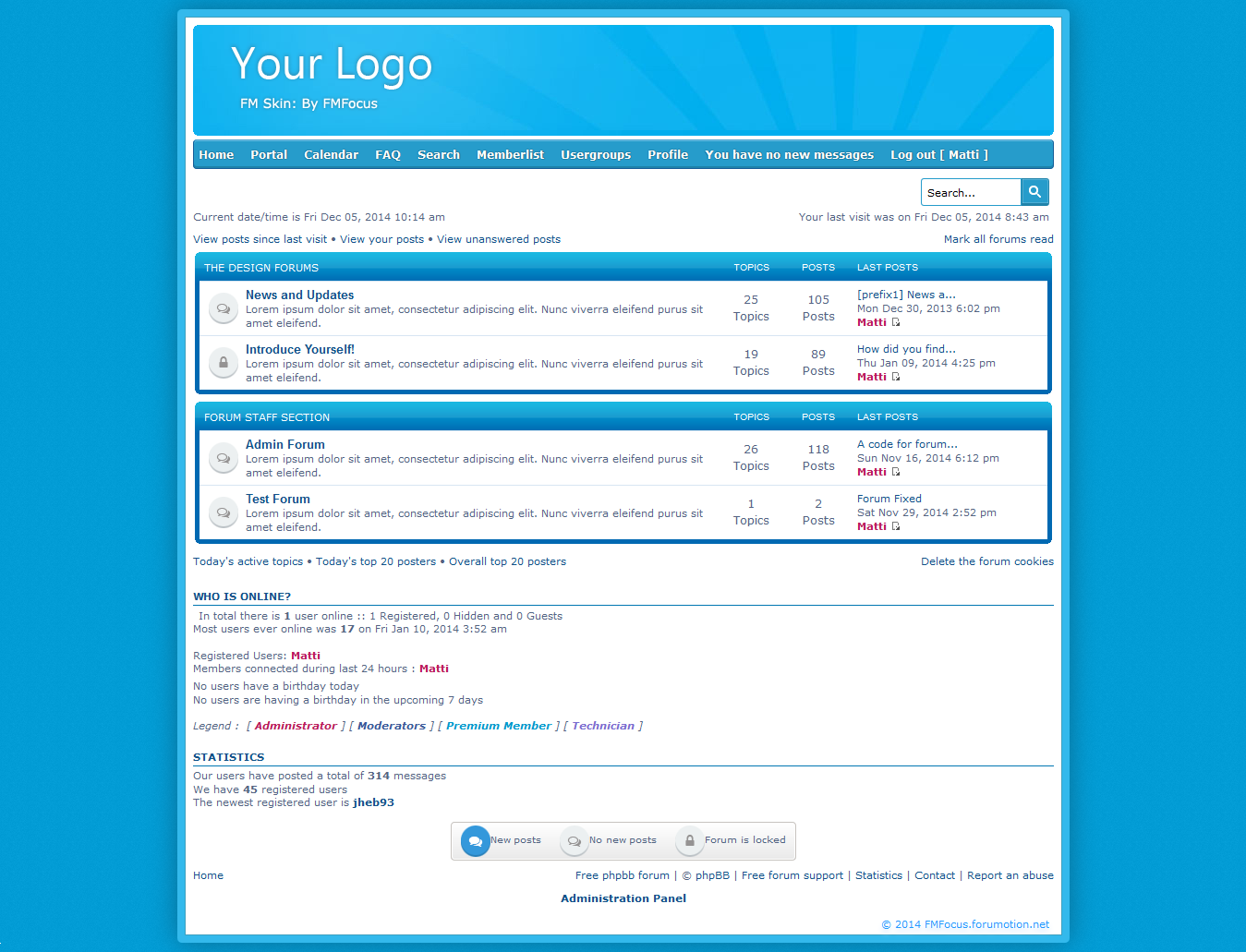 The Templates:
Replace ALL OF overall_header WITH THE FOLLOWING:
Code:

<!DOCTYPE html PUBLIC "-//W3C//DTD XHTML 1.0 Transitional//EN" "http://www.w3.org/TR/xhtml1/DTD/xhtml1-transitional.dtd">
<html xmlns="http://www.w3.org/1999/xhtml" dir="{S_CONTENT_DIRECTION}" id="min-width" lang="{L_LANG_HTML}" xml:lang="{L_LANG_HTML}" {NAMESPACE_FB_LIKE} {NAMESPACE_FB} {NAMESPACE_BBCODE}>
<head>
<title>{SITENAME_TITLE}{PAGE_TITLE}</title>
<meta http-equiv="content-type" content="text/html; charset={S_CONTENT_ENCODING}" />
<meta http-equiv="content-script-type" content="text/javascript" />
<meta http-equiv="content-style-type" content="text/css" />
<!-- BEGIN switch_compat_meta -->
<meta http-equiv="X-UA-Compatible" content="IE={switch_compat_meta.VERSION}" />
<!-- END switch_compat_meta -->
<!-- BEGIN switch_canonical_url -->
<link rel="canonical" href="{switch_canonical_url.CANONICAL_URL}" />
<!-- END switch_canonical_url -->
{META_FAVICO}
{META}
{META_FB_LIKE}
<meta name="title" content="{SITENAME_TITLE}{PAGE_TITLE}" />
{T_HEAD_STYLESHEET}
{CSS}
<link rel="search" type="application/opensearchdescription+xml" href="/improvedsearch.xml" title="{SITENAME}" />
<link rel="search" type="application/opensearchdescription+xml" href="{URL_BOARD_DIRECTORY}/search/improvedsearch.xml" title="{SEARCH_FORUMS}" />
<script src="{JQUERY_PATH}" type="text/javascript"></script>
<script src="{JS_DIR}{L_LANG}.js" type="text/javascript"></script>

<!-- BEGIN switch_fb_login -->
<script src="http://connect.facebook.net/{switch_fb_login.FB_LOCAL}/all.js" type="text/javascript"></script>
<script src="{switch_fb_login.JS_FB_LOGIN}" type="text/javascript"></script>
<!-- END switch_fb_login -->

<!-- BEGIN switch_ticker -->
<link type="text/css" rel="stylesheet" href="{JS_DIR}jquery/ticker/ticker.css" />
<script src="{JS_DIR}jquery/ticker/ticker.js" type="text/javascript"></script>
<!-- END switch_ticker -->

<!-- BEGIN switch_ticker_new -->
<script src="{JS_DIR}jquery/jcarousel/jquery.jcarousel.js" type="text/javascript"></script>
<script type="text/javascript">//<![CDATA[
/* Definir le sens de direction en fonction du panneau admin */
var tickerDirParam = "{switch_ticker.DIRECTION}";
var slid_vert = false;
var auto_dir = 'next';
var h_perso = parseInt({switch_ticker.HEIGHT});

switch( tickerDirParam )
{
case 'top' :
slid_vert = true;
break;

case 'left':
break;

case 'bottom':
slid_vert = true;
auto_dir = 'prev';
break;

case 'right':
auto_dir = 'prev';
break;

default:
slid_vert = true;
}

$(document).ready(function() {

$('#fa_ticker_content').css('display','block');

var width_max = $('ul#fa_ticker_content').width();
var width_item = Math.floor(width_max / {switch_ticker.SIZE});

if (width_max > 0)
{
$('ul#fa_ticker_content li').css('float','left').css('list-style','none').width(width_item).find('img').each(function () {
if ($(this).width() > width_item)
{
var ratio = $(this).width() / width_item;
var new_height = Math.round($(this).height() / ratio);
$(this).height(new_height).width(width_item);
}
});

if (slid_vert)
{
var height_max = h_perso;

$('ul#fa_ticker_content li').each( function () {
if ($(this).height() > height_max)
{
height_max = $(this).height();
}
} );

$('ul#fa_ticker_content').width(width_item).height(height_max).css('marginLeft','auto').css('marginRight','auto');
$('ul#fa_ticker_content li').height(height_max);
}


$('#fa_ticker_content').jcarousel({
vertical: slid_vert,
wrap: 'circular',
auto: {switch_ticker.STOP_TIME},
auto_direction: auto_dir,
scroll: 1,
size: {switch_ticker.SIZE},
height_max: height_max,
animation: {switch_ticker.SPEED}
});
}
else
{
$('ul#fa_ticker_content li:not(:first)').css('display','none');
$('ul#fa_ticker_content li:first').css('list-style','none').css('text-align','center');
}
});
//]]>
</script>
<!-- END switch_ticker_new -->

<script type="text/javascript">//<![CDATA[
$(document).ready(function(){
<!-- BEGIN switch_enable_pm_popup -->
pm = window.open('{U_PRIVATEMSGS_POPUP}', '_faprivmsg', 'HEIGHT=225,resizable=yes,WIDTH=400');
if(pm != null) { pm.focus(); }
<!-- END switch_enable_pm_popup -->
<!-- BEGIN switch_report_popup -->
report = window.open('{switch_report_popup.U_REPORT_POPUP}', '_phpbbreport', 'HEIGHT={switch_report_popup.S_HEIGHT},resizable=yes,scrollbars=no,WIDTH={switch_report_popup.S_WIDTH}');
if(report != null) { report.focus(); }
<!-- END switch_report_popup -->
<!-- BEGIN switch_ticker -->
$(document).ready(function() {
Ticker.start({
height : {switch_ticker.HEIGHT},
spacing : {switch_ticker.SPACING},
speed : {switch_ticker.SPEED},
direction : '{switch_ticker.DIRECTION}',
pause : {switch_ticker.STOP_TIME}
});
});
<!-- END switch_ticker -->
});

<!-- BEGIN switch_login_popup -->
var logInPopUpLeft, logInPopUpTop, logInPopUpWidth = {LOGIN_POPUP_WIDTH}, logInPopUpHeight = {LOGIN_POPUP_HEIGHT}, logInBackgroundResize = true, logInBackgroundClass = false;
<!-- END switch_login_popup -->

<!-- BEGIN switch_login_popup -->
$(document).ready( function() {
$(window).resize(function() {
var windowWidth = document.documentElement.clientWidth;
var popupWidth = $("#login_popup").width();
var mypopup = $("#login_popup");

$("#login_popup").css({
"left": windowWidth/2 - popupWidth/2
});
});
});
<!-- END switch_login_popup -->
//]]>
</script>
{GREETING_POPUP}
<style type="text/css">
#page-footer, div.navbar, div.navbar ul.linklist {
display: block !important;
}
ul.linklist li.rightside, ul.linklist li.rightside a.copyright {
display: inline !important;
}

<!-- BEGIN switch_ticker_new -->
.jcarousel-skin-tango .jcarousel-item {
text-align:center;
width: 10px;
}

.jcarousel-skin-tango .jcarousel-item-horizontal {
margin-right: {switch_ticker.SPACING}px;
}

.jcarousel-skin-tango .jcarousel-item-vertical {
margin-bottom: {switch_ticker.SPACING}px;
}
<!-- END switch_ticker_new -->
</style>
{HOSTING_JS}
<!-- BEGIN google_analytics_code -->
<script type="text/javascript">
//<![CDATA[
var _gaq = _gaq || [];
_gaq.push(["_setAccount", "{G_ANALYTICS_ID}"]);
_gaq.push(["_trackPageview"]);
_gaq.push(['_trackPageLoadTime']);

<!-- BEGIN google_analytics_code_bis -->
_gaq.push(['b._setAccount', '{G_ANALYTICS_ID_BIS}']);
_gaq.push(['b._trackPageview']);
<!-- END google_analytics_code_bis -->

(function() {
var ga = document.createElement("script"); ga.type = "text/javascript"; ga.async = true;
ga.src = ("https:" == document.location.protocol ? "https://ssl" : "http://www") + ".google-analytics.com/ga.js";
var s = document.getElementsByTagName("script")[0]; s.parentNode.insertBefore(ga, s);
})();
//]]>
</script>
<!-- END google_analytics_code -->
</head>

<body id="phpbb">
<!-- BEGIN hitskin_preview -->
<div id="hitskin_preview" style="display: block;">
<h1><img src="http://illiweb.com/fa/hitskin/hitskin_logo.png" alt="" /> <em>Hit</em>skin.com</h1>
<div class="content">
<p>
{hitskin_preview.L_THEME_SITE_PREVIEW}
<br />
<span>{hitskin_preview.U_INSTALL_THEME}<a href="http://{hitskin_preview.U_RETURN_THEME}">{hitskin_preview.L_RETURN_THEME}</a></span>
</p>

</div>
</div>
<!-- END hitskin_preview -->

<!-- BEGIN switch_login_popup -->
<div id="login_popup">
<div class="h3">{SITENAME}</div>
{LOGIN_POPUP_MSG}
<div id="login_popup_buttons">
<form action="{S_LOGIN_ACTION}" method="get">
<input type="submit" class="button1" value="{L_LOGIN}" />
<input type="button" class="button1" value="{L_REGISTER}" onclick="parent.location='{U_REGISTER}';" />
<input id="login_popup_close" type="button" class="button2" value="{L_DONT_DISPLAY_AGAIN}" />
</form>
</div>
</div>
<!-- END switch_login_popup -->

<div class="conteneur_minwidth_IE">
<div class="conteneur_layout_IE">
<div class="conteneur_container_IE">
<div id="wrap">
 <div id="boxshadow">
<a id="top" name="top" accesskey="t"></a>
{JAVASCRIPT}

<div id="page-header">
<div class="headerbar">
<div class="inner"><span class="corners-top"><span></span></span>

<div id="logo-desc">
<a href="{U_INDEX}" id="logo"><img src="{LOGO}" alt="{L_INDEX}" /></a>
<!-- BEGIN switch_h1 -->
<div id="site-title">{switch_h1.MAIN_SITENAME}</div>
<!-- END switch_h1 -->
<!-- BEGIN switch_desc -->
<p>{switch_desc.SITE_DESCRIPTION}</p>
<!-- END switch_desc -->
</div>

<span class="corners-bottom"><span></span></span></div>
</div>

<div class="navbar">
<div class="inner"><span class="corners-top"><span></span></span>

<ul class="linklist navlinks{NAVBAR_BORDERLESS}">
<li>{GENERATED_NAV_BAR}</li>
</ul>

<!-- BEGIN switch_search_box -->
<div id="search-box">
<form method="get" action="{ACTION_SEARCH}" id="search">
<p class="nomargin"><input type="text" name="search_keywords" id="keywords" maxlength="128" class="inputbox search" value="{L_SEARCH}..." onclick="if (this.value == '{L_SEARCH}...') this.value = '';" onblur="if (this.value == '') this.value = '{L_SEARCH}...';" />
{JS_SESSION_ID_INPUT}
<input class="button2" type="submit" value="{L_SEARCH}" /></p>
</form>
</div>
<!-- END switch_search_box -->

<span class="corners-bottom"><span></span></span></div>
</div>

<!-- BEGIN switch_ticker_new -->
<div id="fa_ticker_blockD" style="margin-top:4px;">
<div class="module">
<div class="inner">
<span class="corners-top"><span></span></span>
<div id="fa_ticker_container">
<ul id="fa_ticker_content" class="jcarousel-skin-tango" style="display:none">
<!-- BEGIN ticker_row -->
<li>{switch_ticker.ticker_row.ELEMENT}</li>
<!-- END ticker_row -->
</ul>
</div>
<span class="corners-bottom"><span></span></span>
</div>
</div>
</div>
<!-- END switch_ticker_new -->

<!-- BEGIN switch_ticker -->
<div id="fa_ticker_block" style="margin-top:4px;">
<div class="module">
<div class="inner">
<span class="corners-top"><span></span></span>
<div id="fa_ticker_container">
<div id="fa_ticker" style="height:{switch_ticker.HEIGHT}px;">
<div class="fa_ticker_content">
<!-- BEGIN ticker_row -->
<div>{switch_ticker.ticker_row.ELEMENT}</div>
<!-- END ticker_row -->
</div>
</div>
</div>
<span class="corners-bottom"><span></span></span>
</div>
</div>
</div>
<!-- END switch_ticker -->
</div>

<div id="page-body">

<div id="{ID_CONTENT_CONTAINER}"{CLASS_CONTENT_CONTAINER}>
<div id="outer-wrapper">
<div id="wrapper">
<div id="container">
<div id="content">

<div id="{ID_LEFT}">
<!-- BEGIN giefmod_index1 -->
{giefmod_index1.MODVAR}
<!-- BEGIN saut -->
<div style="height:{SPACE_ROW}px"></div>
<!-- END saut -->
<!-- END giefmod_index1 -->
</div>

<div id="main">
<div id="main-content">
HOLY, this is a great theme your epic!
Thanks Luke Spike, people gonna love this theme when they install it.
Why do you have topics and posts twice?  They are in the category header and in the forum rows.


When your topic has been solved, ensure you mark the topic solved.
Never post your email in public.
You can hide them by remove the CSS rule if you would like to.

---
Permissions in this forum:
You
cannot
reply to topics in this forum