Hello
I have some members including me, when using the view new posts, it says there are no new posts when there really are.
Click view new posts, many new posts show up in all the different threads. Choose one thread, read all the new posts, click view new posts again, and it says "there are no new post" with a blank page. This was happening during the changing/adding of servers but corrected itself.
This only happens on Chrome. Internet Explorer is fine.
Also on Chrome, I tried to move some locked threads out into archive and keep getting a message "session expired". My session isn't expired. I was able to move them using Internet Explorer.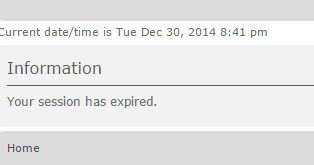 I thought perhaps it started after adding some Chrismas decorations, but I removed them, and it is still happening.
I have deleted cookies and history but it didn't help.
Does anyone have any ideas why this is happening?
www.bachandbachettefans.net
phpBB
Thank you.
It sounds like a browser issue, not a Forumotion issue.


When your topic has been solved, ensure you mark the topic solved.
Never post your email in public.
I downloaded a Chrome repair tool and it seemed to have solved the issue.

Happy New Year to all!

This topic is now solved.
Glad you found the solution
Topic solved and archived.
---
Permissions in this forum:
You
cannot
reply to topics in this forum