my forum won't let me send emails in html . It says somebody might not be able to read it . and then it deletes what I just wrote . I would like it to stop doing that . 


Simple text does not provide an edit bar for url's , pics , images , fonts , colors . I will have to examine all members to see what may be blocking it
Last edited by azwiz on January 11th 2015, 10:45 pm; edited 1 time in total
Hello Azwiz,
The reason for it not being sent is cause one of your members may not be allowing emails to be sent with the HTML format to their email. You would have to check through each member that you are trying to send this email to in order to find out who may be causing this error to occur. Your best bet will to write and send this email in the Simple Text format rather then an HTML format so that all members get it and this error shouldn't occur if you do it in the Simple Text format. I am not 100% if this is what will solve the issue but I am fairly sure it will.

Hope this helps you out!

-James

Guest

Guest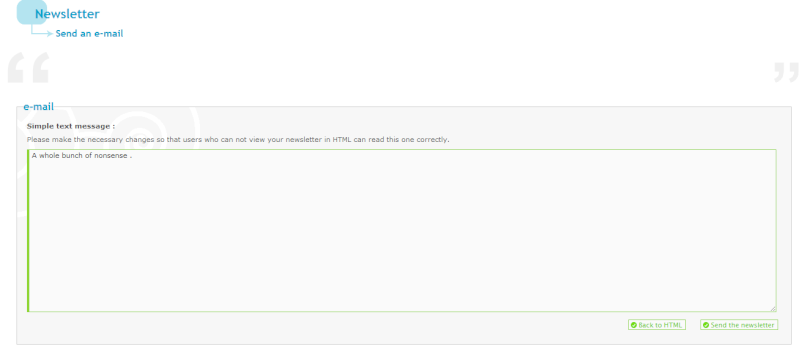 @Jadster

wrote:Hello Azwiz,

The reason for it not being sent is cause one of your members may not be allowing emails to be sent with the HTML format to their email. You would have to check through each member that you are trying to send this email to in order to find out who may be causing this error to occur. Your best bet will to write and send this email in the Simple Text format rather then an HTML format so that all members get it and this error shouldn't occur if you do it in the Simple Text format. I am not 100% if this is what will solve the issue but I am fairly sure it will.

Hope this helps you out!

-James
How do i find this out wyhat do I look for ?
Thank you It just worked . I had typed you the whole sequence twice and i lost them so hell with it . Thanx SOLVED
See the message I sent ? everyone got that . i didnt think there was any chance it would work . lol
Last edited by azwiz on January 12th 2015, 1:23 am; edited 5 times in total
It would more then likely be something that they selected in their preferences of their account. Just look at the user preferences and you should find it there. Users have the permission to select whether or not they wish to receive the newsletter from the forum so if a user has set it to "No" then this may be what is causing the error rather then it being the format that the message is in.

-James

Guest

Guest





They has nothing to do with the editor.

What exactly happens when you try to use HTML formatting?

When your topic has been solved, ensure you mark the topic solved.
Never post your email in public.

Please take a screen shot of what you see when you try and send the news letter
Hello
@azwiz
,
What you see is not an error nor it has something to do with your members' preferences. When you choose to send a newsletter in Rich Text Format, this enables you to style the message with HTML options. It always depends if user's email supports HTML styling or not. Some people have it disabled, some email providers don't support it by default etc. Thus, forumotion has an option when you want to send newsletter in rich text format, after clicking submit, it will show you another window by saying:
"Please make the necessary changes so that users who can not view your newsletter in HTML can read this one correctly."
It gives your option to have an alternative version of your message as simple text without any styling added to it. So, that means it does not reset your original message, instead it wants you to set an alternative version of your message as simple text that will be displayed in case that member's email won't display the rich text one.
I tested the feature. What I did was style the sentence of mine with some CSS. Then when it asks me for simple version I even added few more lines of text. When I got the email, since my email supports HTML I have got the rich text one with styling. The few more lines I added to simple text editor later did not appear, which means it stores two different versions of your message, it won't reset anything like you suspected.
So, just enjoy and send that newsletter with no worries. Check the simple version if it looks okay and that's it.
---
Permissions in this forum:
You
cannot
reply to topics in this forum